Hidilyn Diaz made headlines as she bagged the Philippines' first-ever gold medal at the 2020 Tokyo Olympics last July 26.
This marks the country's first gold medal ever since it joined the games almost a century ago.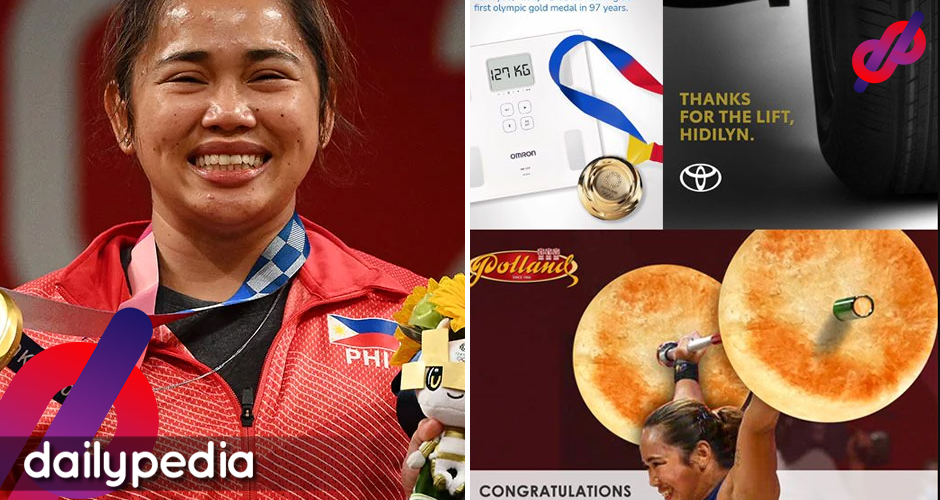 With the historical feat, corporations and well-known brands in the country grabbed the attention of netizens as they unleashed their creativity when it comes to their congratulatory greeting to the athlete.
Here is a compilation of brands' congratulatory post for Diaz's achievement.
Summit Water
Grab Philippines
First Pinay. First Gold. First, of many.

Get P55 off your orders with a minimum of 224. Pesos. Not KG. pic.twitter.com/fIjDP4J54h

— Grab Philippines (@grabph) July 26, 2021
Mcdonald's Philippines
Salamat sa first-ever Gold! Salamat sa pagbuhat sa buong bansa! #LoveKoTo pic.twitter.com/qvYMPGUl5w

— McDo Philippines (@McDo_PH) July 26, 2021
Jollibee
https://twitter.com/Jollibee/status/1419826678772113410
Champion Detergent Bar and Powder
Globe Telecom
Thank you for lifting the country's pride, Hidilyn Diaz! The weight of this win will surely define our history. 🇵🇭💙 #AtinAngMundo pic.twitter.com/STYBAxOPz1

— Globe Telecom (@enjoyGLOBE) July 27, 2021
Smart Communications
Huge congratulations to Hidilyn Diaz for winning the FIRST EVER FILIPINO GOLD MEDAL 🥇 at the #OlympicGames! We're so proud of you.#SeeUsStronger #SmartOlympics pic.twitter.com/8nytsuyNej

— SMART (@LiveSmart) July 26, 2021
Megaworld Corporation took it to a whole other level as tycoon Andrew Tan rewarded Diaz with a Php14 million condominium unit in Eastwood City.
Megaworld rewards Hidilyn Diaz a P14M worth condo unit after clinching the country's first-ever Olympic gold on Monday. pic.twitter.com/ZPYNFAfjsQ

— The Philippine Star (@PhilippineStar) July 27, 2021
IKEA
"With one lift, you raised all of our spirits," Resorts World Manila wrote on their message .
From lifting buckets of water as a child, to lifting yourself up from every failure and challenge, to that one lift that led to this historic win, you have shown that with hard work and passion, we can make our own luck.

Mabuhay ka @diaz_hidilyn !🇵🇭#Tokyo2020 #Olympics pic.twitter.com/pvzXVz4Qst

— Newport World Resorts (@nwresorts) July 27, 2021
BeautyMnl
Lazada Philippines
Lazada celebrates with the country as we mark this historic moment in the Olympic Games! 🥇🇵🇭 Maraming salamat, Hidilyn Diaz! pic.twitter.com/ZoV5619BCk

— Lazada Philippines (@LazadaPH) July 26, 2021
Shopee Philippines
In breaking records, you have painted the country's name in gold. Saludo kami sa'yo at sa mga atletang Filipino!

Come celebrate with us and enjoy exclusive deals when you use the code: PHGOLD10.

*Valid with ShopeePay only pic.twitter.com/g20PRj9YlN

— Shopee Philippines (@ShopeePH) July 27, 2021
Potato Corner Philippines
Congratulations, Hidilyn Diaz, for making Philippine Olympic history! Thank you for making us all proud to be Pinoy! #Tokyo2020 #Olympics #HidilynDiaz 💛💚

[📸: Jay Tablante] pic.twitter.com/sElxmjpJqe

— Potato Corner Philippines (@PotatoCornerPH) July 27, 2021
SM Supermalls
Mabuhay AweSM Pinoy!🇵🇭🏅 pic.twitter.com/Krk0NVmaHB

— SM Supermalls (@smsupermalls) July 27, 2021
Dunkin' Philippines
https://twitter.com/dunkinph/status/1419995457154019330
Diaz received a grant containing free 80,000 miles of travel every year for life from Philippine Airlines.
AirAsia also gave the athlete free flights in her lifetime.
In recognition of her hard work, passion, and sportsmanship best exemplified during the 2020 Tokyo Olympics, AirAsia is awarding a LIFETIME FREE FLIGHTS to Olympic Gold medalist Hidilyn Diaz.https://t.co/mtEPhUYycJ

— airasia Philippines (@AirAsiaFilipino) July 27, 2021
Enervon
Toyota Philippines
Thank you to our first-ever Olympic gold medalist for not only raising the bar, but also our spirits. pic.twitter.com/hnN7S3mZWR

— Toyota Philippines (@ToyotaMotorPH) July 27, 2021
Starbucks Philippines
Cheers to our first-ever Olympic Gold Medalist. You've lifted the spirits of the whole nation. Congratulations, Hidilyn! pic.twitter.com/gBNXTmY0J9

— Starbucks Philippines (@starbucksph) July 27, 2021
Jobstreet Philippines
A huge round of applause for Hidilyn Diaz, lifting and winning the Philippines' first Olympic gold. We are proud of you. You deserve every bit of it. Hard work always pays off! pic.twitter.com/GSm4nLpcJK

— JobStreet Philippines (@JobStreetPH) July 27, 2021
Diaz will also get a house and lot from Century Properties Real Estate.
Cebu Pacific Air
It took one woman to lift an entire nation overnight! Thank you and congratulations, Hidilyn! 👏👏👏 pic.twitter.com/9lIC9iWvpy

— Cebu Pacific Air (@CebuPacificAir) July 28, 2021
Netflix
Goldilocks
Golden Fiesta
Puregold
Gold's Gym Philippines
Sun Life Philippines
AXA Philippines
AIA Philam Life
Manulife Philippines
https://twitter.com/ManulifePH/status/1419660407795421189
Uratex Philippines offered to give Diaz one of their mattresses and other sleeping products.
Metrobank
Milo Philippines
Tokyo Tokyo
But the one that went viral the most was the greeting from Orocan. Not only did the brand congratulate Diaz, but it also seemed to call out the other companies saying how they turned a blind eye to the athlete's cry for help last year, but they suddenly cheered on her when she won.
"Wag na tayong magplastikan," it said.
Diaz's journey to claiming the gold medal was not a smooth one as back in 2019. The athlete admitted that she's having trouble with the finances while training for the Olympics.
In an Instagram Story, she wrote, "Is it okay to ask sponsorship sa mga private companies towards Tokyo 2020? Hirap na hirap na ko, I need financial support."
She further said that she's embarrassed to ask for donations, but she needed to do it for her dream to take home the gold in the Olympics.
Diaz is now set to receive around Php33 million worth of cash prizes from the government and private sector.