Different government branches and officials are giving contradicting statements about the regulation that requires the use of face shields outdoors.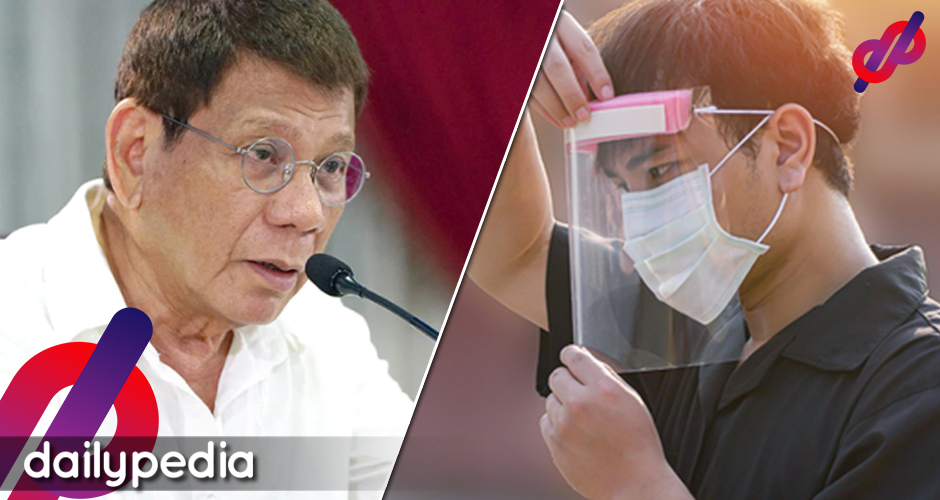 On June 16, a Department of Health (DOH) official stated that face shields may not be worn outdoors as the risk of transmitting COVID-19 in the setting is low.
"Ang face shields, kailangan naman talaga 'yan pag nasa indoor ka, nasa mall ka, or kapag may interaction ka face-to-face inside." 
Health Undersecretary Leopoldo Vega responded after he was asked whether workers who are working outdoors, such as couriers or construction workers, are still required to wear face shields or if they can be exempted from the mandate.
"Pero kapag nasa outside naman kasi, alam naman natin na the risk of transmission is very low lalung lalo na kapag naglalakad ka lang sa kalye o magta-trabaho ka kasi maka-affect 'yung moist nito so pwede ninyo tanggalin 'yan."
A day after Vega's answer, Senate President Vicente Sotto III, who was in a meeting with President Rodrigo Duterte, tweeted that the latter agreed that face shields should only be worn when indoors.
"The President agreed that face shields should only be used in the hospitals. Allowed us to remove ours!" Sotto wrote.
Last night, the President agreed that face shields should only be used in hospitals. Allowed us to remove ours! Attn DOH!

— Tito Sotto (@sotto_tito) June 16, 2021
Officials were then seen reminding everyone to put on their face shields before boarding the EDSA bus carousel.
https://twitter.com/ABSCBNNews/status/1405332488835133442
Cabinet Secretary Karlo Nograles said the opposite a few hours later. He remarked in response to Vega's statement, saying that face shields on top of face masks are still required but added that the topic will be discussed in a meeting with the Inter-Agency Task Force (IATF).
The IATF runs as the Government's policy-making body when it comes to the country's COVID-19 response.
However, the Presidential Spokesperson contradicted Nograles' statement by attesting to Sotto's tweet.
"The President did say that the wearing of face shield should only be in hospitals," Roque said during an online press briefing.
"All I'm confirming is the President said that and of course what the President said becomes a presidential policy."
Later on that day, Roque clarified that despite the President's remarks, the regulations regarding face shields remain unchanged until Duterte decides on the recommendation of the IATF.
"While waiting for the President's decision on the matter, the existing policy on the use of face shields remains in effect."
Presidential spokesperson Harry Roque said IATF recommended mandatory wearing of face shields in enclosed or indoors spaces, pending President Duterte's decision. pic.twitter.com/JRLmkVbReN

— Jacque Manabat (@jacquemanabat) June 17, 2021
The task force then decided to recommend to the President during the IATF meeting to require face shields only in enclosed or indoor spaces. These are inside hospitals, schools, workplaces, commercial establishments, public transport, and terminals.
On June 21, President Duterte has decided to again require people to wear face shields both indoors and outdoors. The mandate was changed only seven hours after officials announced an end to the requirement of wearing a face shield outdoors.
"Acting on the advice of health experts and in view of the Delta variant, PRRD declared that the wearing of face shields, both indoor and outdoor, is still mandatory," Roque announced.
Netizens reacted to the inconsistency of the government's decision regarding face shields.
Sinetch itey na nag-announce na mandatory pa rin daw ang face shields indoors pero sya mismo ay hindi nakasuot ng face shield habang nag-aannounce? pic.twitter.com/FLY7LWU1Ab

— Christian Louie Lim (@anongskee) June 21, 2021
Yung nagsasabi wag mag face shield indoors and outdoors, pag nasa meeting na televised, laging walang face shield. ✌️

— Carlo Ople (@carloople) June 22, 2021
Some asked the DOH or experts to explain how face shields can protect people from COVID-19.
I defy the DOH or any of their cadre of "experts" to please explain to us how a plastic face shield provides additional protection from an AIRBORNE pathogen, especially outdoors. maybe they can release a short technical paper. para naman magka-onting peer review kahit papano.

— Josh #MassTestingNowPH #NEVERAGAIN (@josh_danac) June 21, 2021
Other researchers remain confused about the issue.
Re: face shields

As a researcher who simulate wind flows, I am puzzled with the insistence on face shields.

Face shields causes intake of air to the regions beneath the shield to induce higher negative pressures.

Higher negative pressure, higher particulate transport.

— Joshua C. Agar (@JoshuaCAgar) June 22, 2021
"Ano po ba dapat tanggalin? Yung face shield o yung mga nakaupo?" a Twitter user wrote.
ano po bang dapat tanggalin? yung face shield o yung mga nakaupo, charot.

— Renz Saavedra ✨ (@SirRenzSaavedra) June 22, 2021
The government's decision was also compared to the dance cha-cha as it continuously goes forward and backward.
Parang cha-cha lang ang face shield policy no? Atras-abante.

— Rowena L. Salvacion (@wengsalvacion) June 21, 2021
The data that DOH presented was then questioned by the netizens.
So 62 HCWs did not wear face shields… 12 got infected in a week… meaning 50 did not get infected?? then they introduced face shields to the 50 and no one got infected??

How does this protocol even make sense? https://t.co/wSApWROCe0

— Leslie Faye Cando (@lesliekulot) June 21, 2021
"Is it honestly so hard to listen to science that we choose to listen to the whims of an incoherent old man?"
3 hrs ago pwede walang face shield tapos ngaun face shield ule indoors AND outdoors?

Is it honestly so hard to listen to science that we choose to listen to the whims of an incoherent old man? pic.twitter.com/NULjhaBhAy

— Joaquin Closet (@andy_crush) June 21, 2021
"When I mention about the face shield, I was only shooting the breeze with the members of the Congress who were there. I never said with finality that we will do away with the face shield," Duterte explained the Senate President's initial tweet regarding face shields.
He insisted that when it comes to COVID-19 mandates, "the stricter you are, the better."