Maxene Magalona explained how she found out that the painting behind her father, the late Francis Magalona, during a commercial years ago was actually an artwork of her now-husband Rob Mananquil.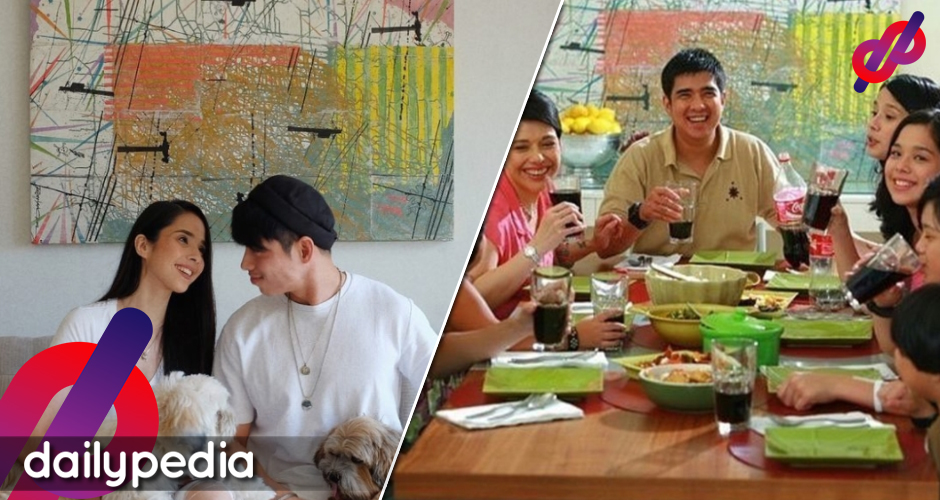 On Instagram, Maxene uploaded a photo of her and Rob with their two dogs. The painting was hanging right behind them. She also shared a screenshot of the old family TVC she was pertaining to.
The same artwork can be seen behind her dad.
Recalling the shoot, Maxene wrote that she remembered having so much fun when back then as she was working with the whole family. She also mentioned her dad's humor which boosted the atmosphere of the filming.
"I remember having so much fun with everyone at the shoot, working while spending quality time together," she wrote.
"My Dad always loved cracking jokes and making us laugh which made work so much more enjoyable."
The realization came when someone tagged her to a throwback post of the commercial. She decided to show her husband the photo and when he saw the artwork, he revealed that it was actually made by him.
"When he saw the photo, he turned to me and said, 'The painting behind Pop is one of my artworks.'"
They decided to hang the painting in their living room to serve as a reminder of how God really works in mysterious ways.
Maxene and Rob began dating in 2015 and got engaged two years later when the latter proposed while they were on vacation in Tokyo. They decided to get married in January 2018 at a ceremony in Boracay.
During a post commemorating their wedding anniversary, Maxene admitted that the first few years of marriage also have a series of difficulties.
"It will really challenge you and push you to your limits. So many petty quarrels and long conversations about who's right and wrong. It's definitely a struggle but the great thing about it is that you both get to learn and grow together on a much deeper level."