#DuterteDuwag trended on social media after President Rodrigo Duterte opted to back out of his challenge to debate with retired Supreme Court justice Antonio Carpio on the issue of the West Philippine Sea (WPS).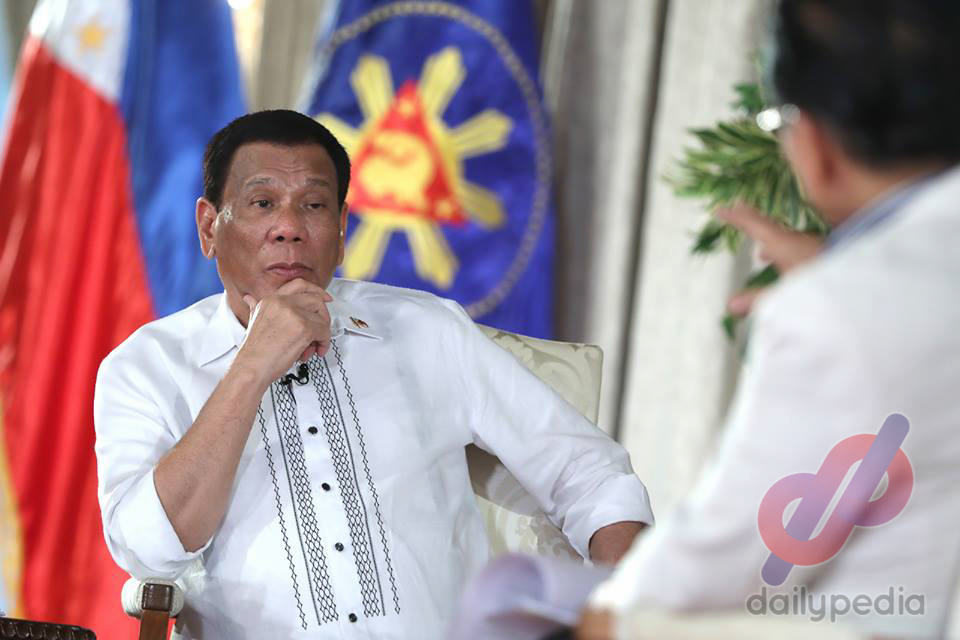 Netizens, including some well-known personalities who are not supporters of the current Administration, took the opportunity to criticize Duterte.
Jim Paredes said Davao City Mayor Sara Duterte might want to think twice before using her husband's surname, which happens to be "Carpio" for it may "freak out" his father, the President.
Sara may not want to use her husband's surname kasi baka ma-freak out si Tatay. 🙂 #DuterteDuwag

— Jim (@Jimparedes) May 7, 2021
……. pic.twitter.com/0lLRp0QVQX

— Jim (@Jimparedes) May 7, 2021
Fellow singer Leah Navarro was retweeted a post that had #DuterteDuwag on them. She doesn't think Roque is on Carpio's level.
Duterte is president, sure. But he's done nothing to honor his presidency. Roque is an ambulance chasing lawyer. Both of them are nothing compared to former Senior SC Justice Carpio. They know that. Hence, the retreat and inferior substitution.

Clearly, #DuterteDuwag https://t.co/CbAm97Zgpb

— Leah Navarro (@leahnavarro) May 7, 2021
Former senator Antonio Trillanes held no punches.
Marami pang palusot.#duterteDUWAG#duterteSINUNGALING

— Sonny Trillanes IV (@TrillanesSonny) May 7, 2021
When Roque said they don't want Duterte to stoop down on Justice Carpios level!

Justice Carpio's level be like..#DuterteTutaNgChina #DuterteDuwag #DuterteTraydor pic.twitter.com/xhhBeGzr8F

— Bill (@bclntn) May 7, 2021
Senator Leila de Lima, much like the millions of Filipinos, considers Duterte as a traitor to his own country for constantly painting China in a good light.
Duterte's expressed pro-China stand on the West Philippine Sea ruling is treasonous and anti-Filipino. Sa pamamalagi niyang presidente, China ang panalo hindi ang interes ng Filipino.

— Leila de Lima (@SenLeiladeLima) May 7, 2021
Agot Isidro couldn't stop laughing at Duterte's cowardice.
https://twitter.com/agot_isidro/status/1390548021167857667?s=20
Edwin Lacierda has more respect for a porridge dish as it has more "balls" than Duterte.
Buti pa ang lugaw, essential na, may itlog pa.

— Edwin Lacierda (@dawende) May 7, 2021
Simple lang ang sagot ni Carpio sa pag-atras ni Duts sa debate.

Sabi ni Carpio kay Duts: "Sino ngayon ang walang bayag?"

Hahaha.

— entengromano (@entengromano) May 7, 2021
According to Presidential Spokesperson Harry Roque, Duterte would rather have him debate Carpio, and he gladly accepted.
"Ang sabi ni Presidente, tinatalaga niya po ang inyong abang lingkod na makipag-debate kay retired justice Antonio Carpio, at tinanggap ko naman po ang pagtatalaga ni Presidente," Roque said in a televised address.
"Retired Supreme Court justice Antonio Carpio, it would be a pleasure to debate against you. I'll see you at the designated time and place," he added.
Roque explained that Senate Presidente Vicente Sotto III, and Senator Aquilino Pimentel III advised Duterte to not go through with his challenge because the Filipino people will not benefit from it. Carpio is just now an ordinary lawyer, and because Duterte might affect public policy.
"Bakit papayag sa debate eh nakaupong Presidente naman si Presidente Duterte at si Atty Carpio naman po, bagama't siya'y dating mahistrado, ay ordinaryong abogado na ngayon. Parang hindi naman po ata tabla na ang Presidente mismo ang haharap sa ordinarying mambabatas. Parang hindi po patas," said Roque.
Roque himself said he considers Duterte the "modern-day Lapu-Lapu."
"President Rodrigo Roa Duterte is my modern-day Lapu-Lapu, lalong-lalo na po sa kaniyang polisya na independent foreign policy," he said during the 500th anniversary of the Battle of Mactan.
"Ibig sabihin po n'yan kaibigan nating lahat, wala po tayong kaaway, wala po siya sinasantong mga dayuhan."
Carpio meanwhile will not bring up any issues concerning Scarborough Shoal.
"There is no factual dispute that China seized Scarborough Shoal from the Philippines during the Aquino administration. There is also no factual dispute that China seized Mischief Reef from the Philippines during the Ramos administration. Further, there is no factual or legal dispute that China seized Scarborough Shoal and Mischief Reef in violation of international law," said Carpio.