Next year's Philippine Presidential election is just a little over a year from now, and people are eager to see the change they've been longing for.
Some have already decided to vote for certain candidates whom they think will help this country bounce back from the horrific experience of the pandemic.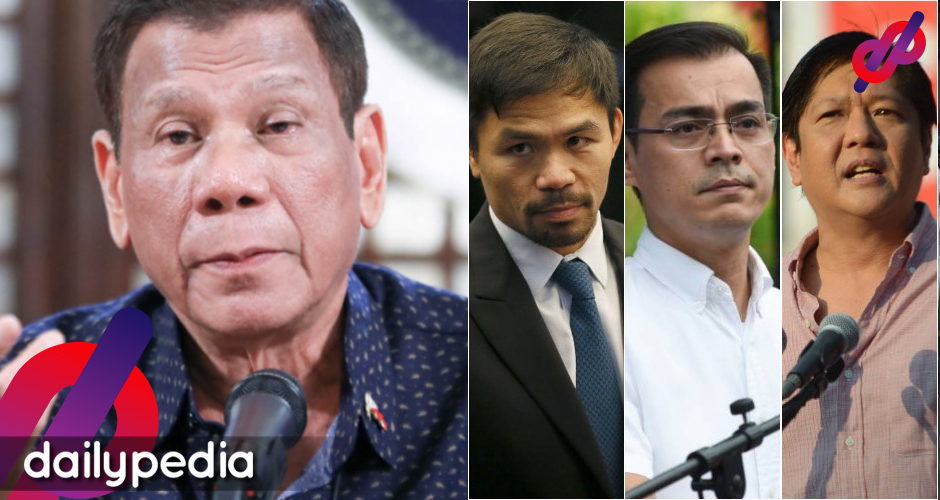 While some are still undecided, incumbent President Rodrigo Duterte has publicized whom he will pick in 2022 in case his daughter Davao Mayor Sara Duterte and long-time aid Senator Bong Go will not be running.
And to no one's surprise, he's leaning towards endorsing Manila Mayor Isko Moreno, Senator Manny Pacquiao, or former senator Bongbong Marcos.
"In the end, kapag hindi tumakbo si Sara, hindi tumakbo si Bong Go, because he will only run for President if the President will run for Vice President, the President will have to choose who has the number," Harry Roque said.
"He will have to choose from Isko, Manny Pacquiao, and Bong Bong Marcos kasi wala naman nang iba," he added.
Duterte's endorsement will be huge for any candidate since his approval rating is still high, said Roque.
"The Presidential endorsement will be formidable. Not only that, it's not just the endorsement, it's the machinery of Government that will be working for the anointed candidate of the president," he said.
Roque himself however is less likely to run also.
"When you want to serve, you need to have the resources. So ako po, talagang hindi pa sigurado rin kasi nga it really depends if I have the resources."
Sara earlier said 2034 would be the best year for her to run for the Presidency, and not 2022.
Upon knowing about the possible endorsements, people went to social media and aired their frustration.
Netizens spoke, the three picks seem unlikely to do good for the country.
"Duterte to choose between Isko Moreno, Manny Pacquiao, and Bong Bong Marcos if Sara and Bong Go will not run for 2022"

What a shit show.

— ANGEL. (@misaangelique) April 7, 2021
Duterte basing his choice depending on a candidate's popularity doesn't make much sense. Competence should be on the top of the criteria.
Harry Roque : President Duterte will choose among the candidates with the great numbers, either Isko Moreno, Pacquiao & Bongbong Marcos as the next president.

So babasehan pala numbers, hindi yung pagiging competent, kaya leche2 yung bansa naten ngayon. ,🙄🙄🙄

— Parekoy_J⚓ (@JmWyatt5) April 7, 2021
hELLO??? SARA DUTERTE??? BONG GO??? ISKO MORENO??? MANNY PACQUIAO??? BONGBONG MARCOS??? YAN TALAGA MGA POSSIBLE PRESIDENTIAL CANDIDATE NATIN??? ANIM NA TAON NA NAMAN BANG MASASADLAK PILIPINAS HA NAKAKAPAGOD MAGSETTLE SA LESSER EVIL KASI PARE-PAREHAS LANG NAMAN SILANG HALANG pic.twitter.com/PeunpaVQkz

— :C (@ceeejcatacutan) April 7, 2021
akala ko ba nd nia patatakbuhin ung anak nia? bipolar tlg utak. . c bong go? puro picture lng ggwin nian.. manny.. dinadaan mo lagi sa boxing pr makuha mo simpatya ng tao e.. eepal k lng kung kelan mo gusto.bongbong.. tanggalin mo muna pgiging bitter mo sa pagktalo mo bilang vp.

— -maLdita- (@masmaLdiTa08) April 8, 2021
a ganun ba, si isko pwede sana pero masyado pang maaga!

cge try nyo si pacman, bongbong or si BONGgaGO… ayus yan!

isa lng nman ang mga sandata nila, PERA lng tlaga!

tutal mganda nman ang credentials nila, mayaman, may pera, mayaman at higit sa lahat may PERA!

— koopal_kah (@KoopalK) April 8, 2021
tangina,,, so kapag hindi 'tatakbo' sa halalan 2022 si Sara Duterte o Bong Go, baka raw ang i-endorse ni Du30 ay maalin kina Pacquiao, Isko Moreno at BongBong Marcos.

wow. tangina.

— leil✨|| 7Dream comeback ! (@softynctzen_) April 7, 2021