Is Malacañang Palace becoming more and more indifferent toward the struggles of Filipinos? Does the country continue its record-holding COVID-19 lockdown in Southeast Asia?
Based on Palace statements, it would seem so.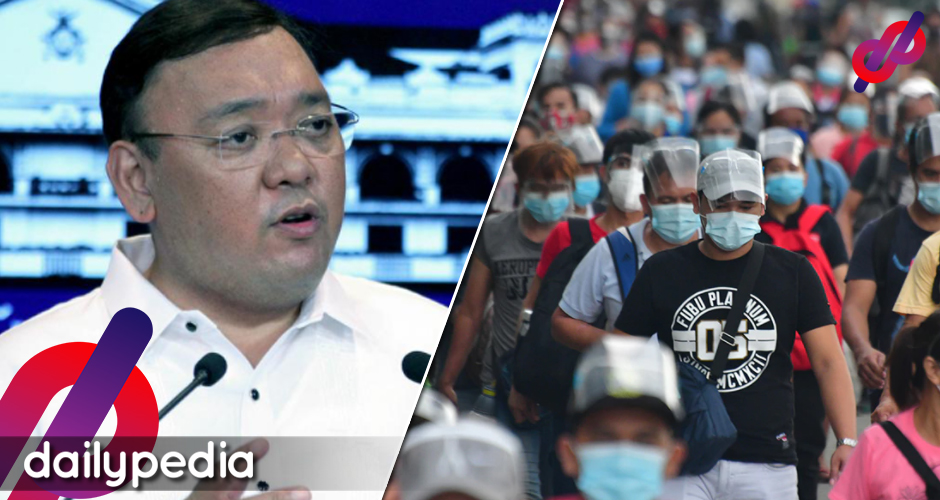 Roque just earned the ire of Filipino Netizens anew after insisting that the country is "not alone" in struggling to deal with recent COVID-19 surges.
'WE ARE NOT ALONE'

Presidential spokesperson Harry Roque reiterates that other countries are also experiencing a surge of COVID-19 cases due to the new coronavirus variant. pic.twitter.com/W1auCUqcfE

— Inquirer (@inquirerdotnet) April 5, 2021
"We are not alone in this predicament. Everywhere in the world, we are experiencing the effects of these new variants," Roque said in a recent Laging Handa press briefing.
He added that the country is "coping" and that "we are facing this with no hesitation," even going as far as saying "we know how to cure" COVID-19.
Roque would back up his statement by pointing out that countries in Europe and the United States are also struggling with the more infectious UK, South Africa, and Brazil variants of COVID-19.
With such–it leaves Roque open for criticism from Netizens all over again—though most people seem to now resort to Roque's favorite tactic of "presenting data."
First, Netizens would hit Roque for comparing the Philippines to countries in Europe and the Americas and not those in Asia who beat the pandemic way before vaccines were available.
I watched your presscon, you compared PH as having lower cases than US, Brazil, or Germany. You never compared the PH to neighboring countries like Vietnam or Singapore. Sa Southeast Asia, tayo ang kulelat. You guys never brought that up

Justify niyo pa incompetence niyo https://t.co/5xI1iwTzv6

— CORNBIP-19 (@geloarnaldo) April 5, 2021
Absurd. Why not compare us with those countries which are winning the fight against the pandemic? Jusko ka @attyharryroque, from "Excellent" to "We are not Alone". Why not just accept that this admin failed and incompetent in handling the pandemic? https://t.co/RnvhRnAkf6

— Pepc Paloma (@Pampalomaris) April 5, 2021
Some would even stay within Roque's defense and yet tell him off for not sharing the government's "plans" to deal with COVID-19.
But those countries have legitimate and concrete plan to fight the virus, paano tayo? ECQ, Curfew, and hintay hintay na lang ganon? https://t.co/RKk8VT6D3q

— • no • ; • #OUSTDUTERTENOW (@uniqstuffles) April 5, 2021
we have been asking for a plan in response to this pandemic tas ang bibigay nyo samin band-aid solutions, paninisi, theatrics, a lil play on semantics, tas news of the pandemic sit abroad as a foul-mannered way to offer comfort???? this is bullshit baby what is up with yall

— querida/o (@usheewahka) April 5, 2021
A Netizen even made a thread asking Roque to stop looking at more developed countries—which the Duterte administration used to hate—and look within the region, where countries like Vietnam have long since dealt with COVID-19 without the aid of a vaccine.
ETO NA NAMAN HO TAYO SA PAG COVER-UP NG INCOMPETENCE.

Ikumpara mo tayo sa mayayamang bansa na may dry-run na ng concerts or di na kailangan ng masks at crufew, or halos vaccinated na lahat. WE ARE ALONE

— เคนไซมอน P'Ken 5555+~~ (@_kenscymon) April 5, 2021
Roque is even hit with headlines and 'literally' throwing his logic out of the window.
Have we really learned tho? https://t.co/gLM82EHSx7 pic.twitter.com/s3yMZSV3cO

— Jap (@japtobias) April 5, 2021
To date, the Philippine government has merely adjusted its COVID-19 policies as outlined in Roque's rostrum: Mask, Hugas, Iwas.
Beyond intensifying quarantine protocols, the Duterte administration continues to pin its hopes on the vaccine.
Critics of the Administration also said the national government's "plan" is more of a reaction to current COVID-19 numbers—far from the more proactive suggestions from the same critics.
For its part, the Government continues to learn from its year-long mistakes in handling the pandemic, tweaking and adjusting policies to supposedly better react to surges.
Filipinos, however, are still under the world's longest COVID-19-related lockdown, with the country never having fully opened its economy.