It seems the end of March—and coincidentally the middle of Holy Week—has seen Filipinos talk about two dishes that are usually on opposite sides of the spectrum: the humble lugaw or rice porridge or congee and lechon or roasted pig.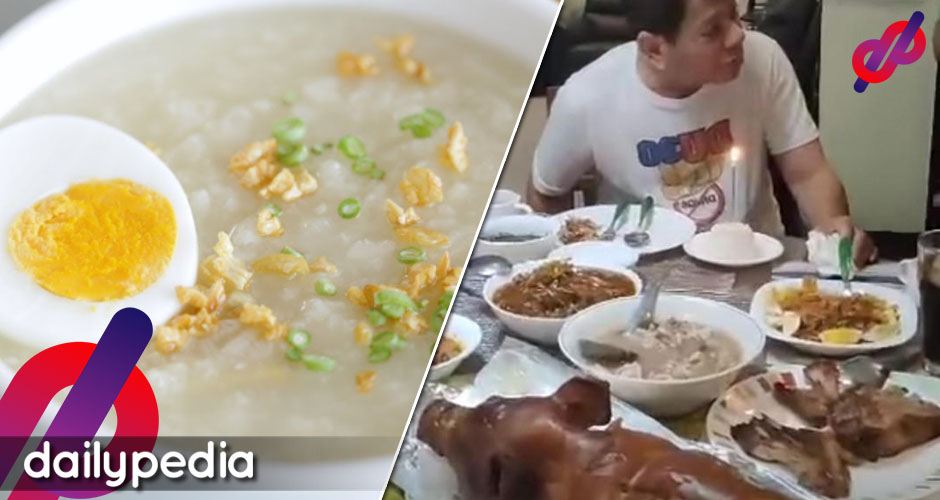 The week started with Netizens flaming over President Rodrigo Duterte and his aide, Senator Christopher "Bong" Go for this incriminating video.
This is the video. Nag deactivate si girlalu but not after someone downloaded it. pic.twitter.com/B13pmZtvS4

— Gina A. Policarpio (@gapolicarpio) March 28, 2021
It showed the Philippine President having more than just a "rice" birthday cake via Go's photo posted on his Instagram account.
Netizens slammed Duterte and Go for supposedly trying to "fool" Netizens into thinking the President is indeed living a simple life, as well as calling him out for trying to touch his house help in a place that should not.
the video posted that was out on social media was duterte blowing a candle on a plain rice as a cake, but on a different angle, a lechon was literally on the table lol.

the worst part? when he tried to touch the girl's private part, it's harassment.pic.twitter.com/MzK6ewVtrJ

— ً kai ; i miss joshtin (@archercullens) March 29, 2021
Someone didn't get the memo. Lol! pic.twitter.com/i97my0wcMK

— Gina A. Policarpio (@gapolicarpio) March 28, 2021
https://twitter.com/raehorizon/status/1376658317074780164
the way that girl reacted seems like it's been done way too often to her,, i hate men specially this man, this man deserves hell https://t.co/h80twSN6dk

— noa (@yaboinoa) March 29, 2021
They clapped back at Palace spokesperson Harry Roque for defending Duterte's seemingly innocent move to try and touch his house help's genitals.
Today, however, Netizens are going toward the opposite end of the Filipino food spectrum and calling out a barangay official for denying entry to the humble lugaw.
A viral clip of a delivery app rider discussing with an official from Barangay Muzon, San Jose Del Monte, Bulacan about whether his delivery of lugaw was considered "essential" made waves on social media on March 31.
'Yan ang paliwanag ng Malacañang matapos harangin ng mga tanod ang isang rider na mag-de-deliver sana ng lugaw sa San Jose del Monte, Bulacan.

Giit kasi ng mga tanod, bagamat pagkain ay hindi essential ang lugaw! Panoorin: pic.twitter.com/IA8lUzLa70

— GMA News (@gmanews) March 31, 2021
According to reports, the incident happened on Tuesday, March 30, during the second day of the enhanced community quarantine (ECQ) in the NCR Plus bubble that included the Bulacan province.
"Essential po ba si lugaw? Hindi. Kasi mabubuhay ang tao ng walang lugaw," said the female barangay tanod.
She added that groceries are the only ones considered "essential" according to printouts of Roque's presentation to the media on Saturday, March 27, during the announcement of the shift to ECQ.
Marvin Ignacio, the delivery rider, would then be told to go back across the border when the woman insisted that even the services of food delivery riders were deemed non-essential.
She would also highlight how the curfew hours, which starts at 6 pm and ends at 5 am, were also in effect—and that it extended to "non-essential" work like those of Ignacio.
She would even threaten Ignacio with a violation ticket, which would mean he would have to go back to Bulacan and pay off the fee before can get his driver's license back.
Netizens banded around Ignacio and other food delivery riders for threats of being hampered by officials of Barangay Muzon.
Oh my goodness. Bakit gulong-gulo sila sa sarili nilang rules? Pati ba naman common sense, wala na rin?#LugawIsFood #LugawIsEssential https://t.co/KItY9u9twx

— Tine (@tinemanongsong) March 31, 2021
Grabe napa face palm na lang ako. Umaabot talaga hanggang sa pinakamababang antas ng gobyerno yung hindi pagtanggap sa pagkakamali at ayaw pakinggan ang ibang panig ano. Puro na lang power tripping. https://t.co/gOfylB7BMG

— _ (@wander__wall) March 31, 2021
My question is – nakakain kaya tonight yung nag-order nung lugaw na hinarang? pano if wala syang ibang pagkain sa bahay? kklk. #LugawIsEssential https://t.co/8k6tScKMh6

— krizia (@kriziabee) March 31, 2021
Ipagtanggol ang dangal ng lugaw. #LugawIsLife

— Atom Araullo (@atomaraullo) March 31, 2021
Others made fun of the barangay tanod, pointing out how she is not doing her job in full understanding of the protocols during ECQ.
If lugaw isn't essential sayo, ate naman… lugaw is life sa amin. Ano di na kami kakain during curfew hrs kasi lugaw kakainin namin. Funny ka te!

Di lang dapat binabasa ang rules te iniintindi din. Haiiissttt. https://t.co/Pv4rVtnuwy

— Jafet (@FetandPotpot) March 31, 2021
yung papel mo yung di essential siz:< https://t.co/oZkIwLBcpj

— 베야 (@MTrizzyy) March 31, 2021
Hiyang hiya ka siguro sa sarili mo ate habang pinapanood mo 'tong video kagigil! https://t.co/1DQcqkK4No

— Babyshark (@jsh_tngsn) March 31, 2021
A Netizen even recounted her experience during the first wave of ECQ in 2020.
Bilang may bahay kami sa San Jose del Monte, Bulacan, totoo yung sinabi nung rider na hindi knowledgeable yung mga nagpapatupad ng guidelines doon. Last year hinarang din nila yung nanay ko 1/* https://t.co/24FIGlcaMC

— Rafi Cerda-Sartin (@rafisartin) March 31, 2021
https://twitter.com/rafisartin/status/1377332984194342914
"Sige videohan mo para maintindihan mo." – ate na taga brgy.
Woooh nakakatawa na nakakainis. Hayp yan! #LugawIsEssential https://t.co/1SR9ljxi8p

— RJ (@RobertJames_00) March 31, 2021
Memes have also sprouted using the hashtag #LugawIsEssential, with Grab Philippines, the company that Ignacio is working for, taking the initiative.
https://twitter.com/grabph/status/1377212105137524741
Lugaw is essential.
Food is essential.
Our riders are essential.#LugawIsEssential pic.twitter.com/QNnDZfpxGQ

— Default Cafe Pub (@defaultcafepub) March 31, 2021
Jusmio Corazon! Stop the discrimination against LUGAW! #LugawIsEssential pic.twitter.com/8dSYNB9l55

— Kent (@kentttresist) March 31, 2021
https://twitter.com/aniradioplus/status/1377228188556783617
https://twitter.com/phoenixsuperlpg/status/1377227213720801290
https://twitter.com/boilingwatersph/status/1377278575448104961
Even Maslow's Hierarchy of Needs has been "updated".
Updated version of Maslow's hierarchy of needs. Char!#LugawIsEssential pic.twitter.com/bKq6pTn1no

— Jodah (@judaaahhh) March 31, 2021
Fortunately for the barangay official, Roque has come out with a statement earlier tonight explaining the protocols and guidelines that flew over her head.
The Palace has spoken, #LugawIsEssential.

Malacañang on Wednesday said "lugaw" (porridge) or any other food item is considered as an essential good and that food delivery services should be allowed to operate even during curfew hours in ECQ areas. pic.twitter.com/21rgpRisuU

— The Philippine Star (@PhilippineStar) March 31, 2021
In his statement, Roque said, "Lugaw, or any food item for that matter, is considered an essential good. Delivery of food items must remain unhampered 24/7."