From regular Juans to healthcare workers on the frontlines, it seemed Filipinos have the "actual data" that the Inter-Agency Task Force (IATF) for the Management of Emerging Infectious Diseases sorely needs—especially in hospitals.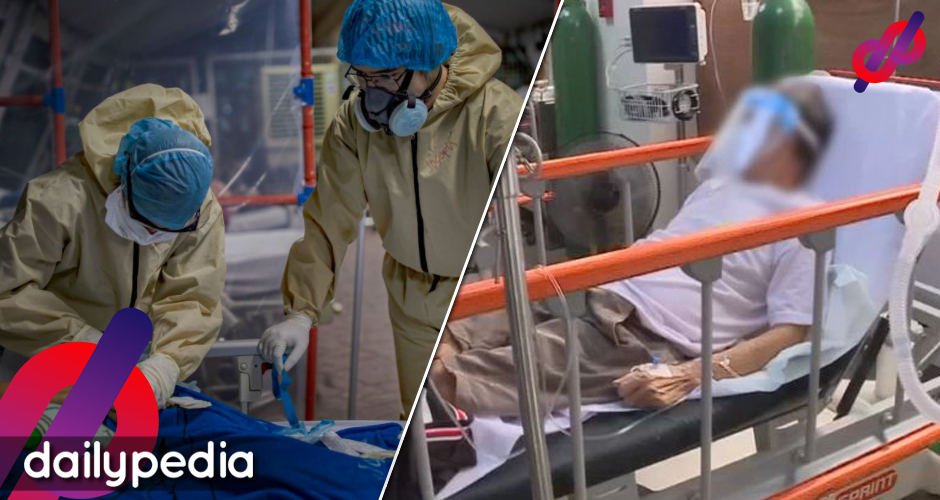 These stories come as facilities continue to reach critical levels as far as COVID-19 beds, wards, and equipment are concerned.
Dr. Roland Angeles, a doctor on duty at the Philippine General Hospital's (PGH) COVID intensive care unit (ICU), recalled his experience from the past eight months on duty.
In particular, he shared his experience with Filipinos looking to have their loved ones be taken care of at PGH COVID wards.
Daming nagtatanong saan pwede mapaadmit mga magulang at kamag anak nila. Pwede ko daw ba ipasok sa PGH.

8 months nakong nagduduty sa COVID icu ng PGH pero sarili kong mga magulang hndi ko alam saan dadalhin kung magpositive

— Roland Angeles (@rolandangeles) March 28, 2021
He has even heard of stories of young Filipinos dying on their way to the hospital because of COVID-19.
Getting horror stories like a 27 y/o dying from COVID in an ambulance, not getting into hospitals.

Others desat na, di parin mapagkasya sa mga ER at pinapauwi nalang.

Kahit may pera ka parang wala parin, di ka parin maaccommodate ng healthcare system na to

— Roland Angeles (@rolandangeles) March 28, 2021
Another netizen, a game developer, details his harrowing account of how his father died of COVID-19–all because the IATF and the national government had not prepared for the virus one year later.
my dad died last night from COVID-19. I need you to understand that this is the government's fault.#palpak #palpakduterte

he tested positive on March 16. we isolated him at home and got a doctor to monitor his vitals through text and prescribe medicine.

— ange (@ange_741_) March 28, 2021
He talks about how they had to drive from one hospital to the next because of exorbitant ambulance fees as well as trying to find an emergency room willing to refill his father's oxygen tank.
he started to struggle breathing at 8:40pm last night, March 27. we called an ambulance at first, but they were asking for ₱16-20k upfront so instead we opted for a volunteer vehicle from a close friend. we were sustaing him through oxygen but the tank was nearly out.

— ange (@ange_741_) March 28, 2021
He added that it wouldn't be until his father reached critical status that hospitals considered admitting his father—though it would not be within the four sterile walls of the hospital.
upon arrival, we couldn't even get in the ER. note that they knew my dad was already in critical condition, but they couldn't do anything because the ER was full.

they put him on a stretched outside, hooked him up to a hospital-grade oxygen tank, and monitored his vitals.

— ange (@ange_741_) March 28, 2021
This would be further highlighted after news of former President Joseph "Erap" Estrada testing positive for COVID-19 broke.
May mga pribileheyo Ordinaryong Pilipino pic.twitter.com/jvXvpeAjMq

— Register and Vote PLEASE (@JMakangkage) March 29, 2021
Netizens would point out how Estrada was "rushed" to a nearby hospital and was eventually stabilized, yet the game developer's father spent a good few hours on the road before even coming close to getting proper medical attention.
Hospitals have been issuing full capacity notices since last week. Ordinary people were refused admission. Some even die at home without getting proper medical care. How did this man manage to get a bed for himself? https://t.co/VkHXPgTs4z

— a fan of ✜⁵ ᴮᴱ⁷ (@soyebetahuFAN) March 29, 2021
no vacants in hospitals but erap got admitted? philippines is SO fucked up https://t.co/blP6wDn5Qj

— rys (@rosesareryu) March 29, 2021
Saang hospital kaya?! Good thing may bakante, exclusively for an ex convict president. https://t.co/DgU8DNO9kV

— V 🏳️‍🌈 #StopPoliceBrutalityPH (@the_pearl_lover) March 29, 2021
Data analytics expert Edson Guido would even show how bad the situation really is across the country based on data from the Department of Health.
Let's look at ICU bed occupancy:

– CAR is still CRITICAL (over 85% occupancy) ‼️

– NCR, Region 4A and Region 3 are all HIGH RISK (70-85%)

– 76% occupancy in NCR is the highest since Aug 15, 2020 ⚠️

– 68% occupancy in Region 2

The situation is likely WORSE on the ground. pic.twitter.com/DPxXdEmKkf

— Edson (@EdsonCGuido) March 29, 2021
"The situation is likely worse on the ground," Guido added, showing how accurate netizen's experiences are.
After President Rodrigo Duterte placed the region known as NCR Plus, health experts hoped for a bit of reprieve, especially those currently working in COVID wards across the country. The National Capital Region and neighboring provinces Laguna, Rizal, Cavite, and Bulacan—under lockdown for a week.
Healthcare workers can breathe, as experts observed. Via enhanced community quarantine (ECQ) and limited people movement–it helped the medical frontliners.
The government, however, said the one-week ECQ serves to observe how daily case counts behave. A decision extending ECQ in NCR Plus will likely come before the current lockdown ends on April 4.