The Office of the Vice President (OVP) earned praises after they launched their mobile antigen testing program to help the country fight against COVID-19.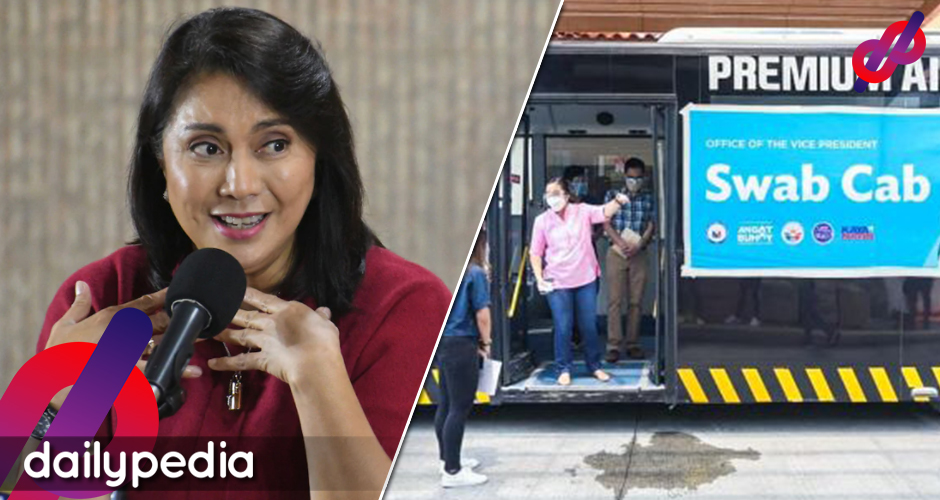 In her post, on March 27, Vice President Leni Robredo stated that the program aims to conduct mass surveillance testing in areas where the COVID-19 transmission is high. The project is under the OVP's anti-poverty program Angat Buhay.
"Magpo-provide tayo ng mobile na parang bus, pupunta doon sa mga communities na grabe iyong transmission, pero may partnership with the LGU kasi iyong mag-a-identify noong mga communities iyong mga LGU mismo, pati iyong kung sino mismo iyong isa-swab," Robredo said.
She added that the surveillance antigen testing would help identify cases even if one has yet to show symptoms. The results will be available 15 to 20 minutes after the test.
We're launching SWAB CAB, a mobile testing program which will do mass surveillance testing in communities where transmission is very high. Pilot area is Malabon. Thank you to LGU Malabon, Ube Express and Kaya Natin Movement for the partnership. pic.twitter.com/n76zd3mxw7

— Leni Robredo (@lenirobredo) March 27, 2021
Chel Diokno then praised the Vice President for having a science-based approach to the country's situation regarding the pandemic.
"Ganito mismo yung science-based na pamumuno na isang taon nang hinahanap ng mga Pilipino," Diokno tweeted.
Ganito mismo yung science-based na pamumuno na isang taon nang hinahanap ng mga Pilipino.

Salamat VP @lenirobredo at sa OVP, Malabon LGU, Ube Express, at Kaya Natin! Initiatives like this give us hope. Let's share and support! https://t.co/Vn2NnNqWGK

— Chel Diokno (@ChelDiokno) March 28, 2021
A Netizen even said that Robredo is a "competent President."
This is our competent President https://t.co/UzM0POnEMd

— MauriceLac (@mauricelac) March 29, 2021
Robredo's supporters continue using the hashtag #LetLeniLead to show their appreciation for the vice president.
THIS is what you call a concrete plan and competent leadership!!! #LetLeniLead https://t.co/479urCSjsg

— Jp Ocariz (@jpocariz) March 28, 2021
Another pointed out that Robredo has no added baggage to her COVID-19 approach.
"Just a leader putting her words into action since day one."
No incoherent cursing, no drama, no close up ng pores sa national TV, just a leader putting her words into action since day one https://t.co/rkH0g0IBfW

— Tracy the Human (@tracysushi) March 28, 2021
Edwin Lacierda also praised the program.
This project is, by its nature, a startup. It identifies the problem, the pain points and finds a solution. And this initiative is scalable.

In the absence of the vaccine, the correct identification of the problem leads to the correct identification of a solution. https://t.co/ehtDIHq5Lm

— Edwin Lacierda (@dawende) March 28, 2021
A twitter user used the opportunity to take a jab at the current administration saying that "those who had the command of billions" could've taken the same steps since last year.
Those who had command to billions could have done this on DAY 1. https://t.co/epf62T2xa8

— #PalayainSiSenLeila (@apojoe) March 27, 2021
Another also pointed out the OVP's capacity even with limited funds.
A Mass testing mobile!? The mass testing that we've been begging for since early 2020 but as a mobile hub because of her limited funds.

Just imagine if she was president. #LetLeniLead #DuterteResign #DutertePalpak https://t.co/J7CISBeIPM

— Wilhelm Wei #DutertePalpak #DuterteResign (@WilhelmWei2) March 27, 2021
"Women can lead. Sometimes even better than men," a Netizen wrote.
WOMEN CAN LEAD, sometimes even BETTER THAN MEN. 🤷‍♂️
You guys see, how they do things differently?
This is the response we're demanding from Duterte admin but they failed to do so (militarization pa rin sila🙄) & here's VP Leni Robredo giving it to the Filipino people 👌 https://t.co/KDMVSrqIRS

— Troy (@Tryyyyy250) March 27, 2021
Robredo also posted that they have taken suggestions from doctors to make the Swab Cab initiative more effective.
After our announcement last night, some doctors reached out with important suggestions to make our Swab Cab initiative more effective.

Thanks to well-meaning experts for the recommendations. We're meeting with them, and will update once we've incorporated their suggestions. https://t.co/XbRxbkIumn

— Leni Robredo (@lenirobredo) March 28, 2021
The project started in Malabon City from March 20 to April 6.