One of the country's brightest volleyball stars now faces a dilemma–accept her team's offer and be a naturalized Japanese citizen and push for a possible Olympic berth or stick with her nation of birth and seek glory in a regional meet.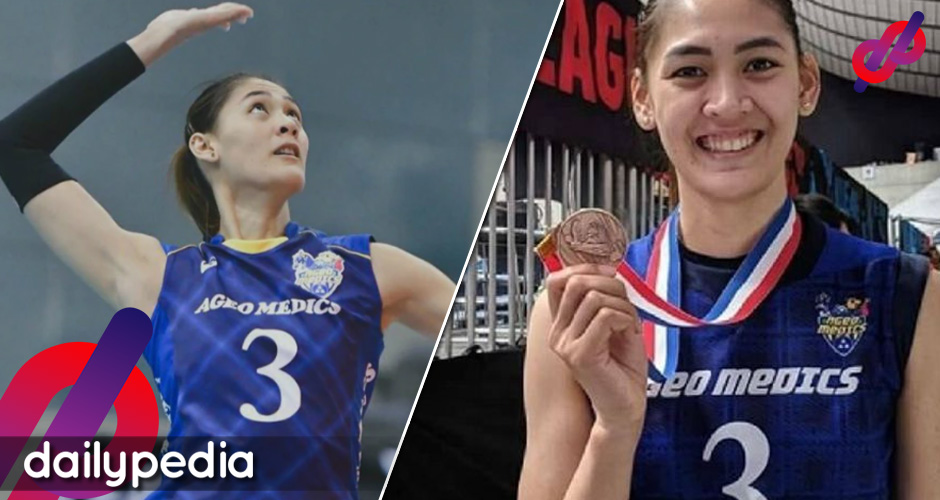 It is the unenviable situation the volleyball star Jaja Santiago is now facing as she got an offer from her Japan V League team–to be a Japanese citizen.
In an interview with Anton Roxas, who runs the Volleyball DNA YouTube channel, Santiago said she already received the offer before helping the Saitama Ageo Medics to a gold medal finish in Japan's V Cup.
Should the rising volleyball star grab Japan's citizenship offer, she gets the chance to represent the Land of the Rising Sun in bigger stages such as the Olympics and World Championship. https://t.co/PxvVkNJDH7

— CNN Philippines Sports Desk (@sportsdeskph) April 4, 2021
"Kalagitnaan palang ng liga, kinakausap na nila ako na mag-stay ng maraming taon pa. Gusto nila akong tulungan na palitan 'yung nationality ko," she told Roxas during the interview.
Once the story got out, Filipinos prodded Santiago to take up the offer, even saying she would do better as a Japanese athlete in international competition than she wore the Philippine colors.
Jaja & Olympics in one sentence now that's a dream, gooo https://t.co/DGkCvwCLeh

— A (@chinita_almarie) April 5, 2021
Take it @alyjasantiago03. You know who's in charge of 🇵🇭 volleyball now. They don't deserve you. https://t.co/PdAeTBMoOP

— Sam Yunono™ 🇵🇭🎶🏀🏐 (@SamYunono) April 4, 2021
Yes. She deserves the chance to play at the Olympics. Japan can give her that chance. https://t.co/Omh3NzcMP4

— OAV (@MomkulitVelando) April 4, 2021
Almost every Netizen who read about Jaja's "predicament" has said she should grab the opportunity to play for one of the world's best volleyball programs.
Japan has consistently placed in the top 10 of the International Volleyball Federation's (FIVB) world rankings, with the women's team ranked 6th.
Others likened Santiago's case to how two of the country's most recent talents fared in international competition—and how the Philippine Sports Commission has handled their growth.
Take it @alyjasantiago03. You know who's in charge of 🇵🇭 volleyball now. They don't deserve you. https://t.co/PdAeTBMoOP

— Sam Yunono™ 🇵🇭🎶🏀🏐 (@SamYunono) April 4, 2021
Oo nga. Jaja deserves it. Team Pinas doesn't seem to know how to take care of their athletes. Another Wesley So case. https://t.co/TQvCCfExpn

— JESUS DELA ROSA (@jessdelros6) April 6, 2021
A Netizen even raised the idea of a mass exodus of Filipino athletes, as sports committees across the nation have continuously failed at offering support for and incentives to stay as a national athlete.
"We have lost Wesley So (chess) and Alex Pagulayan (pool) due to politics in the sports committee in the country. Something has to be done before the mass exodus of the country's best players." https://t.co/m3wZIJ9HXj

— π (@quuuicksilver) April 6, 2021
He highlighted chess player Wesley So and pool shark Alex Pagulayan, both of whom now represent nations in North America due to the never-ending issues of how officials handle national athletes.
Wesley So, now ranked as number two in the world. He consistently does well in international competition, yet never received support nor recognition from the local chess association. He changed his citizenship in 2015 to represent the US Chess Federation, where he arguably had more support.
Meanwhile, Pagulayan won gold for snooker at the 2005 SEA Games, yet never really represented the Philippines in all of his international wins. In 2012, his agent revealed that Pagulayan has opted to represent Canada in international competitions moving forward because of how messed up the Billiards and Snooker Congress of the Philippines was.
The most recent issue that faced the country's main association for billiards and snooker was its leadership row between Arturo Ilagan and Aristeo Puyat.
So and Pagualyan may not be the only Filipino athletes not representing their country of origin, though.
Paula Lynn Obañana, who hailed from Dumaguete, was once a highly touted badminton player for Siliman Univesity's high school varsity team. She later got recruited by De La Salle University. She played for the green-and-white in college but migrated to the United States in 2006–together with her mother.
She represented the United States in the 2016 Rio Olympics in women's doubles, though she and her partner Eva Lee did not make it out of the group stage. 
As for Santiago, she still has her heart set on representing the Philippines in the upcoming SEA Games. She is, however, still considering the offer, as her dream of going to the Olympics has not died out. Not yet.