President Rodrigo Duterte just made the rift between himself and Vice President Leni Robredo even bigger after telling the vice president to "just go and die" on live television.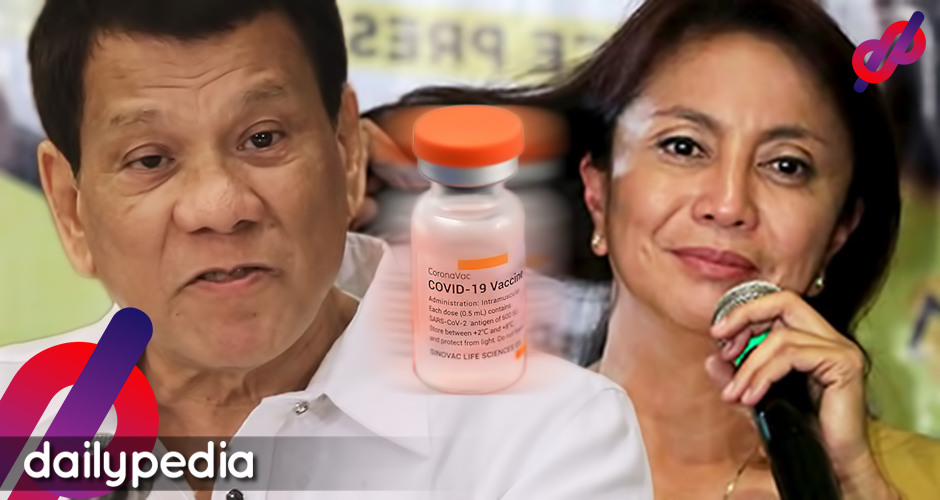 In a public address aired on March 1, Duterte would go on another tirade against the vice president for calling him out on Sinovac not securing a recommendation from the Health Technology and Assessment Council.
WATCH: Duterte tells Vice President Leni Robredo to die during his weekly talk to the people on #COVID19PH.

Duterte fumed over Robredo's call that Sinovac's vaccine should undergo the right process to, especially as it has not secured any recommendation from the HTAC. pic.twitter.com/j32eMwXPaO

— iMPACT Leadership (@iMPACTPH2019) March 1, 2021
Duterte was fuming as he spat insults at Robredo, calling the vice president out for "making an idiotic stance" while trying to defend the administration's rollout of Sinovac's COVID-19 vaccine.
He also said Robredo was merely trying to be relevant, implying that he has no plans of including Robredo in any action taken by his administration.
He also told Robredo that she had "an angel face but a devilish mind"—while at the same time seemingly admitting he had indeed been inoculated with Sinopharm ahead of everyone else.
https://twitter.com/nherzjane/status/1366383038557351937
In the same televised briefing, Duterte would also tell Robredo to "get a basket and try to get COVID-19 vaccines", even going as far as saying he will give the vice president the money to pay for them.
"Ngayon kung gusto mo talaga para mahinto ka, kunin mo 'yong basket mo, mamalengke ka doon sa labas ng bakuna. Bigyan kita pera, para kung may mabili ka bilhin mo na agad at umuwi ka dito sa Pilipinas," Duterte dared Robredo. https://t.co/DCZPg3ZZVI pic.twitter.com/cHWgxpV4uT

— Inquirer (@inquirerdotnet) March 2, 2021
These would trigger reactions from netizens, including celebrities and journalists, who believe the President once again did not show proper decorum—including US-based journalist Barnaby Lo.
In case you still don't know him well enough, HERE! I have never come across a more INSECURE president in my life time. pic.twitter.com/16G3JG2qV3

— Aurora Pijuan (@aupijuan) March 2, 2021
This okay for a world leader to say? I mean the tone towards the duly-elected VP isn't new but "mamatay ka na?" For foreigners, Pres. Duterte tells VP Leni to drop dead. https://t.co/QyQQJxYUGF

— Barnaby Lo (@barnabychuck) March 2, 2021
Others would clap back at the president, saying we could also tell him to die.
Oh hey, if this is acceptable for the president to say, we should do it too! Mamatay ka na din, Duterte. https://t.co/57i1LW4qKa

— Dale Bacar (@dalebacar) March 2, 2021
Award-winning writer Ogie Rosa would call out the president's supporters, point out how his actions would trickle down to some of his most influential defenders.
Duterte to VP Leni: Mamatay ka na!

Harry Roque to critics: Manigas kayong lahat!

Phillip Salvador to critics: Mamatay kayong lahat!

Like master, like minions.

— Ogie Rosa (@ogie_rosa) March 2, 2021
Political blogger Jover Laure pitied those who were tasked with editing out Duterte's tirades.
https://twitter.com/pinoyakoblog/status/1366660358291685378
Former PTV4 anchor Jules Guiang commented on how Filipinos have seemingly been desensitized to Duterte's tirades on live TV, especially when it concerns Robredo.
Sa sobrang daming nasty statements ni Duterte over the years parang di na tayo nagulat na sinabi niya sa TV na "mamatay ka na" kay VP Leni. Sobrang baboy na baboy na ang Presidency nakakahiya. He even had the nerve to say that VP Leni has a devilish mind. Coming from a devil ah?

— Jules Guiang (@julesguiang) March 2, 2021
Pia Magalona pointed out how Duterte said Robredo was only out to "provoke him" into saying things that are inappropriate.
Lolz blame game. Getting provoked is on you.

And when did you ever NOT say "things which are not appropriate?!?" https://t.co/Ypt6Q1IsTz

— Pia Magalona ⁷ #DefendOurFreedom (@piamagalona) March 1, 2021
Most netizens agreed that Duterte has been taking things too far in dealing with critics, especially when it comes to the Vice President.
Duterte previously called out Robredo for the latter's comments on his way of handling Philippine-US relations, particularly with the Visiting Forces Agreement.
Duterte told Robredo that she should know better as she is a lawyer who knows the Philippine constitution, and that she needed to "study more" before running for the presidency.