It would seem that the priority list for COVID-19 vaccination is at least being followed as 50 'influencers' were struck off the list of people who were going to get inoculated with CoronaVac.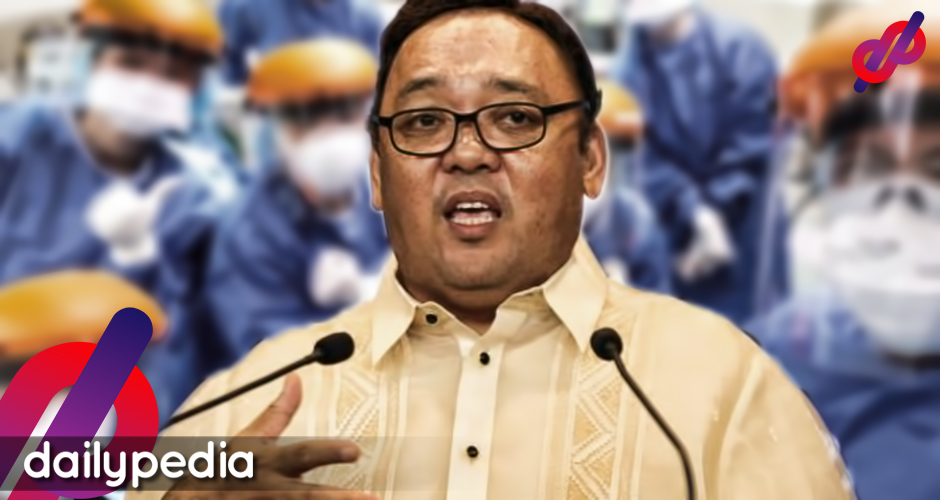 The news came from Presidential Spokesperson Harry Roque, who said he was one of the 50 influencers who was supposed to get priority for the recently-received doses from Chinese biotech giant Sinovac.
At a Palace media briefing, Roque said the interim National Immunization Technical Advisory Group (iNITAG) thumbed down the proposal to have 50 people jump ahead of healthcare workers, saying medical frontliners deserved to get the vaccine ahead of everyone else.
Presidential Spokesman Harry Roque says he didn't get vaccinated with CoronaVac because vaccine technical advisory group (iNITAG) supposedly thumbed down proposal for 50 gov't officials and 'influencers' to be given vaccine. They want it reserved for health workers. | @piaranada pic.twitter.com/tmIfJwg102

— Rappler (@rapplerdotcom) March 2, 2021
The reported 50 influencers apparently included Roque, select Cabinet officials, senators, a few congressmen, media personalities, movie personalities, and President Rodrigo Duterte himself.
The 50 government officials and influencers which the task force wanted to be given Sinovac vaccine included President Duterte, Cabinet members, congressmen, senators, media personalities, and movie personalities.

The list was rejected by iNITAG. | via @piaranada

— Rappler (@rapplerdotcom) March 2, 2021
The list of 50 influencers supposedly came from the Inter-Agency Task Force on Emerging Infectious Diseases (IATF) in an effort to boost public confidence in vaccines.
Roque's announcement, however, did not sit well with netizens.
Some viewed the rejection as a convenient excuse, with data from Sinovac's phase 3 trials still under wraps.
As the president's spokesperson and a guy who's always in front of TV promoting China's vaccine, Harry Roque should get vaccinated with Sinovac.

Diba they want Filipinos to trust it? Eh parang sila rin ang may ayaw.

— What's Your Covax Sign? (@DocGerrySexy) March 2, 2021
Ulol ka Roque.

I can think of multiple reasons kung bakit di ka nagpaturok. Wag kang gago.

Kasi vaccinated ka na talaga ng illegal and smuggled vaccine or hindi mo rin trusted yung sinovac and marami pa.

Wala kayong awa sa mga HCWs. Puta kayo. https://t.co/9fspFYWRaE

— Kevin Rico (@ikevinrico) March 2, 2021
Kay Duterte, Duque, at Lorenzana, ginamit ang Senior citizens' privilege card, hindi raw pwede sa Sinovac.

Kay Roque, una daw health care workers, kasi yung sa kanya, special… pic.twitter.com/VN6eKocVHI

— AkoNgaSyLico 璃乎. リコ. りこ. #LabanLeila (@SyLicoNgaAko) March 2, 2021
Some even shared Roque being pre-screened prior to saying he wasn't going to get the Sinovac jab.
Presidential Spokesperson Harry Roque and NTF COVID-19 Chief Implementer Carlito Galvez being pre-screened before receiving Sinovac's COVID-19 vaccine at PGH.

CTTO. pic.twitter.com/Knx10wi9F3

— Benedict Exconde (@iskonglasalista) March 1, 2021
https://twitter.com/joseph_morong/status/1366207233608929280
Netizens also quipped Roque for his line "the best we have is the one we have now" when he spoke about the best vaccine for COVID-19.
Akala ko ba the best is the one we have right now? Roque won't get Sinovac jab for now https://t.co/G73A30IVKh via @gmanews

— Rain Sindayen (@astinrainy) March 2, 2021
Roque would add to his reason for not getting inoculated with CoronaVac, saying he would like to "avoid controversy" by not pushing through with the IATF plan.
'To avoid controversy, I did not push through with it,' says Roque about his intention to get vaccinated with Sinovac vaccine.

— Pia Ranada (@piaranada) March 2, 2021
In the media briefing, Roque would also announce that it was Duterte who specifically asked vaccine czar Carlito Galvez, Jr. and vice czar Vince Dizon to get inoculated with CoronaVac as they were the "faces of vaccination".
Roque, who was at the University of the Philippines-Philippine General Hospital (UP-PGH) during the ceremonial inoculation on March 1, also said UP-PGH "ran out of vaccine doses" since only 60-70 people confirmed yet 128 people showed up.