President Rodrigo Duterte was two hours late for the arrival ceremony of the AstraZeneca COVID-19 vaccine. The ceremony is for the welcoming of the country's first shipment of vaccines from the World Health Organization (WHO) and COVAX facility.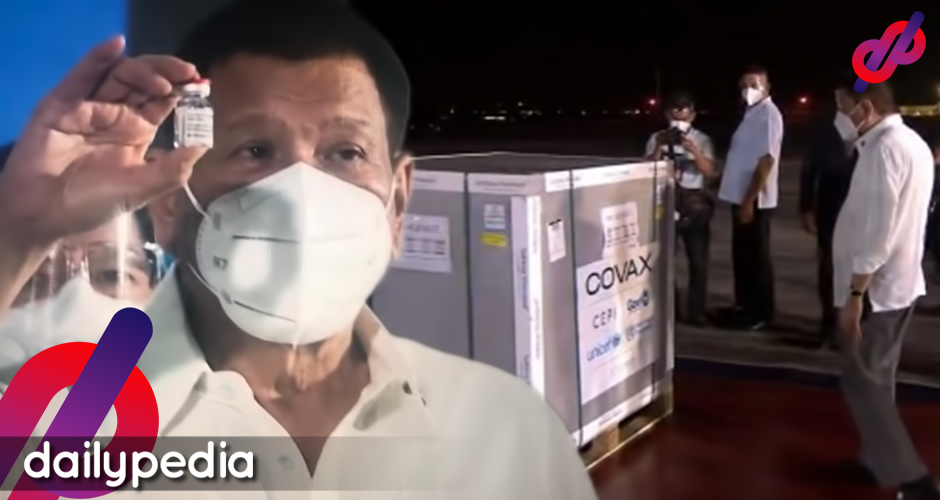 According to Duterte's official schedule from Malacanang, he was supposed to be at the Villamor Air Base in Pasay City at 7:30 PM to attend the ceremony on March 4. The vaccines arrived around 7:20 PM of the same night at the Ninoy Aquino International Airport Terminal 3.
But the president didn't arrive until two hours later at around 9:30 PM.
Several diplomats waited for Duterte including European Union (EU) Ambassador Luc Veron and British Ambassador Daniel Pruce as well as Dr. Rabindra Abeyasinghe who is the WHO Representative to the Philippines.
Netizens criticized the president's tardiness as he was on time during the arrival of the 600,000 Sinovac vaccine doses from China which arrived last February 28.
Syempre di sinovac yan e. Bakit nya aagahan. Humingi pa approval yan sa amo nya sa Beijing. Lol https://t.co/dQO79XNc9c

— 13 (@gnflrs1311) March 4, 2021
Someone described the president's actions as "disrespectful" as he made other notable individuals wait for him for two hours.
So he made the WHO representative also wait for him? That's disrespectful. Kunsabagay, wala namang ka respe-respeto kay duts. https://t.co/7R6Leq5Pwg

— weng (@wengkaiy) March 4, 2021
A Twitter user said that Duterte should be ashamed.
2 hours late si Duterte, tatanggap lang ng vaccine yon ha! Mahiya ka naman sa mga nag donate gorl!!!!

— Jordan (@jordanfortuna_) March 4, 2021
Others played around the placement of the word "late" which can mean two different things.
Our Late President Rodrigo Roa Duterte. https://t.co/pApvYHl20e

— PauloInManila (@pauloMDtweets) March 4, 2021
"The 'late' president duterte has a nice ring to it," a netizen wrote.
https://twitter.com/B_Arron/status/1367475960174448643
Another pointed out how WHO was the one that donated and delivered the doses but the president can't even appear at the ceremony on time.
Sila na nagdonate, sila nagdala, tas duterte late pa. Huwaw talaga https://t.co/7JGmE8mAIO

— A (@lyzamae28_) March 4, 2021
Someone then said that Duterte's late appearance may result in the delay of other deliveries to be made by WHO.
his tardiness could also mean that the plane wll fly back late, hence, delivery of AZ vaccines to other countries will be delayed! Shame on you Duterte!

— L J (@__lj07) March 4, 2021
A total of 487,200 doses of the AstraZeneca vaccine arrived that night.