Presidential Spokesperson Harry Roque just added to his list of media gaffes, this time insinuating that the year-long lockdown has been nothing more than a vacation for Filipinos.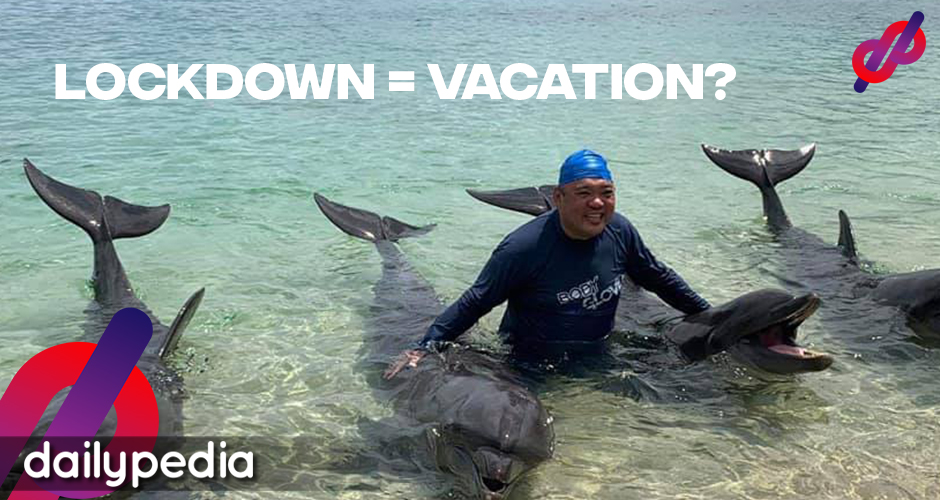 In a Laging Handa media briefing on March 2, Roque would try to defend President Rodrigo Duterte's decision to take away November 2, December 24, and December 31 from the list of holidays for 2021.
"Napakatagal na po nating nakabakasyon, halos isang taon na tayong nakabakasyon dahil sa COVID-19," Roque said during the media briefing.
ISANG TAONG BAKASYON DAHIL SA COVID-19?

Palace spokesperson Harry Roque defends President Duterte's order to turn Nov. 2, Dec. 24 and 31 into "special working days."

Read more: https://t.co/jYZTrCkJa4 pic.twitter.com/xSB2MZf5hH

— ABS-CBN News (@ABSCBNNews) March 2, 2021
This did not sit well with netizens, particularly journalists who have seen the damage the pandemic has done to Filipinos.
GMA News' Atom Araullo called out Roque for calling the country's year-long lockdown a vacation when it was "exhausting" and "anxiety-ridden" for Filipinos.
I don't know if anyone would characterize this exhausting, anxiety-ridden, one-of-the-longest-in-the-world lockdown as a vacation. Everyone wants to get back to work, but at what cost? https://t.co/vrk7YlJFgV

— Atom Araullo (@atomaraullo) March 2, 2021
Austria-based journalist Kevin Manalo slammed Roque for being insensitive. "Sana tubuan ka naman ng kaunting hiya at pagpapakumbaba."
The insensitivity is appalling, spox. Sana tubuan ka naman ng kaunting hiya at pagpapakumbaba. Di mo sana maranasan mawalan ng trabaho at sabihing "nagbakasyon" ka lang.

— Kevin Manalo (@kevinmanalo_) March 3, 2021
Celebrities and social media personalities would also chime in, calling out Roque for his controversial comparison of the year-long lockdown to a sabbatical.
Kakie Pangilinan called Roque's misplaced comparison "heartbreaking".
lockdown, school and work at home, and forced isolation =/= a vacation. people have died. how heartbreaking.

— nakakieinis (@kakiep83) March 2, 2021
Ramon Bautista would ask where Roque gets his confidence to face the public and spout controversial statements on a daily basis.
Saan kaya humuhugot ng self esteem ito si sir para humarap sa publiko at magsabi ng mga ganitong pasabog on a regular basis

— Ramon Bautista (@ramonbautista) March 2, 2021
K Brosas only had emojis to describe Roque's most recent media gaffe.
https://twitter.com/kbrosas/status/1366919303543418882
Filmmaker Quark Henares, on the other hand, lauded the Philippine Daily Inquirer for "always choosing Roque's worst possible photos" in their quotes.
I have to give @inquirerdotnet props for always choosing the worst possible photos of Harry Roque when they post these quotes (not that it's difficult) https://t.co/YLv8amy4ni

— Quark Henares (@quarkhenares) March 3, 2021
Human rights advocate Frank Baraan IV would have two of the meatier retorts to Roque's comparison.
One with a sprinkling of expletives…
https://twitter.com/mrfrankbaraan/status/1366715219448266754
… the other seemingly confirming Roque's comparison.
SAVE THE DOLPHINS FROM HARRY ROQUE LOOK. pic.twitter.com/curPkDLdtX

— Francis Baraan IV (@MrFrankBaraan) March 3, 2021
Roque has since clarified his statement, saying "hindi naman po talaga bakasyon iyan, kung hindi, hindi nakakapagtrabaho."
'Hindi naman po talaga bakasyon.'

Presidential spokesperson Harry Roque clarified his remark that the country went on almost a year of "vacation" due to COVID-19, saying he meant many were unable to work during this time. Read: https://t.co/B7BLeQs7PY pic.twitter.com/WdhQfF2tXr

— Inquirer (@inquirerdotnet) March 3, 2021
His clarification, however, did nothing to save his reputation with netizens.
Kumambyo Brother. Tankless talaga ang hitad https://t.co/2vEoAtVmSg pic.twitter.com/Oy7uq6ee0J

— Monsi Serrano (@MonsiSerrano1) March 3, 2021
Mass termination or mass layoff is not a vacation. https://t.co/GntMMx22Iy

— Nemenz Fabrea (@theMorresy) March 3, 2021
https://t.co/0KbCb0bCB1 pic.twitter.com/4dSEwtlOJL

— James Banaag (@dearscarjames) March 3, 2021
Roque's latest statement further adds to his series of media gaffes and seeming lack of communication with other government officials.
On March 3, Roque would boldly claim that 487,000 doses of AstraZeneca vaccines would be shipped to the country by March 4.
Vaccine czar Carlito Galvez, Jr. would later say he cannot confirm when the AstraZeneca doses will arrive.
Will the AstraZeneca vaccine doses arrive tomorrow? Palace spokesman Harry Roque says so, but vaccine czar Carlito Galvez is hesitant to confirm it. (via News5) pic.twitter.com/W5rJWPVxki

— ONE News PH (@onenewsph) March 3, 2021
Roque would also try to deny allegations about him habitually cutting off reporters who got too inquisitive during media briefings, placing the blame onto telecommunication companies Globe and PLDT-Smart.