Recent announcements from the national government have not filled netizens with confidence, especially with the looming anniversary of being on COVID-19 lockdown.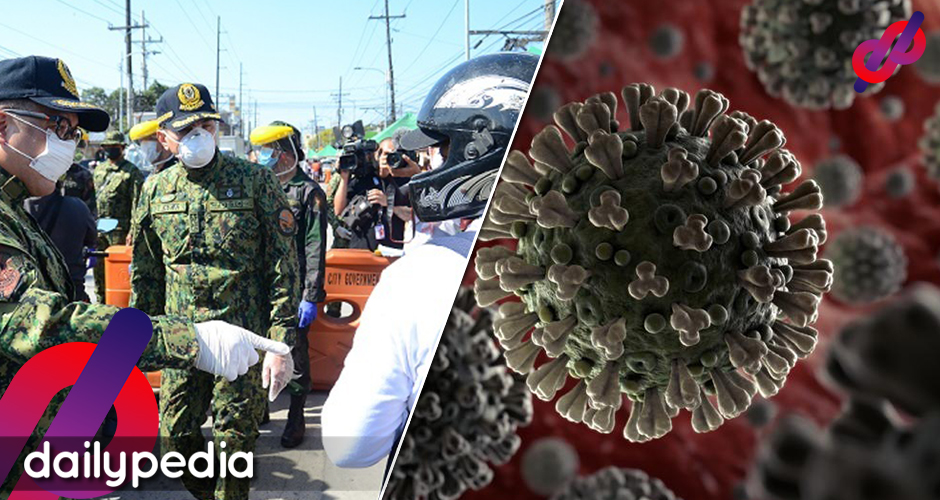 The flashbacks started when cases of COVID-19 started rising as the government looked to transition to a more relaxed modified general community quarantine.
From barely registering over 1,000 cases in a day, cases have spiked to between 3,000 and 4,000 in a day, with experts saying this is a result of increased mobility as well as new variants of the virus that causes COVID-19.
As some Filipinos go on self-imposed quarantine, the government would suddenly throw out policies reminiscent of when the global pandemic started in 2020–exactly a year ago.
Between increasing police and military visibility to enforce health protocols to localized lockdowns, the national government looks to merely repeat its "successes" in handling COVID-19.
Compared to richer countries, Presidential Spokesperson Harry Roque says PH has been excellent in managing the global health crisis. He says the gov't has limited the coronavirus deaths compared to the US, where over 525,000 have died of the disease. https://t.co/JR782qJbcv

— CNN Philippines (@cnnphilippines) March 8, 2021
This is something which Palace spokesperson Harry Roque seems to think highly of—outside of contact tracing, that is.
https://twitter.com/joseph_morong/status/1369974823917477891
While Roque admitted that the government's contact tracing could be better, he proposed that people stick to "preventive measures" to halt the spread of COVID-19.
Netizens, however, were not impressed with simple police visibility and the recently-imposed uniform curfew hours across Metro Manila, especially with daily COVID-19 cases about to breach the 4,600 mark.
Netizens pointed out how the government's militarist response has never worked, and treating the disease as a peace and order crisis is not working.
Metro Manila curfew is a non-solution that seeks to address the surging COVID-19 cases. Worse, in some LGUs, this is enforced by deployment of troops carrying high powered firearms. A year of militarist response to the pandemic has done nothing good for us. We deserve better

— Mong Palatino (@mongster) March 12, 2021
You see now why COVID-19 is having a buffet. It's all about perception. If our gov, national or local, see the pandemic as a peace & order situation & not a public health crisis, then they're just feeding the fire. One year into the pandemic, & they're still unevolved cavemen. https://t.co/9Xvf6qsTz7

— Kristoffer Pasion (@indiohistorian) March 12, 2021
Hindi kasi public order concern ang Covid19. Health concern siya. Dapat ang mga polisiya ay naka desenyo ayon dito. https://t.co/BeVkpqYV3C

— raffy magno (@raffymagno) March 12, 2021
https://twitter.com/jeffcanoy/status/1370269615364861953
Law enforcement without understanding the why of what they're enforcing. https://t.co/QpERekh7O6

— Barnaby Lo (@barnabychuck) March 12, 2021
One healthcare worker highlighted how the government seems to be focused on other things—like "trying to flush out rebels" instead of dealing with COVID-19.
NEED:
☑ Contact Tracing
☑ Paid sick leaves for quarantine +
☑ Adequate and FREE testing
☑ Prompt national vaccination program

SHIT (What PH Govt does):
❌ Ban Couple PDA
❌ Curfew
❌ Red-tagging, Crackdown on activists
❌ Extrajudicial Killings
❌ 2020 Part 2, with more BS

— Leonard Javier #StopTheKillings ✊ #HealthForAll ⌬ (@STPbasileo) March 12, 2021
Some questioned the decision to impose a uniform curfew in Metro Manila this long into the pandemic—especially with talks of opening up the economy under way.
Seryoso, paano natatanggap ng Metro Manila mayors ang curfew bilang response sa problema natin?

— Jerry B. Grácio (@JerryGracio) March 12, 2021
Apparently, ang COVID variant ng Pilipinas ay nocturnal. Solution? Curfew.

— Fatrick Tabada (@fatrickt) March 11, 2021
Award-winning writer Jerry Gracio would double down on his critique of the uniform curfew hours in Metro Manila.
Ang solusyon sa problema natin: Bakuna.

Hindi curfew. Hindi checkpoint. Hindi pagbabawal sa PDA.

Pero dahil walang bakunang nabili si Duterte dahil sa kupad niya, balik tayo ulit sa mga inutil na response ng inutil na gobyerno.

— Jerry B. Grácio (@JerryGracio) March 12, 2021
He said that the government should now be focusing its efforts on vaccination drives and not on such things as curfew, increased checkpoints, and the recent ban on public displays of affection.
This is highlighted by Senator Ping Lacson's recent statement, wherein he said it will take until 2033 before the country reaches herd immunity status against COVID-19.
Willing to wait hanggang 2033?

Sa kalkulasyon ni Sen. Ping Lacson base sa bilang ng mga nabakunahan na sa PH, posibleng abutin ng 2033 ang pagbabakuna sa 60-70% ng populasyon sa bansa para sa target na herd immunity. #COVID19 #COVID19VaccinePH

BASAHIN: https://t.co/x10eoNoMyw pic.twitter.com/ALHluEMnJm

— DZMM TeleRadyo (@DZMMTeleRadyo) March 12, 2021
In a statement, Lacson asked the Department of Health (DOH) to speed up the COVID-19 vaccine roll out because at the current pace, it will take "11 years and 8 months" before we can fully reopen the economy.
Medical experts also questioned imposing a curfew, since children below 15 years of age are still not allowed to go out of their homes.
Ang curfew dapat sa bata below 18 yrs old. Pero dapat no curfew 18 and above dahil sila yung mga nagtratrabaho. Kasi may ibang trabaho na pwede namang hindi 9-5 at pwedeng ikalat ang working hours in 24 hrs. Iwas siksikan sa transpo at sa opisina.

Last year pa ito sinabi ha.

— Dr. Winlove Mojica #stopthekillings (@theskinsensei) March 12, 2021
How can curfew effectively slow down the virus when people will move from 5:01 am to 9:59 pm ? #StayHomeSaveLives #VoluntaryECQ https://t.co/QNGSTBbSml

— Tony Leachon MD (@DrTonyLeachon) March 11, 2021
Legit curious: any scientific basis that curfew helps in decreasing the number of COVID-19 cases? https://t.co/oa7B4f4HD9

— what are they distracting us from? (@psychokenetics) March 11, 2021
The capitol-wide curfew is set to begin on Monday, March 15, starting at 10 pm and ending at 5 am. The curfew will last for two weeks.
This is supposed to streamline curfew hours in the metro as the national government cited "confusion" amongst Filipinos traveling between cities.
Health protocols even in our own homes?
Netizens even poked fun at another suggestion from the Department of Interior and Local Government—wearing face masks and imposing physical distancing even at home.
This comes after health experts noticed an increase in cases of families getting infected with COVID-19.
According to infectious diseases expert Dr. Rontgene Solante, family clustering comes more from family members coming in and out of the house.
Solante also supports imposing health protocols even at home. He adds that families should essentially go on a self-imposed enhanced community quarantine and not accept guests—even if they are relatives.
The DOH and the IATF have yet to comment on the DILG's recommendation.