The Philippine National Police (PNP), in its latest bid to fulfil its duty to "serve and protect", have placed an emphasis on banning public displays of affection (PDA) as a way to curb the spread of COVID-19.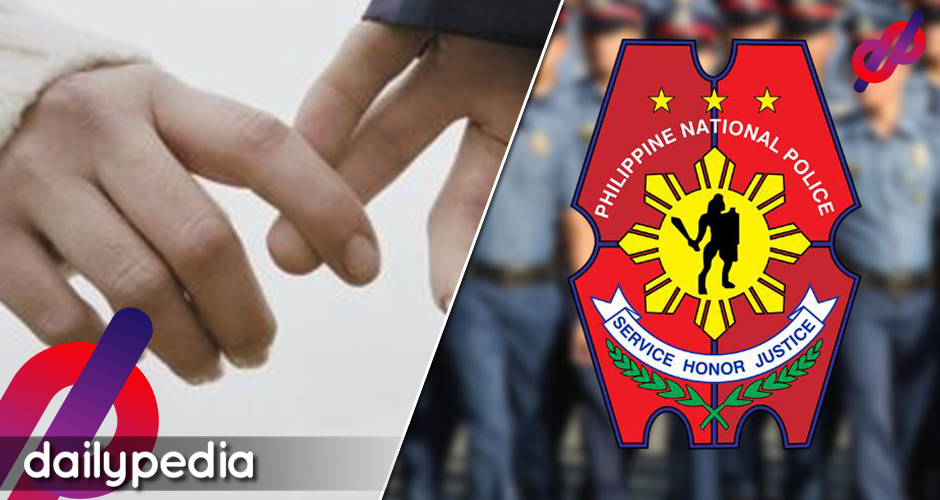 In an interview with CNN Philippines, PNP Spokesperson Ildebrandi Usana said the ban on PDA is not a new policy, but them merely reiterating "one of the past rules on the implementation of health and safety protocols".
He also stressed that PDA extends not just to couples but even friends and family members.
PNP cited infections spreading between family members as their basis for bringing their ban on PDA to the attention of the public.
A report from ABS-CBN also had Usana saying they will monitor the presence of those aged between 20 and 35 years old outdoors.
Bawal na PDA? Ayon sa PNP, tututukan nila ngayon ang mga nagpi-PDA dahil "alam naman po natin dahil nag-open for a while ang economy, marami pong namamasyal, marami pong mga tao na sadya talagang na-miss nila ang kanilang pagsasamahan." #COVID19 https://t.co/N5rEP8BDVr

— ABS-CBN News (@ABSCBNNews) March 10, 2021
According to Usana, this age group represents a bulk of those who are always caught violating quarantine protocols in bars and tourist spots.
Both of these policies did not sit well with netizens, who rattled off responses that ranged from the comical…
Buti single ako https://t.co/ZKyUXWbLvU

— Jade (@Jademarzz) March 10, 2021
Buti single ako (2) https://t.co/TlJcvJRent

— جون أنتوني (@jhnlrcha) March 10, 2021
… to nostalgia-inducing…
May curfew, bawal mag-reklamo, tapos ngayon bawal ang PDA. This '90s nostalgia has gone too far.

— Jonathan de Santos (@desamting) March 10, 2021
… to more serious discussions on why the PNP is the one giving the announcement.
Because they're micromanaging actions. Holding someone's hand, someone you have a close affinity with, is not a superspreader action. If you're still going to go back to the same house, or share a ride, or hold your partner's bag, pareho lang ang risk of contact, di ba? https://t.co/FMFHrOz0CK

— Anj (@anjpessumal) March 10, 2021
These couples are having sex at home, General. https://t.co/KaAhilt4DH

— Quo Warrantine (@quantumeruit) March 10, 2021
Tanginang ban on PDA yan. ONE YEAR INTO QUARANTINE. So instead of early travel bans, mass testing and contact tracing, I'm now prohibited from holding hands in public with the man who's ass I've been eating for the last 15 years? Bestestest. Brightestestestest. In the universe.

— Paulo Castro (@pawawawofficial) March 10, 2021
Good morning! PNP Spokesman says there is now a ban on Public Displays of Affection, also known as PDA, due to the recent spike in Covid cases. The ban covers kissing publicly, holding hands and hugging for all couples, family members and friends.

This feels weird to me. 🙂

— Franco Cruz Mabanta (@FrancoMabanta) March 10, 2021
What if they are married or living in the same house? This is motorcycle barrier stupidity all over again. https://t.co/1PICF3Xz0I

— Miss Go (@miriamgracego) March 10, 2021
Others raised the fact that the PNP just killed off 9 activists under the guise of a search warrant and allegations of being rebels.
Don't dive into the PDA discussion from the PNP. It's a distraction. Don't forget that they just killed 9 activists this Sunday. They want us to forget that.

— Jethro Malimata (@jethromalimata) March 10, 2021
PNP's distracting no-PDA rule keeps away our Focus on recent spate of atrocious killings where its men are shamefully involved! Is this PDA rule coord w/IATF? Why impose rule after rule? Is PNP sensitive enuf to perceive that there's untold misery & pain already? Que barbaridad ! https://t.co/B9d6MKeUGa

— KAI-TSAR (@jjj_tsar) March 10, 2021
PNP's old-new rule has even reached the hallowed halls of Congress, with Senate Pro Tempore Ralph Recto and House Assistant Minority Leader Arlene Brosas questioning the PNP rule.
Recto asked the PNP to clarify their mandate on PDA, saying it looks like the national police force is declaring a war on love and not on COVID-19.
Senate President Pro Tempore Ralph Recto hits PNP for its reported banning of public display of affection (PDA): So a couple who shares a bed at night cannot kiss each other goodbye on the street… and should just text each other kiss emojis? pic.twitter.com/TmO94xaM59

— sherrie ann torres (@sherieanntorres) March 10, 2021
Brosas, meanwhile, blasted PNP officials for acting like quack doctors.
Solon to PNP on advising couples against PDA: 'Stop acting like 'quack doctors"https://t.co/m5OZ4dbUWe

— Manila Bulletin News (@manilabulletin) March 10, 2021
PNP's rule may have some basis in fact, as families are seen as the source of the recent surge of COVID-19 cases.
In a report from the Philippine Daily Inquirer, Philippine College of Emergency Medicine president Dr. Pauline Convocar said entire families are now visiting hospitals for consultations.
Convocar added that the recent surge of cases has resulted in hospitals once again resorting to tents instead of the more sterile emergency rooms.
This goes in conjunction with a decision from the Department of Health to meet with hospitals and consider opening up more beds for a possible surge of COVID-19 cases.