With the country in shambles barely two months after attempting to re-open the economy, netizens are now calling on the Duterte administration to abolish the National Task Force for COVID-19 (NTF), better known as the IATF—and they have two senators backing them up.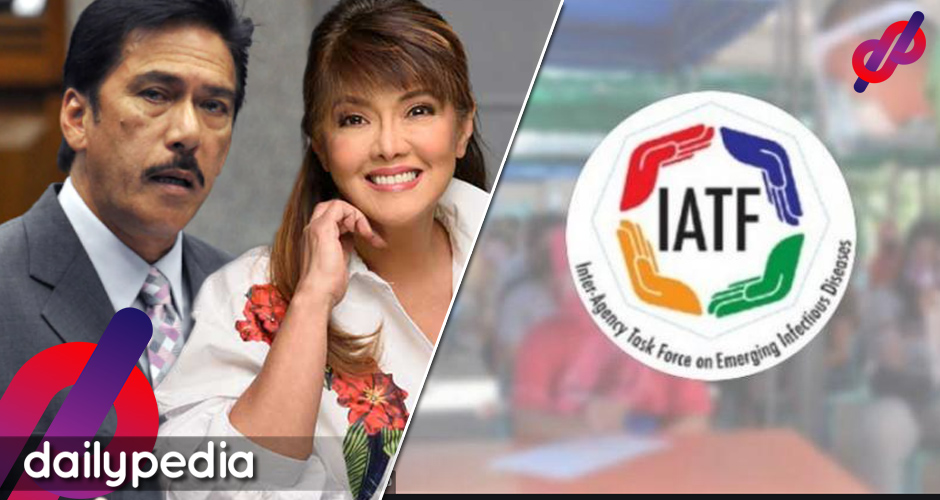 Senators Vicente "Tito" Sotto, III and Imee Marcos have called on President Rodrigo Duterte and his administration to scrap the Inter-Agency Task Force for the Management of Emerging Infectious Diseases (IATF) created under Executive Order No. 168, citing the task force's failing track record.
"Sumuko na ako sa IATF… hilong-hilo na tayo sa kanila. Sobra ang kanilang utak-lockdown," said Marcos during a senate hearing earlier today, March 22.
.@SenImeeMarcos: Nag-surrender na ko sa IATF, pinapabuwag ko na yan eh. ano ba talaga? Hilong-hilo na tayo sa kanila… sobra ang kanilang utak lockdown… Habang hindi binabago ang IATF, hindi binabago ang pamamalakad, palpak pa more, infection pa more, COVID pa more.

— sherrie ann torres (@sherieanntorres) March 22, 2021
She added that COVID-19 cases will continue to rise if no changes happen to how the IATF makes decisions and cascades them to their enforcers.
Sotto would concur with Marcos, adding that the country's pandemic response "should be handled by doctors."
Senate President Tito Sotto says he concurs with Sen. Imee Marcos' suggestion about IATF on #COVID19: "Sumasang-ayon ako kung ganito din lang na hindi naha-handle nang matino. Ipa-handle na sa mga doktor." | via @_katrinadomingo https://t.co/eAOTdnWXB9 pic.twitter.com/48rq1qEBac

— ABS-CBN News (@ABSCBNNews) March 22, 2021
Sotto would, however, not place the blame squarely on the IATF, as he also said Filipinos have not been cooperating to an extent. "Something is wrong. Imbis na bumaba, tumaas pa after 1 year. What went wrong?" inquired Sotto.
Sotto on PH gov't handling of #COVID19 pandemic: "Something is wrong. Imbis na pa-subside, pababa, tumaas after 1 year. What went wrong? That's the question… It's a combination. Hindi tayo (public) nakikisamang mabuti at mayroong hindi ginagawang tama ang namamahala."

— ABS-CBN News (@ABSCBNNews) March 22, 2021
He also brought up the idea that the IATF is not really receptive to suggestions outside the task force, as seen whenever someone outside the IATF suggests a way to respond to the pandemic.
Sotto: "Pag hindi galing sa kanila ang idea, parang hindi nila gusto. Gusto nila galing sa kanila e. Pag hindi sa kanila 'yung idea, hindi nila tinatanggap. Baka akala magaling na magaling sila." | via @_katrinadomingo

— ABS-CBN News (@ABSCBNNews) March 22, 2021
Infectious diseases expert and former IATF consultant Dr. Tony Leachon would be the first one to sound the call to abolish the IATF after deciding to open up theaters in GCQ areas.
Sa programang #SaTotooLang ng One PH, imunungkahi ni dating NTF Against COVID-19 adviser Dr. Tony Leachon na buwagin ang IATF kasunod ng desisyon nitong muling buksan ang mga sinehan sa GCQ areas.

RELATED STORY: https://t.co/B1uaUP1Ks5 pic.twitter.com/mFJnuWMmSr

— News5 (@News5PH) February 15, 2021
Today, he blamed the spike in cases—which now stands at a total of 671,792 cases—to the "premature opening of the economy through relaxed restrictions."
The surge is due to premature opening of the economy through relaxed restrictions leading to social mobility fueled by the entry of variants.
Without hard lockdown and limiting social mobility,how do we slow down the virus ?The new plan might cause protracted economic recovery. https://t.co/y5n4Sprgsc

— Tony Leachon MD (@DrTonyLeachon) March 22, 2021
According to Leachon, this led to more transmissible variants like the UK and South African variants because people now had more social mobility.
He would go as far as suggesting the government had no other choice but to implement a hard lockdown to limit social mobility.
Leachon has previously earned the ire of the IATF, particularly chief implementer and vaccine czar Carlito Galvez Jr.
"Walang word of honor."

This was how vaccine czar Carlito Galvez Jr. responded to Dr. Tony Leachon's suggestion to abolish the IATF following its decision to reopen cinemas in GCQ areas, which met opposition from NCR mayors. pic.twitter.com/9I649VQvFC

— ONE News PH (@onenewsph) February 16, 2021
When Leachon started calls to abolish the IATF last February, he called out Leachon for not having a 'word of honor.'
Meanwhile, IATF spokesperson Harry Roque called Leachon's called as 'sourgraping' because the ex-IATF consultant allegedly wanted to be health secretary.
On Dr. Tony Leachon's call for the abolition of IATF for the decision of reopening of cinemas which he claims has no scientific basis, Roque says: The President has addressed your views. You're sourgraping because he did not appoint you as DOH Secretary Pasesnsya na lang po.

— CNN Philippines (@cnnphilippines) February 16, 2021
Netizens, however, would still call out the government for its 'militaristic' approach to dealing with a pandemic—the exact opposite of most countries who have succeeded in fending off the virus.
Kung nakinig lang kayo sa healthcare workers simula pa lang…

Kung hindi militar, pulis, at negosyante ang pinakinggan at pinakikinggan niyo…

Kung patas ang trato niyo sa lahat…

HINDI SANA MISERABLE ANG PILIPINAS NGAYON.

— Dr. Winlove Mojica #stopthekillings (@theskinsensei) March 21, 2021
They also hit the IATF for confusing guidelines, such as the 'required-not-required' saga of securing travel passes for domestic travel.
Pwede pumunta mga taga Maynila sa Tagaytay ng walang swab.

Bawal pumunta mga taga Maynila sa Boracay kahit may swab.

NAPAKALABOOO PO. Jeske.

— DJ Chacha (@_djchacha) March 22, 2021
The Department of Interior and Local Government (DILG) was addressed by those who made waves to streamline travel requirements by removing the need to secure a Travel Authority certificate from the Philippine National Police and a medical certificate.
The DILG today confirmed that the travel authority from the PNP and the medical certificate from the LGU health office are no longer required for travel after the IATF-MEID approved the harmonized national travel protocols recommended by the department. https://t.co/ezuOjpCct0 pic.twitter.com/Th94ds6Cdl

— DILG Philippines (@DILGPhilippines) March 1, 2021
They would even go as far as filing cases to erring local government officials if they refused to comply with the new travel requirements.
Usec Malaya says DILG will release a Memorandum Circular implementing IATF Reso No. 101 stating that travel authority is no longer required.

DILG will issue a show cause order to non compliant LGUS @UNTVNewsRescue @RadyoLaVerdad

— Aiko Kriska Miguel (@Miguel_Aiko) March 11, 2021
Recently, though, netizens were sent reeling with a new term introduced by the IATF: the confusing NCR Plus.
Filipinos get stuck or asked to turn around and head home after police stationed at borders between Metro Manila and Greater Manila Area (GMA)–and is composed of Rizal, Bulacan, Cavite, and Laguna. They told them that 'only essential travel' was allowed between GMA provinces and Metro Manila.
Ito yung problema e. According to the IATF, one Subject Area aka "bubble" lang yung Laguna at NCR. Hindi binababa nang maayos sa lespu yung instructions. A failure of management and staff work. I've seen better cascading of instructions at Jollibee franchises https://t.co/EezkqjuAT9

— anton the unromanceable NPC (@anthony_siy) March 21, 2021
It raised questions mainly because netizens assumed that with the IATF calling NCR Plus a "quarantine bubble" they would be free to move between Metro Manila and GMA.
Other Netizens fired back at the Department of Trade and Industry (DTI), who gives President Rodrigo Duterte suggestions on which industries can be left open and how much.
Where is the science in allowing gyms 75% capacity and not allowing dine-in?

— Barnaby Lo (@barnabychuck) March 22, 2021
The 75% capacity for gym operations came into play for gyms as it coincided with restaurants were also told to operate at 50% capacity without the option to dine in.
DTI Secretary Ramon Lopez also alleged that "secret parties" were the reason for the surge in COVID-19 cases and not the reopening of the economy—despite not having data to prove his claim.
Without any data to back his claim, DTI Secretary Ramon Lopez said in a radio interview that the surge in COVID-19 cases was due to "secret parties," not the reopening of the economy.

When asked for data, he said via Viber: "No data. But those were observations. Look around."

— Roy Canivel (@roycanivel_inq) March 22, 2021
He would, instead, argue that there were no spikes in cases when restaurants were allowed to operate "back in August or September last year."
He instead blamed Filipinos who went out and reunited with friends and family after being unable to see each other for months.
DTI Sec. Lopez: "Maraming nagreunion, whether sa former classmates mo or kamaganak mo na hindi kayo nagkikita, maraming secret parties. Marami nang nangyari. Dito yung medyo, of course, bumaba yung compliance rate dahil nagkita kita, private."

— Roy Canivel (@roycanivel_inq) March 22, 2021
Health Secretary Francisco Duque III, though, would disagree with Lopez's earlier claims.
Duque said the reopening of the economy is to blame because of increased mobility, which led to increased contact and transmission rates during Duterte's weekly address.
DOH Sec. Duque on reopening of the economy: Nagdulot ito ng increased mobility ng mga tao, na nagdulot ng increased transmission, contact rate.

— CNN Philippines (@cnnphilippines) March 22, 2021
He would, however, insist that their initial measures of wearing a face mask coupled with wearing face shields and practicing social distancing would give Filipinos a 95% chance of not getting COVID-19.