Presidential Spokesperson Harry Roque said that President Duterte commended the vaccinated PSG members.
He stated that the PSG is willing to go under investigation as they are hiding nothing but then slammed the Senate for its proposal to summon the PSG Commander.
Netizens expressed their disbelief regarding Roque's sentiments. 
President Rodrigo Duterte praised the members of the presidential security group who took unauthorized and possibly smuggled COVID-19 vaccine.
Presidential Spokesperson Harry Roque said that as the coronavirus is a supposed "threat" to the president himself, his security detail decided to take the vaccines to protect the head of state. He added that it seems like the PSG personnel are willing to sacrifice themselves for the president.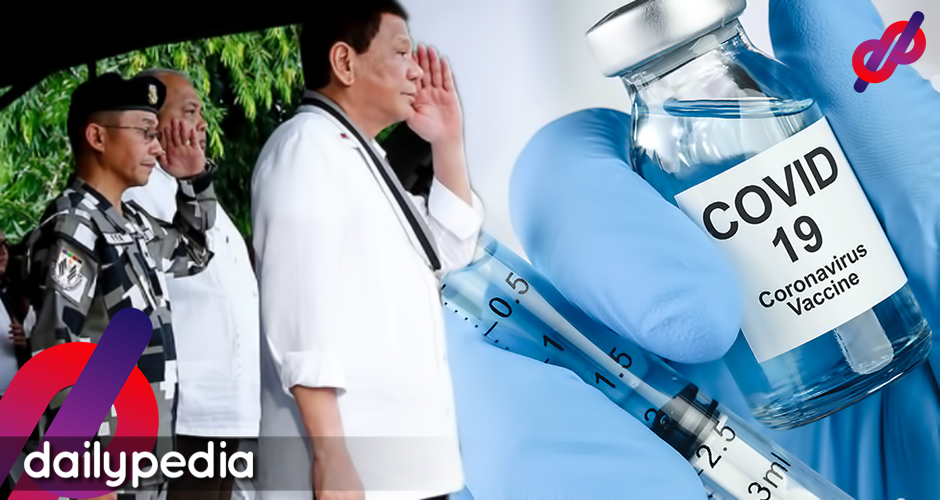 "Tingin ko po ang mensahe ng PSG ay handa silang mamatay para protektahan po ang seguridad ng ating Presidente," Roque told reporters.
He then extended gratitude to the PSG members as they have displayed "loyalty" and "courage" by getting vaccinated.
"Nagpapasalamat po kami at nagpupugay rin sa lahat ng miyembro ng PSG na nagpaturok. Maraming salamat po sa inyong katapatan, sa inyong katapangan."
Roque also answered Vice President Leni Robredo's call for transparency regarding the allegedly smuggled vaccines.
"Haharap ba ho sila sa mga imbestigasyon? Siyempre po, wala po tayong tinatago, VP Leni Robredo," he said.
"Wala pong takot ang ating PSG kung papatawan sila ng parusa."
However, Malacañang then criticized the proposal to summon PSG Commander Brig. Gen. Jesus Durante III to explain the vaccination of its members.
Roque stated that they see no reason for it and the Senate should respect the separation of powers between the executive and legislative branches of the government.
"Hindi ko po maintindihan kung bakit panghihimasukan ng Senado, ang co-equal branch of government, ang seguridad ng ating Presidente, eh gayong hindi naman pinanghihimasukan ng Presidente ang seguridad ng Senado," he stated.
"Co-equal branches po kasi iyan, respect po sana."
Netizens then expressed their disbelief regarding Roque's praises for the vaccinated PSG members.
https://t.co/lizWg60dJU pic.twitter.com/PTNe349ESK

— (Not) Josh Madarang (@NotJoshMadarang) January 4, 2021
A Twitter user questioned the prases as the vaccines were possibly smuggled and were not approved by the FDA.
Ay iba. Para nilang nilamangan mga tao. Despite of the vaccines being smuggled? And without the FDA approval yet? https://t.co/5en0pRcao9

— Jan Karl Angeles (@jankarlroelhsen) January 4, 2021
"Sila-sila na lang talaga nagpupurihan sa isa't isa."
Sila-sila na lang talaga nagpupurihan sa isa't isa. https://t.co/O35aG1QMgY

— Lawrenz De Matta (@LawrenzDM) January 4, 2021
Another netizen then emphasized that as a lawyer, the law should apply to "all or none at all."
Harry Roque is defending the administration of smuggled vaccines to PSG and tried to appeal to emotions when he said they are willing to die for the President. He is a lawyer. The law applies to all or none at all.

— #JUSTICEFORALL (@lloydyangel) January 4, 2021
One even described Roque as a "moron" for defending the allegedly smuggled vaccines.
This Roque is an utter moron.
How can the details of the PSG vaccination be immaterial? In the first place, the PSG do not need the vaccination to do their job in protecting the president. And it's definitely the people's business when the administration is circumventing the law. https://t.co/stoX4sJaLG

— Norman Agleron (@normanagleron) January 4, 2021
"Puro nalang 'para kay presidente. Kaylan kaya yung 'para sa mamamayan?'" @ramosheccie asked.
https://twitter.com/ramosheccie/status/1346008677124214793
Another expressed the same sentiments.
https://twitter.com/Vyrnuhrd/status/1345958398018220034
A Twitter user was utterly speechless with the spokesperson's statement and just showed her reaction through a meme on Twitter.
https://t.co/5oeBBMQsDZ pic.twitter.com/IGZkevqWQI

— ɪᴢᴜᴍɪ♧ (@cinderellau_) January 4, 2021
On December 30, Durante admitted that they "independently" requested for the vaccines but refused to name their source.
"Yes, kami mismo. We acted independently without the knowledge of any other, especially the President, without his knowledge or any other agency within the Republic of the Philippines," he said in an interview via Teleradyo.
"As I've always said, 'di ko po pwedeng sabihin publicly and openly about our source because it's unfair to our source. It could be a person, a state, or a businessman or anybody."
He then reassured everyone that no public funds were used in the transactions and the vaccines were used by no one but the PSG personnel themselves.
Meanwhile, the Philippine Ambassador to China Chito Sta. Romana recently claimed he had "no knowledge" about how PSG got Sinopharm vaccines.