President Rodrigo Duterte was at it again with his sexist remarks on Thursday, January 14, as he claimed being President of the Philippines is "not a job for women".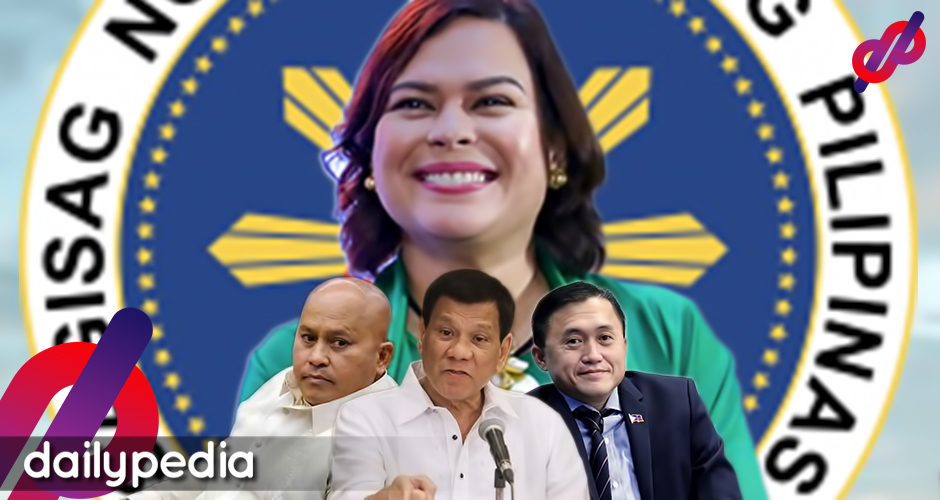 In a speech during the inauguration of Skyway Stage 3, Duterte said he already told his daughter, Davao City Mayor Inday Sara Duterte, to not run in 2022, saying "the emotional setup of a woman and a man are completely different."
He added that he did not want Inday Sara to experience what he had in his term as president.
Netizens would pounce on Duterte's comments anew, sharing photos of both him and some of his most trusted allies in politics in the emotional state he said men were supposed to have.
Here's a set of photos showing Duterte being the one to break down
also duterte: https://t.co/EaEJE8ulHX pic.twitter.com/POtDsZ6vYo

— Mon Sy #Justice4TumandokMassacre #OustDuterte (@YearoftheMonSy) January 14, 2021
Another netizen shared photos of Senators Ronald "Bato" Dela Rosa and Bong Go being emotional.
Dis u? https://t.co/7s0rbSEvUp pic.twitter.com/CnrSTbvLId

— Kris 永镇 (@kristoffer_val) January 14, 2021
That's not to mention his former running mate Taguig-Pateros Representative Alan Peter Cayetano, who would break down on camera before trying to resign as Speaker of the House.
BREAKING: Alan Peter Cayetano offers to resign as House Speaker pic.twitter.com/88m9naY5jz

— Rappler (@rapplerdotcom) September 30, 2020
Are women unfit to lead?
Male politicians have been fairly visible when it comes to emotional breakdowns, even though the media depicts women to be the more emotional of the two genders.
Does this, however, really relate to women being unfit to lead? The answer is most likely yes when we limit it to the common mentality in the Philippines.
It's no secret that Filipinos are still wary of women leaders, whether that's as a politician or in business. The academe may be more accepting, but outside of that and the arts, women are often looked down upon.
Case in point: netizens critical of Vice President Leni Robredo have always railed on her for "not doing anything" during the first few years of her term in the country's second highest seat of power. This criticism came even after Duterte himself removed her from key government positions.
When the pandemic hit, netizens were suddenly critical of her being "too visible", supposedly spending more time in front of the camera than "doing something" for the country.
There's also the track record of the country's only two female presidents: the late Corazon Aquino and Duterte ally Gloria Macapagal-Arroyo.
Aquino—whom Duterte has to thank for his political career—as president started many reforms, but her critics viewed these as superficial, especially the flawed Comprehensive Agrarian Reform Program.
Hacienda Luisita is an example of CARP's inadequacies, as the Cojuangcos opted for stock redistribution under Cory Aquino's Executive Order 229 instead of land distribution.
Arroyo, on the other hand, was already in hot water barely a year into her official term as president. The "Hello Garci" scandal exposed her deals with then-Election Commissioner Virgilio Garcillano to rig the 2004 elections and allow both her and her running mate Noli De Castro to win the elections.
Her term would also be marked with impeachment complaints and coup attempts, much like Aquino's.
Their struggles, however, do not prove Duterte's point.
Women leaders like Kabataan partylist Rep. Sarah Elago and Senator Risa Hontiveros have proven that women can take up a leadership role—even if it's only in the legislative.
Local government units also stand to benefit from having women in power, as proven by Duterte's daughter, Inday Sara.
Robredo is also on the cusp of being deemed fit to lead by pundits despite survey results showing otherwise.
Her actions during the pandemic as well as the two typhoons that devastated the country may have drawn ire from Duterte and his supporters, but it proves she is capable of stepping in when the President cannot.
Duterte, however, may still be proven right as most Filipino voters might favor a male candidate, due to the country's still-patriarchal culture of politics.