From "savior" of the 2021 General Appropriations Act (GAA) and the upcoming 2022 national elections, Senator Imee Marcos' intentions have now come under fire.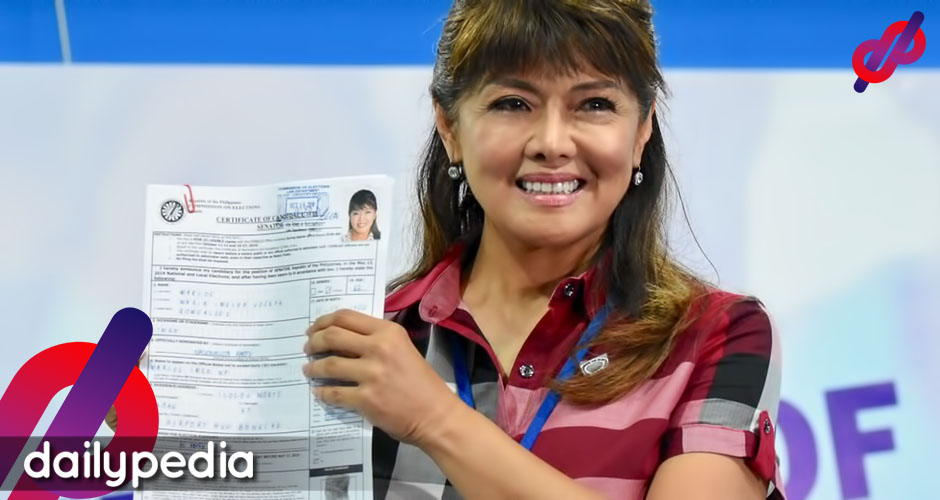 In a stunning turn of events, the Philippine Daily Inquirer—through sources from within the walls of the Senate—has revealed that it was Marcos herself that put in the "dangerous" provisions on waiving procurement safeguards for the Commission on Elections (COMELEC).
"I think that's a dangerous precedent. We're scared of that. We shouldn't be completely dependent on Smartmatic and we should allow other companies to bid," Marcos said during an interview with CNN's The Source.
This, however, seems to no longer be true, as it was the senator herself who put in the provision of waving said procurement safeguards for the 2021 COMELEC budget.
It was Senator Imee Marcos, chair of the Senate electoral reforms committee, who inserted the clandestine provision to waive election procurement safeguards in the P4.5-trillion 2021 national budget, multiple sources told the Inquirer. | @deejayapINQ https://t.co/uBWP2qgJ5D

— Inquirer (@inquirerdotnet) December 12, 2020
According to this article by the Inquirer, no less than three people informed the daily broadsheet of Marcos's attempt to give the COMELEC "carte blanche authority" to waive procurement guidelines for the 2022 elections.
This has made everyone—lawmakers, select officials from the Executive branch, and netizens—worry about Marcos's plans for the 2022 elections.
Two sources said I/mee made the budget insertion that had triggered fears of irregularities in the 2022 elections. A Senate source said some lawmakers resented that she did not admit responsibility for the insertion and even condemned it in a TV interview. https://t.co/EfROMrneUg

— CCY🌹 (@KatyYam) December 12, 2020
The Marcoses are full of mischief, not contrite, not apologetic. They are fielding trolls, gaming election laws, conniving hero status for papa, getting a holiday, rewriting history, trying to toss an SC justice to claim VP. Calida is in cahoots. They are a cancer. Malignant.

— JoeAm (@societyofhonor) December 13, 2020
Some weren't surprised at all about the actions Marcos had taken to at least give another Marcos—her brother, defeated vice presidential candidate Ferdinand "Bongbong" Marcos—a shot at either the vice presidency or the presidency in 2022.
If we are surprised by this revelation, or shocked that Imee Marcos tried to distance herself from her own stealth maneuver, we have not learned or have failed to remember a central fact of PH history: The Marcoses do not have the true public interest in mind. #alamna https://t.co/pMrcYztRCg

— John Nery (@jnery_newsstand) December 13, 2020
A few netizens called her out for outright denying that it was she who put in the clandestine provision in the 2021 GAA.
HULI… hindi talaga natututo… tapos denial queen pa… https://t.co/xMnks451rS

— Erin Tañada (@erintanada) December 13, 2020
https://twitter.com/pinoyakoblog/status/1337908792151822337?s=21
Others attributed it to the classic galawang Marcos attitude of not giving up—and cheating—to win an election.
It was Imee Marcos who inserted the very dangerous provision to waive election procurement safeguards in the P4.5-trillion 2021 national budget.

Magnanakaw na nga, mandaraya pa.

Literal na galawang Marcos! https://t.co/h3YKJdhxdU

— Ryan (@rryyyaaaannnn) December 12, 2020
Why are said provisions dangerous? Imee Marcos identified the reasons herself in the CNN interview.
"We should open up procurement to other companies and make sure they qualify. In many cases, Smartmatic was the only one that qualified," Marcos said during the interview.
She also said that waiving procurement laws is very dangerous because it involves waiving tests for certifications as well as security and materials to be used in the automated elections.
"I think I'm not the only person in the country who's had doubts about the Smartmatic contracts and their monopoly over software and equipment," Marcos added, implying that a dark hand was in control of the country's last major election: the 2016 Presidential Elections.
Having the clandestine provision removed takes away anyone who plans to take control of the elections through underground deals with potential bidders—in this case, Smartmatic.
Had the provision remained in the 2021 GAA, it would have meant handing complete control of the bidding process to COMELEC to procure the needed equipment for the still-automated 2022 Presidential Elections.
This will surely be abused, especially as President Rodrigo Duterte himself has already secured four of the seven COMELEC commissioner seats.
Plans for a hybrid 2022 elections?
Marcos's statement, however, is suspicious in itself.
Her addition and subsequent "support" for the removal of the provision could be tied to the fact that she has long been battling to remove the fully-automated system for Philippine elections and replace it with what she calls a "hybrid" system.
HAPPENING NOW: Senator Imee Marcos sponsors Senate Bill no. 1950, providing for the conduct of hybrid national, local, and BARMM elections. If passed, it would revert some aspects of polling to the manual mode, while retaining the automation of other aspects. @rapplerdotcom

— JC Gotinga (@JCGotinga) December 14, 2020
Sen. Marcos sponsored Senate Bill 1950, which she co-authored with Senate President Vicente Sotto III and Sen. Cynthia Villar.
The bill "simplifies"—in the eyes of Sotto, Villar, and especially Marcos—how votes are counted, and more importantly recounted for election protests.
It essentially tells the COMELEC to still use automated ballots for elections but reverts the count back to manual—i.e. the old paper-and-pen style of counting the number of votes for each candidate; a system that meant days had to be counted before the proclamation of an official.
It also means that the old dagdag-bawas styles of cheating can once again be implemented—something that those who seek power from publicly elected positions can exploit.
Marcos herself said people are still doubtful of the accuracy of Smartmatic's PCOS (precinct count optical scan) machines, though it may have slipped her mind how poorly the first test for a hybrid election went in 2015.
The test, which was conducted in Bacoor, Cavite, went painfully slow and was full of redundancies—redundancies which will be institutionalized should Marcos's bill make it past a bicameral conference.
It also hints—or, more accurately, reeks—of plans to manipulate the 2022 elections.