Good news comes for the world and for Filipinos as the first wave of COVID-19 vaccines have finally been administered—at least in the United Kingdom.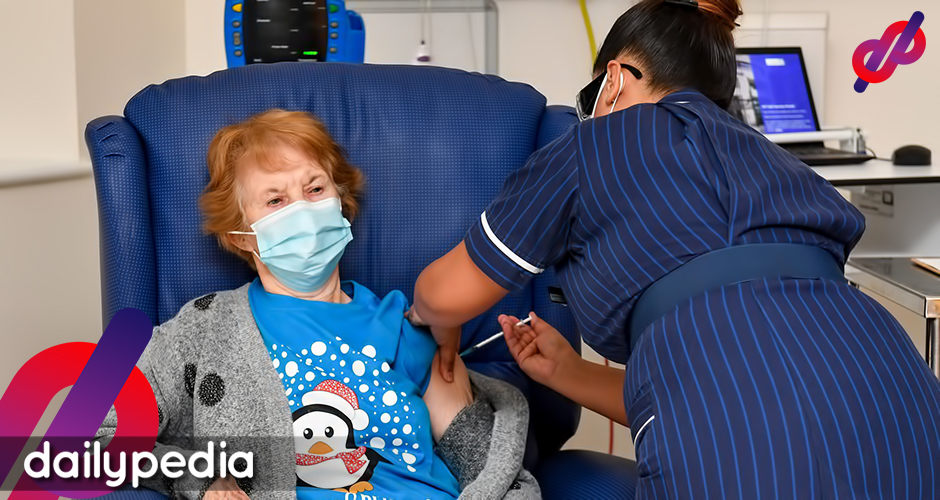 News broke early on Wednesday, December 9 that 90-year-old Margaret Keenan from the United Kingdom was the first person to receive Pfizer's COVID-19 vaccine.
The nurse who took part in this historic moment? None other than May Parsons, a Filipina-British nurse who has been working with UK's National Health Service (NHS) for 24 years.
BREAKING: Margaret Keenan, 90, becomes first person in the world to receive the Pfizer Covid-19 vaccine, from Filipino nurse May Parsons who has worked in the NHS for 24yrs.
How wonderful that this historic global moment happened in the UK, at University Hospital, Coventry. 👏👏 pic.twitter.com/kOag8uROy1

— Piers Morgan (@piersmorgan) December 8, 2020
"I'm very proud to be saying to everyone 'I'm a Filipino British making history.'" – ❤️
pic.twitter.com/clE7KCVfMQ

— Scott Bryan (@scottygb) December 8, 2020
Local media immediately took up the story, and even got a statement from British Ambassador to the Philippines Daniel Pruce.
British Ambassador to the Philippines Daniel Pruce applauded Filipina nurse May Parsons, for administering the vaccination of the first patient in the UK to receive the Pfizer-BioNTech COVID-19 vaccine on Tuesday. pic.twitter.com/UnziEnF4Tn

— The Philippine Star (@PhilippineStar) December 8, 2020
May Parsons, a Filipina nurse, is the first person in the United Kingdom to administer a COVID-19 vaccine outside clinical trials.

Read more: https://t.co/MQzFrgns8z pic.twitter.com/pnB3H6IVVt

— CNN Philippines (@cnnphilippines) December 8, 2020
The coronavirus disease vaccine given to the 90-year old British woman, who is deemed the first person to get inoculated outside clinical trials, was administered by a Filipina nurse. | @NAMercadoINQ https://t.co/Gv2mXMbGXC

— Inquirer (@inquirerdotnet) December 8, 2020
A Filipina #nurse in the United Kingdom was the first person to administer the #CovidVaccine to 90-year old #MargaretKeenan, the first person in the world to receive the Pfizer-BioNTech's coronavirus inoculation after its clinical approval in the UK.https://t.co/ygKRCFGlcw

— Phil News Agency (@pnagovph) December 9, 2020
Parsons's photo while administering the vaccine to Keenan and others at University Hospitals Coventry has made rounds online, with Filipinos expressing pride that a Filipino has taken part in the world's battle against COVID-19.
Filipinos nurses are amazing. How great is it that a Filipina was the first to provide the COVID-19 vaccine? https://t.co/RGNtxFad9b

— Kris Pangilinan (@KrisReports) December 9, 2020
A Filipina nurse in the UK administered the first COVID-19 vaccine to a 90 year old lady. They both made history. Pfizer vaccinehttps://t.co/rTzSUCEZ13

— Noemi L. Dado (@momblogger) December 8, 2020
this makes me proud as a Filipina nurse. 👏❤ hoping for the best outcome. 🙏 covid, pls get lost. uwing-uwi na ako. 🥺 https://t.co/Fw2K5v3yD6

— —ʀᴀɪɴᴇ⁷—☀️ (@rainexxbts) December 8, 2020
Quite symbolic that one of the world's best gives the first dose.. ❤️🇵🇭 https://t.co/cSmfWCrLpN

— Rey Jaime Tan (@Nephron826) December 8, 2020
Filipinos also took this chance to fire back at the government for its snail-pace response to COVID-19–specifically how President Rodrigo Duterte only realized the importance of testing after 200+ days in quarantine.
https://twitter.com/josh__borja/status/1336496398410215424
First person to give the COVID-19 vaccine in the UK is a Filipina. Meanwhile, her country of origin's highest-ranking official is only just realizing the importance of mass testing.#MassTestingPH pic.twitter.com/BY3KPlCPKt

— BrujaDeputaAdmlnisTraitor (@BrujaDelDemonio) December 9, 2020
Idk pero ang laki ng impact sakin ng video na Filipina nurse ang unang administer ng COVID-19 vaccine. I don't know whether to feel proud or unsettled. It gives me chills.

Dahil tayo rito sa Pinas, hinahayaan na lang mamatay ng gobyernong to.

— Chai ✨ (@notpatsleu) December 8, 2020
Others looked at how Filipinos in the healthcare industry would do better to go overseas, thanks to how they have been treated in the country—especially during the pandemic.
If it is symbolic of anything, it's that our healthcare workers have better opportunities outside of the Philippines. https://t.co/TPAEj4bYnD

— JM Deblois (@jmdeblois) December 8, 2020
Senator Cynthia Villar's name even got dragged into the mess.
Filipino nurses are being celebrated and valued overseas meanwhile sa Pinas, neglected and not properly compensated. Cynthia Villar can choke https://t.co/xz7cfNZAD8

— josh (@heyjoshd) December 9, 2020
Meanwhile in the Philippines

Cynthia Villar: "Actually, hindi naman kailangan ng mga nurse na matapos ng BSN. Kasi itong ating mga nurse gusto lang nilang maging room nurse…. hindi naman sila kailangan ganoon kagaling." https://t.co/Jv9BrnuMVO

— ShyGuy (@ShyGuyyyyyy) December 8, 2020
Some even went as far as criticizing the government's vaccination plans—which are not scheduled to start until May or June 2021.
Ang lungkot lang ano?

Pinay ang unang nag-administer ng bakuna sa ibang bansa just a few hours ago.

Samantalang dito sa Pilipinas within 3-5 years pa raw mababakunahan ang 60-70M Pinoys. https://t.co/AeP54wdiNI

— BA (ᜊ) (@bumaBAgyo) December 8, 2020
Meanwhile, how would you tweet Duterte's realization that Covid testing is necessary after almost a year of having the pandemic?

HEARTBREAKING? https://t.co/NsoehRQjDv

— Ken Callawood (@KenCallawood) December 8, 2020
This comes after vaccination czar Carlito Galvez revealed in a Laging Handa briefing that our best case to start vaccinations for COVID-19 is the second quarter or around June 2021.
"Though mayoon po tayong clinical trials this December (2020)… ang mga result po kasi ng regulatory sa FDA baka matapos po ng first quarter (ng 2021)."
The most realistic scenario, according to Galvez, is end of 2021 or early in 2022.
He also expects to be able to administer the vaccine to all Filipinos within a period of 3 to 5 years as he can only foresee administering 20-30 million vaccines per year once the vaccine has been approved by the Food and Drug Administration.