Netizens pointed out ways that the government could get its budget without having the need to borrow more money. 
Netizens, journalists, and members of the government question the need to borrow money for the COVID-19 vaccine when they can just defund the insurgency fund of the National Task Force to End Local Communist and Armed Conflict (NTF-ELCAC).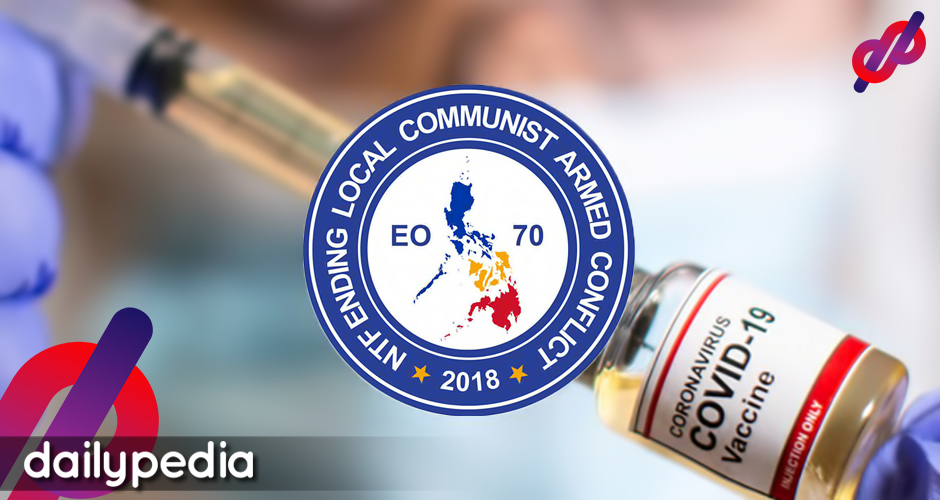 According to Senator Franklin Drilon during an interview with ANC, the Philippine government would need around Php30 billion to purchase vaccines for the citizens of the Philippines. He added that the government would need at least 60 million Filipinos to be vaccinated for it to achieve herd immunity.
But the following question is: where do we get the mney? Presidential Spokesperson Harry Roque stated that if it's not in the budget, the country will borrow money.
On the other hand, Drilon proposed to slash the Php16 billion anti-insurgency fun of NTF-ELCAC and use the money for the vaccines instead.
Sen Franklin Drilon says PH govt needs P30B for puchase of vacciness to achieve herd immunity. Where to get that?

Drilon says, slash P16B anti insurgency fund for NTF-ELCAC. #ANCHeadstart https://t.co/2oNrH3plbp

— Karen Davila (@iamkarendavila) November 23, 2020
A netizen even called the NTF-ELCAC a "bogus agency" as he pushes for its defunding.
Duterte is looking for 11Billion pesos to vaccinate 24M. Loan daw. Tangina. ELCAC has 19Billion. Defund that bogus agency

— Kenneth (@kenetmartin) November 23, 2020
Another netizen agreed with Drilon's sentiment saying that it's just a simple decision so there is no need to further add to the national debt.
ganun kasimmple hindi natin kailangang mangutang pa sa WB IMF DBP hahahaha nakakaulol na talaga ginagawa ng NTF-ELCAC nacocompromise kaban ng bayan!!! https://t.co/QG9SbnVetp

— Gab #ProtectSierraMadre (@GabTee) November 23, 2020
It was pointed out that the government was the one that repeatedly emphasized the need for a vaccine but it also refuses to allocate a budget for it.
Loan ulit para sa pamamasismo?

Panay ang sabing bakuna ang sagot kaya maghintay ng bakuna pero ayaw namang mag-allocate ng enough fund para sa pagbabakuna. Meanwhile, 19.4-B ang allocated para sa red-tagging spree at fake news ng NTF-ELCAC. #defund_ntf_elcac https://t.co/BFhQzxIOkT

— Jasper Villa (@angmalaya) November 23, 2020
Take note that the 2021 budget is Php4.6 trillion.
2021 Budget is 4.6 Trillion tas wala na namang pera? Gago ba kayo? #Defund_NTF_ELCAC https://t.co/ZBbcoZ5Gkt

— gelo #AmplifyTheRevolution (@geloxmrfl) November 23, 2020
Another netizen said that the government should just investigate where the Php15 billion PhilHealth money is and use it to buy the vaccine.
Tas yung 15B hanapin niyo sa PhilHealth https://t.co/RctDbTifsH

— Enrique (@enriquelouise) November 23, 2020
On the other hand, a Twitter user also suggested for the administration to just cancel the construction of the new Senate building.
Why not 1st cancel new senate bldg https://t.co/YIb16B1Vo6

— aldenz (@alden_chua) November 23, 2020
Another one accused some corrupt politicians of pocketing the supposed fund of the NTF-ELCAC.
Wala mas importante ang funds ng ELCAC. Takte yan. Insurgency fund na napupunta sa bulsa ng mga ganid. https://t.co/M9MTeMk0mS

— Ian Lucky Sumbilla (@_luckymepancit) November 23, 2020
But not everyone agrees as a netizen asked why others are so opposed to the existence of NTF-ELCAC.
tapyas na naman, bat ayaw nila ng NTFELCAC?bakit takot sila ? ahahay naku naman. https://t.co/1EbIeOmOZA

— iAMsimple_Iam (@amAsimple_Iam) November 23, 2020
President Rodrigo Duterte has approved the government prepayment for Pfizer's COVID-19 vaccine. His approval was needed as the Philippine auditing laws prohibit making advance payments for things that have yet to be delivered.