It seems ABS-CBN's legal battles with the Duterte administration are far from over.
In a clip from his live stream on the Presidential Communications Operations Office (PCOO) Facebook page, Presidential Chief Legal Counsel Salvador Panelo said ABS-CBN and Zoe Broadcasting Network, Inc. (ZOE TV) are committing violations for "allowing a disenfranchised network to air for 18 hours."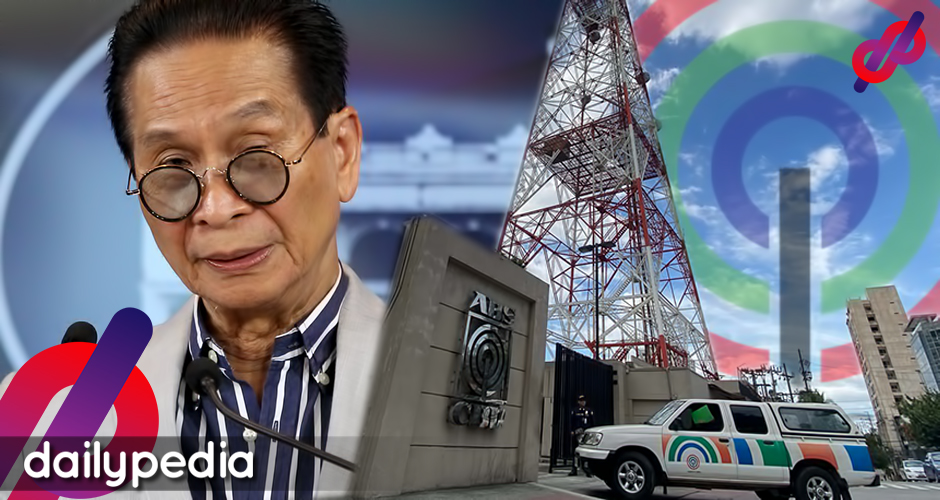 This, Panelo says, amounts to a lease and not a blocktime agreement between ZOE TV and ABS-CBN.
He even said Congress is already looking into the matter to try and unearth any irregularities.
Panelo even went as far as saying the NTC had a say in the matter. "If you have a franchise, you are not allowed to lease, sell, or let someone else use your franchise without permission from the NTC (National Telecommunications Commission)."
Panelo also cited how ABS-CBN "doomed themselves" so that their franchise was not renewed. "Kayo ang lumikha ng sarili ninyong pagkawala sa ere."
Prior to that, Panelo claimed that it was ABS-CBN's hubris that doomed their renewal—stemming from the network's decision to not air President Rodrigo Duterte's political ads during the 2016 campaign.
The question posed then is this: does the NTC have control over blocktime deals?
To date, the NTC has not yet given a statement about the blocktime arrangement between ABS-CBN and Zoe TV, though they have been asked by Congress to look into the matter.
Articles talking about the blocktime deal are scarce, though our best source is this one from Vera Files.
It dissects one of the issues ABS-CBN faced during its marathon of hearings to renew its franchise: a blocktime deal with AMCARA Broadcasting network.
Lawmakers cited how the network continues to broadcast its programs on Channel 43 despite the network not having what essentially is a license to operate.
Cavite Rep. Jesus Remulla alleged that AMCARA was nothing more than a "dummy" for ABS-CBN, and that the blocktime deal was for show.
AMCARA Broadcasting Network, which has offices at the ABS-CBN compound in Quezon City, is majority owned by heirs of Philippine TV pioneer Arcadio M. Carandang, who once worked for the network giant. This may have led to Remulla's allegation.
Kapisanan ng mga Broadkaster ng Pilipinas (KBP) President Jun Nicdao, who was present at the hearings as a resource person, said blocktime arrangements are a common practice in Philippine media.
Panelo may be referring to Sec. 10 of Republic Act 7908, which contains the provision saying Zoe TV had no right to lease "this franchise or the rights and privileges acquired" to anyone without the approval of Congress.
This, however, implies that Zoe TV is essentially relinquishing control of its franchise to ABS-CBN—which it isn't.
Nicdao said that blocktimers are essentially program producers, paying a network for airtime to show its programs.
It is also not illegal to get into a blocktime deal regardless of the presence of a legislative franchise. The best example, in this case, is TAPE Look no further than the blocktime deal TAPE Incorporated has with GMA Network, Inc.
The country's longest-running noontime show, Eat Bulaga!, has been operating on a blocktime agreement with GMA, ABS-CBN, and RPN since its inception in 1979. They may not take up the entirety of GMA's airtime, but they have been at it for decades.
GMA had a similar deal with Zoe TV back when one of its channels, GMA News TV, was still called QTV 11. That deal lasted for over from 2005 to 2019 and did not require GMA to get a second legislative franchise for GMA News TV nor its subsidiary Citynet Marketing and Productions.
And their programs ran on Zoe TV's frequency for more than 18 hours—a fact that Panelo may have missed.
This effectively renders Panelo's and, in turn, any 18th Congress lawmaker's argument moot and academic as none of them ever questioned this fact.
Even if they did find a "violation", it wouldn't reflect on ABS-CBN as they are merely a content creator on A2Z. Zoe TV would be the one to violate their legislative franchise, not ABS-CBN.
This then begs the question: is Duterte still sore from ABS-CBN not airing his political advertisements 4 years ago, even after winning the most powerful seat in the country?