If there's one thing that's consistent about Cagayan Governor Manuel Mamba, it's how insensitive he is with his statements.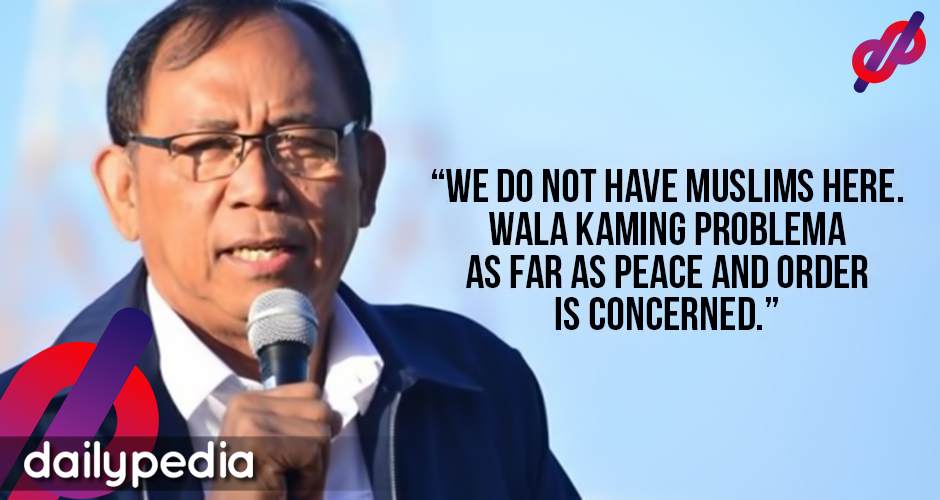 In a now-viral tweet, Mamba once again brought the unbridled hate of a community unto himself by claiming that his province does not have Muslims and that their "absence" is somehow linked to peace and order.
Cagayan Governor Manuel Mamba sa pagdinig ng Senado:

"We do not have Muslims here. Wala kaming problema as far as peace and order is concerned." pic.twitter.com/0wWetMwTWD

— Nimfa R. Ravelo (@nimfaravelo) November 25, 2020
Mamba dropped that bomb during a Senate hearing on Wednesday, November 25. Mamba also said that dredging Cagayan River will restore it to its former glory as well as bring in more money for the provinces of the north.
"We could also see the interest of the Chinese, the Taiwanese, the South Koreans, and the Japanese in the agricultural, aquaculture, and even livestock industry of our province and that would include the tourism industry," he added.
While senators let Mamba's snide remark about Muslims and peace and order slide, netizens weren't too happy.
ABS-CBN reporter Jeff Canoy pointed out how Muslims are peace-loving and that their presence has nothing to do with the status of peace and order in Cagayan.
1) Muslims are peace-loving
2) There are Muslims in Cagayan
3) What does that have to do with peace and order
4) This world is https://t.co/bEp4my9nzL

— Jeff Canoy (@jeffcanoy) November 25, 2020
He also burned Mamba by saying there are Muslims in Mamba's province.
Journalist Barnaby Lo called out Mamba for his remark, saying it was "as ignorant as it is bigoted" to claim that Muslims are trouble-makers.
First of all, there are Muslims in Cagayan. Second, it is as ignorant as it is bigoted to say that only Muslims stir trouble. https://t.co/fO9S2NLsBq

— Barnaby Lo (@barnabychuck) November 25, 2020
Pia Magalona, for her part, merely expressed disbelief at Mamba's remark about Muslims.
https://twitter.com/piamagalona/status/1331557756898136064
Human rights advocate Samira Gutoc, herself a Muslim, had no words for Mamba and his seeming disdain for Muslims and their peace-loving nature.
I can not express how much the good governor's words hurt me and every other Muslim who have wished for nothing but peace. To be judged as the cause of violence simply because of our religion…I have no words. #EndIslamophobiaNow https://t.co/xmOYecG6FE

— Samira Gutoc (@GutocSamira) November 25, 2020
SOGIE Bill advocate Von Velasco, for his part, only had one thing to say about Mamba's remarks on Cagayan's peace and order situation.
The same guy who said that the screams for help in Linao were just trip trip ng mga drunkard.

Tangina talaga https://t.co/gECBqXXGSt

— Von Velasco (@renceqv) November 25, 2020
After getting flak on social media, the Cagayan Public Information Office issued an apology, "Nililinaw po ni Gov. na ang ibig niyang tukuyin ay 'Walang paniniwalang extremism sa mga kapatid na Muslim na naninirahan sa Cagayan'."
"Kaugnay nito ay muling humihingi ng paumanhin si Gov. Mamba kung ibang konteksto ang ibinunga ng kaniyang pahayag sa Senate committee hearing."
Cagayan Gov's penchant for snide remarks
This isn't the first time the Cagayan governor would drop either snide remarks or commit horrific gaffes on air.
Mamba would come under fire early in October for saying teachers were enjoying the pandemic as they were "paid to do nothing".
He would also rock social media—albeit not as hard—for saying he would rather have President Rodrigo Duterte declare martial law in Cagayan than enforce a localized or selective quarantine.
JUST IN: Cagayan Governor Manuel Mamba prefers the implementation of Martial Law instead of Localized or Selective Community Quarantine (SCQ) as the COVID-19 Pandemic continues. | via Liezle Inigo pic.twitter.com/uqEWrRRfY6

— Manila Bulletin News (@manilabulletin) April 20, 2020
Mamba cited continued criminal activity in Luzon even with the pandemic in full swing. He even went as far as claiming that the New People's Army was taking relief goods away.