A trip to the beach is something every Filipino is looking forward to after COVID-19 is taken care of. One person, however, deemed it fit to invite everyone to one of the country's top tourist spots in the middle of the pandemic.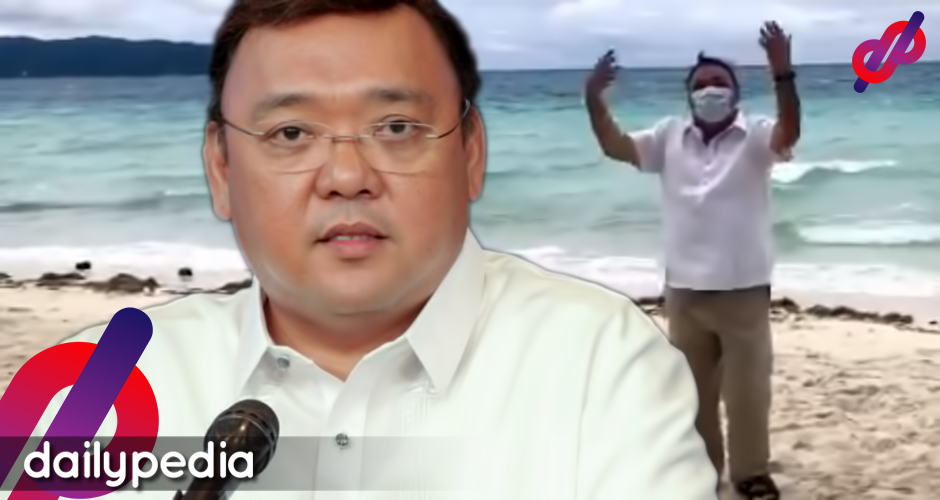 Presidential Spokesperson Harry Roque's recent trip to Boracay has been met with dismay from the general public.
Photos of the former human rights lawyer popped up on various news agency accounts earlier today.
WATCH: Secretary Harry Roque invites residents from GCQ and MGCQ areas to come to Boracay. | via @_iancruz pic.twitter.com/tByUxQStGr

— GMA News (@gmanews) October 4, 2020
Presidential Spokesperson Harry Roque visited Boracay as the island opens its doors to tourists.

The official said he will recommend that President Rodrigo Duterte visit the island as it's still safe with minimal visitors. (via News5/Jenny Dongon) pic.twitter.com/Yp5WKOdfBG

— ONE News PH (@onenewsph) October 4, 2020
Netizens were gobsmacked at how Roque is trying to invite those who miss the island to come for a visit, claiming it is completely safe. Social media, of course, reacted the only way they know how: a does of anger spiced with a bit of laughter.
Ay wow te kung makaaya naman, walang COVID?! https://t.co/ZpU0ibWyiQ

— Diane♥️✊ (@MaeDianeAzores) October 4, 2020
he's like a wave he know it hurts but he slams against the sand and then again he never learns https://t.co/CFvaUofEde

— pankakie (@kakiep83) October 4, 2020
https://twitter.com/richardjuan/status/1312736479269982210
Ang dumi naman… may kalat sa Boracay… akala ko ba malinis na? Bakit may basura??? https://t.co/0a4ojFN58E

— Tita Krissy Achino (@KrissyAchino) October 4, 2020
This is why I love Twitter. pic.twitter.com/2HGVYksb0A

— JC Punongbayan (@jcpunongbayan) October 4, 2020
Roque's remark telling people to go to one of the country's top tourist destinations feels like a slap to the face of locally stranded individuals (LSIs). Most LSIs have been stranded in a province for as long as seven months.
Others have died of complications without even seeing a way out of them being stranded.
A woman died on top of a footbridge without saying goodbye to her kids because she couldn't get home https://t.co/1vzgJzygOJ

— dolomite is my name (@anthony_siy) October 4, 2020
Prone to early vacations?
This isn't the first time the Palace mouthpiece has been flagged by netizens for being insensitive and posting photos from tourist spots.
In July, Roque was called out by netizens for visiting Subic Bay's Ocean Adventure and spending time with the dolphins.
LOOK: Presidential Spox Harry Roque visits Ocean Adventure Park in Subic on July 1. In a briefing on July 2, Roque tried to convince the public his visit was not for leisure, and thus not in violation of quarantine measures.

Photos from Daily Guardian and Ocean Adventure FB pic.twitter.com/4Xlmor27ev

— Rappler (@rapplerdotcom) July 2, 2020
Roque says his trip was not for pleasure because he was merely visiting his businesses in Bataan and thought a trip to Subic was okay.
In inviting people to Boracay, Roque also did not take into account how cost-prohibitive a leisure trip to top Philippine destinations will be while with the pandemic. Most tourist destinations and their LGUs require an RT-PCR test to be done on the traveler 2 days prior to their arrival.
Commercial flights are also scarce, with travel authorities needed to travel between a tourist destination and Metro Manila due to the capital being placed under a general community quarantine. Tourist destinations are currently under a more relaxed modified general community quarantine.
Cases for COVID-19 have also continued to rise, with the Philippines breaking into the top 20 countries with the highest number of positive COVID-19 cases, behind Italy—the first Western country to declare an outbreak.
Latest data from the Department of Health puts the country's case count at 324,762 as of 4 pm today, October 5, 2020. 273,123 people have been deemed recovered, while 5,840 have died from COVID-19 in the country. 45,799 cases remain active as of today.