Celebrities and netizens slammed Education Secretary Leonor Briones for saying that the coronavirus pandemic has been defeated in spite of the increase in more confirmed COVID-19 cases in the country.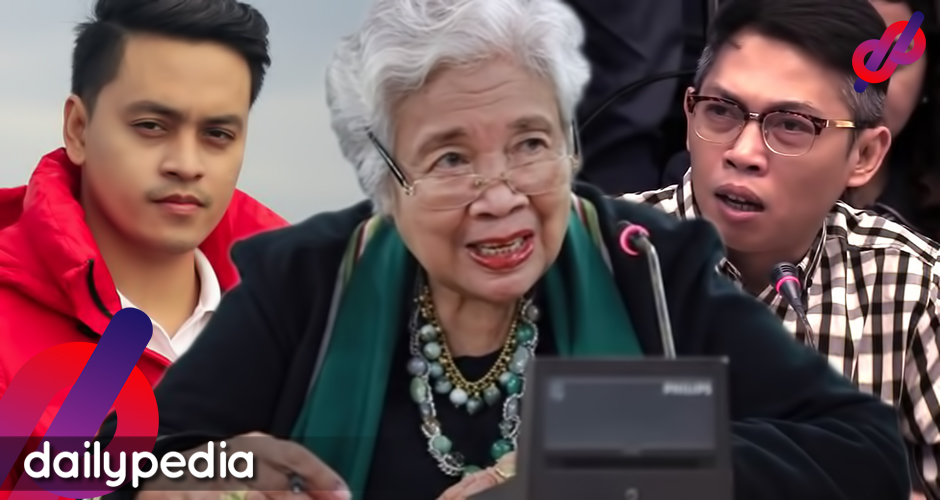 "Today, we celebrate a great victory. We declare our victory over COVID-19, the destroyer of our lives," she said during the department's school opening program.
"We will not allow COVID-19 to destroy our children's education and their future," she added.
Briones pointed out that education will be part of the new normal and said that the department will do everything to help continue the process even with all the challenges that distance learning produces.
"Igagapang ng DepEd at lahat ng nagsusuporta [sa] DepEd… kailangan ipagpatuloy ang pag-aaral. Kailangan igapang natin maski maraming challenges," she said.
Here are some of the few reactions to her statement.
Kevin Manalo had to remind the people that the Philippines recently dethroned Pakistan as the 20th country with the most COVID-19 cases in the world.
Top 20 with the most cases in the world isn't victory. But I guess 🤷🏻‍♂️ https://t.co/Vr4HCgKeGq

— Kevin Manalo (@kevinmanalo_) October 5, 2020
The victory of incompetence https://t.co/5j6pcVX3uQ

— Tonyo Cruz (@tonyocruz) October 5, 2020
People do not consider the current situation in the country as a victory against the pandemic.
WE ARE ON A LOSING BATTLE, THERE IS NO VICTORY!

As millions of Filipinos from the education sector struggle to cope up with the new mode of learning, DepEd Secretary Leonor Briones insensitively declared victory over the COVID-19 pandemic.#LigtasNaBalikEskwela pic.twitter.com/11Y5i3tppU

— Rise for Education – UP Baguio (@R4EUPBaguio) October 5, 2020
Leonor Briones and other hilarious jokes about the readiness of the education system for the opening of classes 🤡

*pretends to be shocked* that she's that out of touch in this pandemic https://t.co/uTkwCGskTS

— Seph 👨🏻‍🏫 (@josephtblzo) October 5, 2020
Education secretary Leonor Briones declared "victory" over the pandemic as classes in public schools resume this Monday. DepEd did not even provide modules for learners with special needs. What victory?

— Romar (@rightnowromar) October 5, 2020
https://twitter.com/CZVRCHES/status/1312951138883305474?s=20
https://twitter.com/sonofabch_/status/1312997955050192896?s=20
https://twitter.com/donutonulap/status/1313015290096021504?s=20
After getting flak on social media, Briones clarified that her declaration that the reopening of classes was a victory against proponents of an academic freeze, "Senators, officials, and even small groups said that DepEd would not be able to continue with education while we were having intense debates on the coronavirus and the economy. And one debate involves education because there is a movement for a so-called academic freeze," she said.
"That's why we are saying that your declaration that we should open classes on October 5, is a victory for the education sector because our opponents, who insist on an education freeze, want to close everything because DepEd and the government supposedly cannot handle it," she added.
President Rodrigo Duterte also said that the opening of the school year is a "momentous occasion" in his recorded speech during the program.
"The school opening of this year is a momentous occasion because it is pushing through despite [the] global health crisis due to COVID-19," he said.
"This time also ushers in a new era in our basic education program as we now venture into distance and online learning," he added.
The basic education system has 24 million students enrolled and 22.5 million of them are in public schools.
Stakeholders and students are still not confident in the new learning set up even with the DepEd's assurance that the school year is ready to open.
Parents are skeptical about the effectiveness of distance learning. Common problems with this way of learning include the lack of gadgets and slow internet connection. This was evident in last week's appeal by students from marginalized sectors, including those indigenous groups and out-of-school youth to the government for a more "inclusive education."