Lieutenant General Antonio Parlade Jr. has finally apologized to Catriona Gray for getting her name involved in his controversial "red-tagging" of various women who showed their support for the Gabriela Women's Party.
She appreciates his "initiative" but noted how important it is to get his facts straight before "making public statements."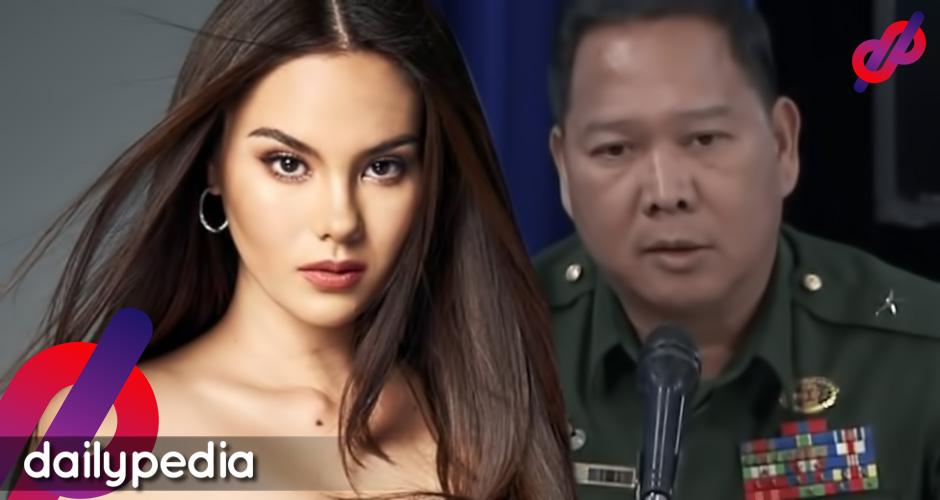 "No matter if you are a government official, a public servant, in the entertainment industry or whatever work you may find yourself in, it's very important in this age of misinformation to really be careful of the information you take as truth and also research and fact check before making public statements," the beauty queen told said ANC's Headstart on Wednesday.
She said that she feels there is a "proper way to give guidance" when asked if she'd take Paralde's advice of disassociating herself with Left-leaning groups such as Gabriela.
"Hopefully, I'll learn from this lesson. I think it's a big learning curve for all of us that really if there is an intention to protect, it should be done in a certain way because I feel that the way it was done did not achieve what he intended to do as he intended to do" she said.
She also feels like Parlade delivered his message the wrong way.
"I hope going forward, if there were warnings to give or advice to give, it would be done in the proper means, which I feel is to contact directly to the group or the individual to let your concerns be known," she added.
However, people say that Paralde's apology came in a little too late.
Parlade simping for Catriona Gray. 🙄🖕🏻

— Hans A. ඞ (@SnahpsOfLife) October 28, 2020
One netizen asked whether he'd also apologize to actresses Liza Soberano and Angel Locsin as they too were part of his red-tagging.
Parlade humingi ng paumanhin kay Catriona; mag-sorry din kaya kina Angel at Liza? https://t.co/lJq3bR1Lgc

— Bandera (@banderainquirer) October 28, 2020
People still dislike Parlade even after issuing an apology.
Nagingay sa public, nag sorry sa private. Character ng mga leader natin men….iba!

— Aslo Moslem (@Aslomoslem1) October 28, 2020
— Harper (@Harperblammo) October 28, 2020
Watching Catriona on ANC and she's really making a lot of sense regarding the Parlade red-tagging

— Credence (@michaerio) October 28, 2020
Gray works closely with groups fighting for youth and gay rights. Aside from being the ambassadress for Smile Train, an international charity that is dedicated to taking care of children with cleft palate issues, she is also the ambassador for the Philippine Red Cross, National Commission for Culture and the Arts, and the Department of Trade and Industry's One Town One Product campaign.
Gray revealed that the red-tagging issue worried her friends and family.
"When the news did come about, I was very surprised but the groups that I worked with, I want people to know that when I am an ambassadress, I just don't stick my name on an organization without really knowing exactly what that group really does, the projects they are involved in.
"So I know the truth, the people around me know the truth and I feel that what I stand for and work for is really for the benefit of the Filipino people," she said.
Her lawyer previously said Parlade's statement "was completely uncalled for."