Lieutenant General Antonio Parlade Jr of the National Task Force to End Local Communist Armed Conflict (NTF-ELCAC) has become the most controversial government official at present after his warning to actress Liza Soberano for associating with Left-leaning groups like Gabriela Women's Party which he branded a "part of the terrorist organization."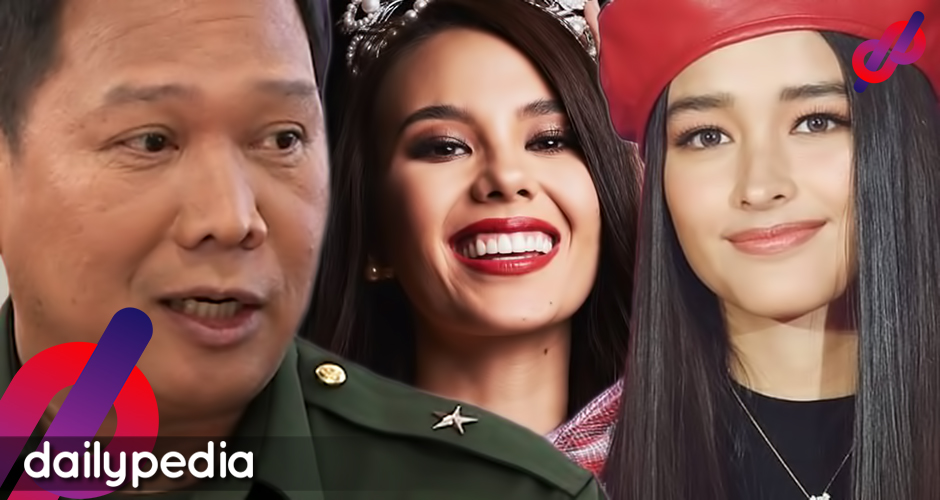 Through the ELCAC's Facebook page, Parlade said that Soberano is "not yet" an NPA but Gabriela's youth arm, the Malayang Kilusan ng Bagong Kababaihan, has been known to recruit celebrities.
"She is merely supporting advocacy for women's rights. She has to be protected in the exercise of her rights. Is she an NPA? No, of course not. Not yet," Parlade said.
He said Soberano might end up like activist Josephine "Jo" Lapira, a 22-year-old student from UP Manila who lost her life during a firefight between government troops and suspected members of New People's Army in Nasugbu, Batangas, in November 2017.
"Liza Soberano, there' s still a chance to abdicate that group. If you don't, you will suffer the same fate as Josephine Anne Lapira," Parlade said.
Soberano attended Gabriela's youth forum in which issues regarding women and the youth amid the pandemic were discussed.
Netizens were all over Parlade for his remarks, and journalists from different companies also tuned in.
Tonyo Cruz found it funny that Parlade's superior, Defense Secretary Delfin Lorenzana, told him to keep quiet about red-tagging accusations until there is sufficient evidence.
Lorenzana, naimbyerna na rin kay Parlade haha https://t.co/NosgMmKtv2

— Tonyo Cruz (@tonyocruz) October 23, 2020
Parlade has denied that he was red-tagging Soberano, but shortly after, he accused actress Angel Locsin of not being honest about her sister, Ella Colmenares, of having ties to the New People's Army.
"The choice is yours, Liza. And so with you Catriona. Don't follow the path Ka Ella Colmenares (Locsin) took in the underground and NPA Quezon. I am sure Angel Locsin and Neri Colmenares will not tell you this," Parlade told ABS-CBN News Channel (ANC).
"Yes, and I am very sure of that because Ella Colmenares, she's part of the underground and she operated in Quezon especially in Polilio Island."
"In fact, she (Ella Colmenares) was nominated as the third nominee of the Kabataan Partylist. Unfortunately, they did not get a third seat in 2007 elections so now she's back in the above grounds," Parlade said.
"She's now again doing legal work with Gabriela, recruiting members for Gabriela," he added.
He also said Locsin's uncle, Neri Colmenares, knows about Ella being associated with the NPA.
"Angel Locsin and Neri Colmenares know this, of course, and they're not going to tell Liza Soberano or Catriona Gray or kung sino man na mga celebrity diyan. Of course itatago nila itong information na ito," Parlade said.
"They  (Locsin's family) showed us a picture of a family dinner. Of course, kasi above ground na ulit si Ella Colmenares," he added.
Parlade told host Karen Davila that he still isn't red-tagging but "just informing the public that a member of an underground organization is also associated with, of course, her sister. That's not red-tagging."
"Doing humanitarian activities and speaking one's mind do not make one a member of a communist group."

Red-tag pa more sa mga Darna ng henerasyong ito. pic.twitter.com/FEG88GVxAa

— Anjo Bagaoisan (ᜀᜈ᜔ᜇᜒᜌᜓ ᜊᜄᜏᜒᜐᜈ᜔) (@anjo_bagaoisan) October 23, 2020
Ella was forced to defend herself now that the red-tagging has placed her family in danger, even though she didn't want to initially because Parlade's accusations were false.
"I do not have to defend myself as I have not done anything wrong but I decided to speak up, not just for myself but also for my children, whose lives may have been endangered because of this reckless red-tagging being broadcasted on social media," Ella Colmenares tweeted.
"Yes, I believe in the protection of women's rights and human rights, the same advocacies that Angel and Neri fight for, but so do millions of Filipinos across the country.  That doesn't mean that I'm a member of the NPA as what is being claimed," she added.
Zen Hernandez defended Locsin by stating the obvious.
"Freedom of expression is a BASIC CONSTITUTIONAL RIGHT. Government has a duty to LISTEN to the people, not silence them," she said on Twitter.
Freedom of expression is a BASIC CONSTITUTIONAL RIGHT. Government has a duty to LISTEN to the people, not silence them. #NoToRedTagging https://t.co/QgNfMuX3tF

— Zen Hernandez (@zenhernandez) October 23, 2020
Gretchen Ho thinks it's absurd to be labeled a communist when all one did was speak up their mind.
Bahagi ng isang demokrasya ang pagwelcome sa iba't ibang klase ng opinyon. Mahalaga ang kritisismo para malaman ang mga kailangang ayusin at baguhin.

Speaking up doesn't make you a communist/terrorist.

I stand w/ Angel Locsin, Liza Soberano & Catriona Gray. #DefendFilipinoWomen

— Gretchen Ho (@gretchenho) October 23, 2020
Karen Davila also defended Locsin.
Angel be like… "A man calling out a woman on how she should advocate women's rights. How 1920's," 😉 https://t.co/g2iR27Q4hF

— Karen Davila (@iamkarendavila) October 23, 2020
Atom Araullo condemned Parlade's decision to warn Soberano when all she did was exercise free speech.
These women can think and make decisions for themselves. And people wonder why advocating for women's rights, which include asserting their agency, is important. https://t.co/U6pKI9fUNz

— Atom Araullo (@atomaraullo) October 23, 2020
Ces Drilon also expressed her support.
I support Liza and Catriona. https://t.co/eWIRQIcC7v

— Ces Oreña-Drilon (@cesdrilon) October 22, 2020
One journalist says that women like Soberano should be protected.
If a delusional general can threaten one of the biggest stars in the country openly like that, imagine how things are for women living in conflict zones themselves. Protect Liza and all women whose lives are threatened by these barbaric men every single day.

— Ryan Macasero (@ryanmacasero) October 22, 2020