Celebrities questioned and opposed the approval of the said holiday.
It is said that the bill was filed to "salute to a brilliant man whose visions for the country remains unparalleled."
Celebrities reacted to the House of Representatives' approval on the third and final reading that declares September 11 as a special non-working holiday in Ilocos Norte to celebrate the birthday of the late President Ferdinand Marcos.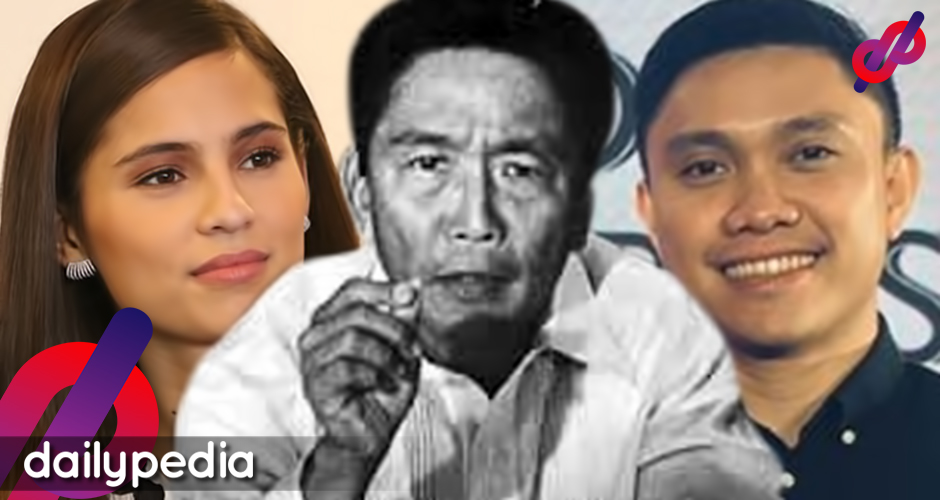 Under House Bill No. 7137, it designates Sept. 11 as President Ferdinand Edralin Marcos Day in the whole region.
Entertainment personalities questioned the approval of the bill. Nick Villavecer even pointed out that people are easy to forget about the dictator's ways of ruling the country. He also included the hashtag #NeverForget which is used to oppose the designation of the Marcoses in the government.
Bakit ang bilis natin makalimot? #NeverForget https://t.co/dun5EPhSpZ

— Nick Villavecer (@nickvillavecer) September 2, 2020
Jasmine Curtis-Smith also reacted to the news.
Huh??? 😳 https://t.co/MogZeSSVtk

— Jasmine (@jascurtissmith) September 2, 2020
Same with Andoy Ranay.
https://twitter.com/andoyranay/status/1301158625042341889
"We do not honor DICTATORS!" musician Bullet Dumas aired his sentiments regarding the holiday.
I know you're also thinking na buti na lang sa Ilocos lang at hindi sa buong bansa. Pero they have always inched their way back to the hearts and even swayed others to become sympathizers. IT IS A BIG DEAL! We do not honor DICTATORS!

MARCOS IS NOT A HERO!!!

— Bullet Dumas (@bulletdumas) September 2, 2020
Krizzy Kalerqui compared Marcos to President Rodrigo Duterte, saying that the current administration is using their power to honor their own kind.
The crocs in Congress are pouring all their diabolical 😈 intentions while Digong is in power – honoring their own kind, glorifying a thief, murderer and a dictator. #MarcosNOTaHero https://t.co/CuUkKPWm5z

— 𝐌𝐢𝐬𝐬 𝐊𝐫𝐢𝐳𝐳𝐲 (@krizzy_kalerqui) September 2, 2020
Paeng Lopez then suggested that someone should file a counter bill naming Sept 11 as a National Embarrassment Day instead like another version of April Fools.
Can someone file a counter bill declaring Sep11 as "National Embarrassment Day" or "National Day Of Shame"? Or kung may April Fool's, we call it September Crook's?

Wasto naman yon para sa basurang iniwan sa Libingan ng mga Bayani, di ba?

Needing a legislative friend here. https://t.co/eT9MirjGIX

— paeng lopez (@paengLopez) September 2, 2020
"FUCK THE CONGRESS," said Juan Miguel Severo.
FUCK THE CONGRESS. https://t.co/jRtDedAfY5

— Juan Miguel Severo (@TheRainBro) September 2, 2020
Wow. Sigaw sigaw ang mga Pilipino ng "NEVER AGAIN", pero after 34 years, bibigyan pa ng sariling holiday yung pinatalsik na diktador at mandarambong. Sa bansang ito, hindi lang holiday ang seasonal. Stupidity rin. Pabalik balik eh.

— Tony Velasquez (@KakanTuring) September 3, 2020
Marcos is a villain
He was …
He is one forever!

No to twisting of history!

— J R aka Dayunior (@datumx11) September 2, 2020
My guess is the PH House of Representatives ranks as one of the worst peoples' houses in the history of the planet. They don't represent their constituents (ABS-CBN), they're greedy (pork), and they have values contrary to a good faith intent of the Constitution (Marcos holiday).

— JoeAm (@societyofhonor) September 2, 2020
How do you revise history? You do it by institutionalizing crazy ideas like filing a bill renaming an airport where a democracy icon was shot dead, and another to celebrate a dictator's birthday as local holiday.

Oh, and you do it while everyone is preoccupied with a pandemic.

— Prinz Magtulis 프린즈 (@prinzmagtulis) September 2, 2020
Putangina! May holiday ba si Hitler sa Germany? https://t.co/5pUsrSMqHd

— Mina Palencia (@minapalencia) September 2, 2020
Ano ang mensahe ng KOngreso sa pag-aprub sa Ferdinand Marcos Day bill? Na okay lang magnakaw basta may ipinagawang kalsada? Na okay lang umabuso at pumatay basta may ipinagawang tulay? Na tulad ni Marcos, magnanakaw din, abusado, at enabler ng mamamatay-tao ang mga nasa Kongreso?

— Jerry B. Grácio (@JerryGracio) September 2, 2020
House Bill No. 7137 is a consolidated bill of House Bill numbers 2218 and 4595 which was filed by Ilocos Norte Representatives Angelo Marcos Barba and Ria Farinas.
Barba said that he filed the bill as a "salute to a brilliant man whose visions for the country remains unparalleled." He also claimed that the late dictator's leadership was "ahead" of his time.
"His extraordinary display of leadership and incomparable brilliance serves as an inspiration to his fellow Ilocanos. He is a man of vision, action, and wisdom. Thus, it is only necessary that his life, works, remarkable achievements, and inherent love for his fellow Ilocanos be remembered," he added.
Ferdinand Marcos served as the President of the Philippines from 1965 to 1986. He has placed the country under martial law for nearly a decade and was ousted through People Power Revolution in February 1986.
In 2004, Forbes ranked Marcos as the second most corrupt President in the world.