Salary is one of the main concerns of health workers in the Philippines, nurses in particular. According to the DOH, an entry-level registered nurse can expect to make around P8,000 to P13,500 a month, and those who work in private hospitals usually don't even exceed P10,000.
The fight for a significantly higher wage has been going on for many years, but a win isn't expected anytime soon.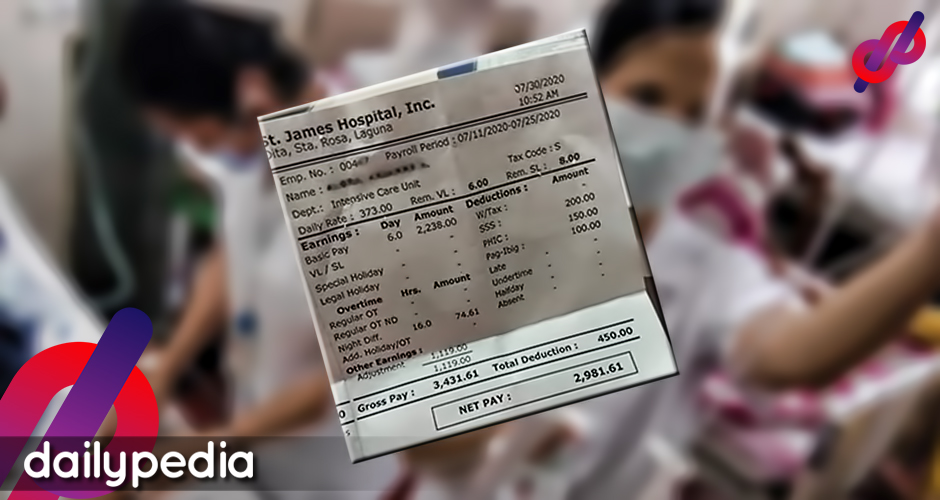 Netizen Nars Benj posted a screenshot from a frustrated mother who showed how much a nurse can save a month.
The mother shared her child's payslip, who is a nurse, to the Facebook group Santa Rosa, Laguna Official Forum.
The payslip shows that her child's daily rate is only P373. With all the deductions, her child makes P2,981.61 every 15 days which amounts to a total of around P5,963.22 per month.
The nurse works at the St. James Hospital, Inc in Sta Rosa, Laguna and is assigned to the Intensive Care Unit department where a COVID-19 patient is getting treatment.
The nurses over there are also on a 'No patient, no pay' agreement, according to the nurse's mother.
Sino ba naman ang hindi aalis sa Pinas kung ito lang ang sinasahod niyo sa mga Nurses at HealthCare Workers natin…

Posted by Nars Benj on Sunday, August 9, 2020
"Give us what is right and what is due to our Healthcare Workers!" said Nars Benj, and followed it up with "#LiftHCWDeploymentBan!" and "#SG15ForAllNurses!"
The frustrated mother's post has gone viral, with many nurses sharing the same sentiments about the matter.
Banning nurses to work abroad is hurting not only the nurses themselves but as well as their families. It is our human right to choose where we want to work.The government should not force us to stay working here with this kind of undercompensation. #liftHCWbanNOW @teddyboylocsin pic.twitter.com/WsDyVAHJ9S

— PrisoNurse Jehd (@Jehdeiah87) August 9, 2020
Sinong hindi aalis ng Pilipinas kung ganito kaliit ang sinasahod ng mga healthcare workers kapalit ang puso, dedikasyon, serbisyo, at buhay sa araw-araw nilang duty? Tapos ang sasabihin niyo lang ay pagbutihin nila ang mga trabaho nila? #LiftHCWDeploymentBan#SG15ForAllNurses pic.twitter.com/AbfDypM2Oq

— Toei Advincula (เต้ย) (@srsadvincula) August 9, 2020
#lifthcwdeploymentban
Eto po ang sinasahod ng karamihan ng nga private hospital nurses natin. Nakaka bahala, nakaka iyak, nakaka galit. Kulang pa po yan pangkain.

Sa Public hospitals naman po halos hindi na reregular. Kaya palayain na mga nurses.#Lifthcwdeploymentban
ctto pic.twitter.com/7jW3WxHOcM

— Xtil07 (@Till75884445) August 9, 2020
Saw this on facebook. Kamusta naman? Ano ipag lalaban nyo pa din ba ang HCW DEPLOYMENT BAN? @attyharryroque @SecDuque #lifthcwdeploymentban @teddyboylocsin @sonnyangara @senatorjoelv @FNUNasyunal pic.twitter.com/vuu3Y00DqP

— PrisoNurseSandie (@PrisoNurseSandi) August 10, 2020
The Philippine Overseas Employment Administration's (POEA) temporary deployment ban on certain health workers is still active.
The resolution covers the following occupations: medical doctor/physician; nurses; microbiologist; medical technologists; clinical analysts; respiratory therapists; pharmacists; laboratory technician; radiologic technician; nursing assistant/aid; operator of medical equipment; supervisor of health services and personal care; repairman of medical-hospital equipment.
"The deployment of health-care workers included in the list above hereby temporarily suspended until the national state of emergency [NSE] is lifted and until Covid-19 related travel restrictions are lifted at the destination countries," the POEA GB previously stated in its issuance, which was signed last April 2.
At the start of August, the DOH announced that there is a lack of health professional applicants.
"Unfortunately talagang hirap na hirap kami. Madaming posisyon, may pera ang Bayanihan fund kaya lang walang takers. Wala masyadong nagkukuha ng slots na meron tayo," Health Undersecretary Maria Rosario Vergeire said during a virtual briefing.
"Nung una marami talagang takers. Pero ngayon I think nae-exhaust natin especially here in Metro Manila. Kaya tumitingin pa tayo kung anong ways to increase or augment health workers, especially in hospitals," Vergeire said.
Vergeire also reminded health workers that they are obliged to serve the country.
"Sana sa panahon na ito, oo natatakot tayo pero magbigay trust tayo na aalagaan naman kayo. Pangalawa 'yun lang commitment na para makatulong sa bayan," she said.
The Philippines has now 130,000 confirmed COVID-19 cases.