It's one thing to cope with a global pandemic.
It's another to cope with it and deal with public officials who blatantly disregard their own quarantine protocols—alongside other injustices such as the sudden imposition of taxes on digital services.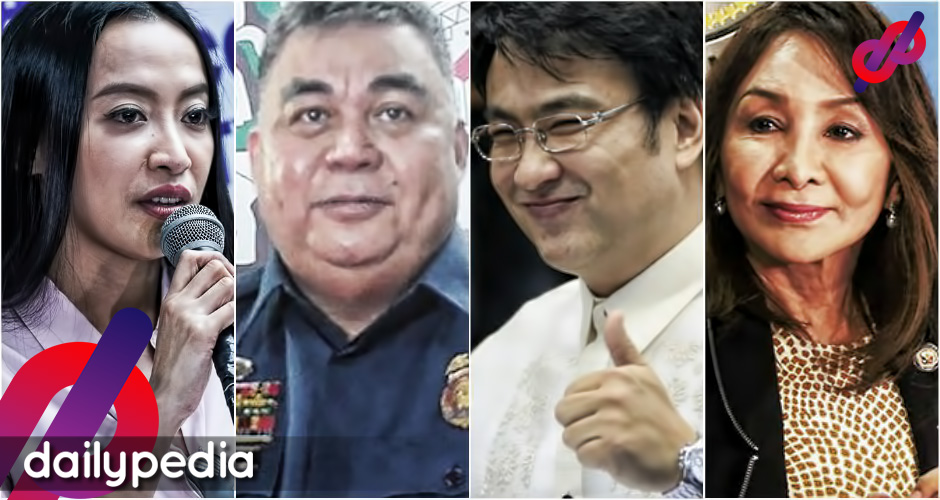 This tweet pretty much sums up our thoughts, though.
LAW IS LAW.

this is the common statement of those who favor the complete shutdown of #ABSCBN.

if that's the case, it should apply too on Debold Sinas, Sen. Koko Pimentel, Mocha Uson, and a lot more here. #JustSaying

— Ivan R., Licensed Professional Sucker (@licensed_sucker) July 10, 2020
Sen. Koko Pimentel
One of President Rodrigo Duterte's allies in the Senate and the current party president of PDP-Laban, he was the first of many public officials to fall under scrutiny after his actions early on in the pandemic.
He was at the Makati Medical Center (MMC) on March 24 to accompany his wife who was then scheduled to give birth. This would have been fine had he not tested positive for COVID-19 four days prior to his visit. MMC even went on record and alleged he called up Health Sec. Francisco Duque III to talk to MMC to let him and his wife in.
His allies called for compassion, but the people cried foul. He asked for forgiveness immediately after the mishap—only to proclaim himself a VIP and not a Person Under Investigation (PUI) later on.
PNP-NCRPO Chief Debold Sinas
Probably the incident used the most to let the government know of its preferential treatment, NCRPO Chief Debold Sinas has been the butt of jokes online about Filipinos and "discipline" during these trying times.
Photos of Sinas surfaced online via the NCRPO PIO (Public Information Office) Facebook page showing him celebrating his birthday in the wee hours of May 8 with at least 18 other police officials. It was called a "mañanita" and is said to be a tradition within the ranks of uniformed personnel.
This did not stop PNP Internal Affairs from filing criminal and administrative charges against Sinas and his 18 subordinates at the Taguig City Prosecutor's office.
LOOK: Metro Manila police chief Major General Debold Sinas and 18 subordinates were charged for staging a birthday blowout on May 8 despite strict quarantine rules, the Philippine National Police says.

READ MORE: https://t.co/3s7BuxtKyc pic.twitter.com/MbVcwdbrnU

— CNN Philippines (@cnnphilippines) May 15, 2020
Sinas, currently on leave for medical reasons, remains the NCRPO Chief despite calls for him to step down.
Sen. Ramon "Bong" Revilla, Jr.
No one wants to wish anyone ill, especially during a pandemic, but Sen. Ramon "Bong" Revilla may have had this one coming.
He is one of the members of the 18th Congress who asked the BIR to impose taxes on digital services like Spotify and Netflix back in May. Their reason? Filipinos are now "voracious online users" and that our country needs "to embrace the digital revolution of our time, and to comprehensively review and update our existing tax laws regarding digital economy."
One of his staffers died to COVID-19 in late March (around the same time as Sen. Pimentel contracted the disease), so it would only seem logical that he would eventually test positive. And on August 9, he did. He was rushed to a hospital for COVID-19 treatment last Tuesday, August 18, when he developed pneumonia.
Pag politiko ang tinatakbo sa ER, hindi puno ang hospital. Admitted. May room agad. Pag karaniwang Filipino, nasa waiting list bago mai-admit. Malalagutan na ng hininga nasa wheelchair sa parking lot o sa ambulansya o sa pinauwi pa sa bahay. So fuck you mandarambong.🖕🏽 #COVID19PH https://t.co/QEn8CVAqaW

— Kulotissima (@kulotissima) August 18, 2020
Here is a video of Sen. Revilla getting easy access to a COVID-19 hospital when others cannot.
We still wish him a speedy recovery—if only to make him answer to the plunder charges he just got out of.
Cebu Gov. Gwendolyn Garcia
Tuob. That's what Cebu Gov. Gwendolyn Garcia suggested to Cebuanos to help them fight COVID-19. While it might work for seasonal flu, medical experts know that it will not work against the virus that has shut down 2020.
The Governor entering the Office of the Governor without a face mask, despite the sign saying "PLEASE WEAR FACE MASK AT ALL TIMES," is such a civil disobedience mood.

Only it's the people who are supposed to enforce the rules, who are breaking the rules. 🤦‍♂️ pic.twitter.com/U18zrMtSZR

— Ganns Deen (@ganns) August 19, 2020
Apparently, Gov. Gwen Garcia also doesn't follow quarantine protocols.
Why is this relevant? Because Gov. Garcia berated two doctors—the very people fighting COVID-19 front and center—for criticizing her memorandum for capitol employees. A few Cebuanos came to her defense, but there are no take-backs online. Several medical groups have since issued statements coming to the defense of the two doctors, and #NoToDoctorShaming trended anew on social media.
PNP Chief Archie Gamboa
Birthday parties and public officials seem to be a thing during the pandemic as not even the head of the PNP himself escaped allegations of violating quarantine protocols.
PNP Chief Archie Gamboa recently made headlines for holding a party—with a concert—in his home in Baguio City with his friends and classmates. The occasion: a testimonial dinner ahead of his 56th birthday.
He denied all allegations and said it was really just a dinner with friends. "There was no party or concert. It was a dinner that ended at 9:30 p.m. Social distancing was strictly followed and the food was individually catered," the PNP official added.
He also said while he had three vehicles with him as his security detail, he and his contingent all passed Baguio City's triage protocols. This, of course, still earned the ire of netizens, prompting flashbacks of Sinas's mañanita.
Lawyer Glenn Chong & Jeanette Santillan, widow of Chong's slain bodyguard & Jeanette's husband Richard, sue PNP Chief Archie Gamboa before the Ombudsman's office for grave misconduct, other admin raps re: allegedly concealing evidence concerning 2018 murder of Richard @gmanews pic.twitter.com/ekwYkCfKXb

— Llanesca T. Panti (@llanescajourno) August 18, 2020
He currently also has a case to deal with at the Office of the Ombudsman for grave misconduct.
Presidential Spokesperson Harry Roque
While people struggled to find solace at home, one public official who is always on TV spent some time with dolphins.
The off-again, on-again Presidential Spokesperson made headlines early in July 2020 when he was seen swimming with the dolphins of Ocean Adventure in Subic during community quarantine. Netizens were understandably outraged at seeing him having some fun in the sun.
Roque has since apologized but he made it clear that his visit to Ocean Adventure was a side trip and not a leisure trip. He said he was an APOR (Authorized Person Outside of Residence) and that he hails from Bataan, which was under a modified general community quarantine (MGCQ). The National Capital Region, however, was still under a stricter general community quarantine (GCQ) at the time of his visit.
"It could have been worse" is Palace spokesperson Harry Roque's response to the SWS survey saying 45.5% of Filipino adults, or around 27.3 million, are jobless. https://t.co/YGYKgtUdvn pic.twitter.com/Wxha2WO58c

— ABS-CBN News (@ABSCBNNews) August 17, 2020
We could cite several dozen tweets and social media posts about Roque here, but here's his latest gaffe where he belittled the plight of 45% of the population who are now unemployed in the midst of a pandemic.