A dog went viral after he was caught munching on a pet store's dog food for free.
Chow Chow, who is a one-year-old doggo, also became a star on the brand's official Facebook page.
What will you feel if you saw a dog eating dog food displayed outside a pet store? If you're the shop owner, you might get annoyed but a Facebook user name Don Kurt Damada got amused and uploaded a video of the scenario on his account.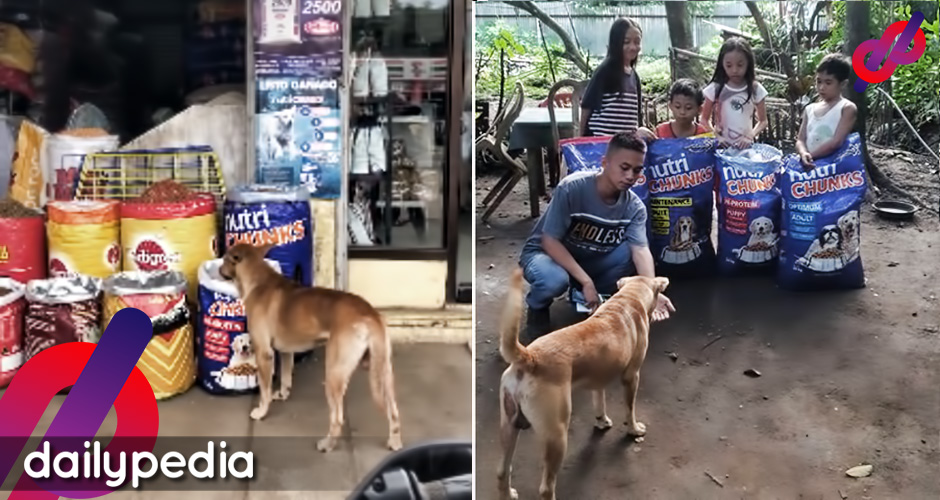 "While buying dog food……hmmm free taste," he wrote.
The video now more than 2.4 million views and 41,000 shares on the social media platform. As the video got more viral, other netizens started tagging the dog food brand Nutri Chunks PH as it is the specific treatment that the dog, Chow Chow, was munching on.
https://www.facebook.com/Werdidusleeplastnight/videos/10213360359162053/
"Hey Nutri Chunks. Get that dog. The dog deserved to be your ambassador. Get him some privilege of a better life. Maybe adoption and sponsor if ever stray dogs po siya. Thank you po, Nutri Chunks PH," a commenter wrote.
Nutri Chunks immediately replied, "Right now, we're actively finding ways to look for this stray dog to find him a good home. We care about these dogs as much as you do, so our goal is to find a fur parent who will lovingly adopt him. Thank you for your kind concern!"
Nutri Chunks PH immediately grabbed the opportunity and made Chow Chow their main star in a new NutriSerye.
NUTRI CHUNKS has found our viral SuPAWstar! And we have a #ListoGanado surprise for him.Can you guess who we're talking about?Stay tuned sa aming #NutriSerye!

Posted by Nutri Chunks PH on Saturday, August 22, 2020
The one-year-old doggo also received special treats from the brand as they gave his family tons of dog food so that he won't have to sneak in the pet store to taste his favorite food again.
https://www.facebook.com/CNNPhilippines/posts/2920061481567065?__xts__%5B0%5D=68.ARC8R9jeFwntCwJwKOefc_E9wlUqkLJ25O-W0DFCHlv70kxOSCF5Wan5-WXE7B9XMpFx_DPKS9hRsMsbKgIRtOywbFhWOjpUaF0nf3qDig0JCouROvik4rb8WSNZ7zkz0cgnRrvRq6MR1-D1NaehUseFq8NfYoPbfTLcwrhzmzVsELxLBdVAs9gs2xIpc0YYFRtADHD_86CG5Vq8TRrQDhU0XZLPm81fIccHkyLga9f7gQc5MK5Y6pU6DFaIWO5OlGURlJFFhUvB2mKmjsrojdWyD9eAT3iRhFI15v0UvdMP9N4F82_vdFhz9CAeiHRXffoJ-BkttFByYdsIfEAQgdKDEuxa&__tn__=-R
Netizens were then touched by the company's donation to Chow Chow and his family.