Congressmen Jesus Crispin "Boying" Remulla, Michael Defensor, and Rodante Marcoleta have been the most prominent ABS-CBN haters according to the public for their constant efforts in bringing up debunked allegations against the company.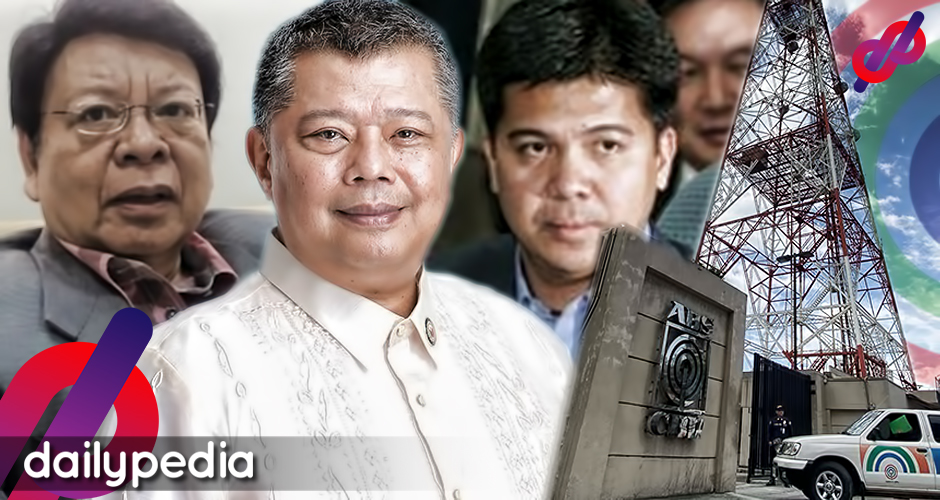 Not only that, people think their bias against the network is evident with politics playing a huge role during the franchise renewal hearings.
Recently, posts on social media have suggested that there are actually personal reasons why the three lawmakers have a "hatred" for the network.
Kaya galit na galit sa Hearing. 💯 pic.twitter.com/SOLXk3M6kK

— PBB CONNECT TV (@pbbconnecttv) July 6, 2020
The Remulla clan is arguably the most powerful in Cavite, and back in 2018, ABS-CBN reported that the family just sold their Island Cove Hotel and Leisure Park (ICHLP) in Binakayan, Kawit, Cavite for P7 billion to a wealthy Chinese-Filipino businessman.
The HYPOCRISY of BOYING REMULLA. pic.twitter.com/ZgOyeaJjsW

— ¥●£○ (@YOLOinthePH) July 5, 2020
Boying and his brothers initially refused to get into the details of the transaction.
"The management's decision to close the establishment is in line with the purchase conditions agreed upon with the still unnamed new business owners…speculations have been spreading around for months now about the property owners? — the Remulla clan — intent to sell the resort and leisure park as the members are said to be more focused on politics and public service than managing their family business," as reported by multiple sources.
ICHLP is now a 20-hectare POGO hub.
In Marcoleta's case, he is a known member of the non-trinitarian church Iglesia ni Cristo which had corruption allegations as reported by ABS-CBN and many other news agencies.
Felix Nathaniel "Angel" Manalo, a son of the late INC executive minister Eraño Manalo, accused his brother Eduardo V. Manalo (EVC), the INC's Executive Minister, of creating 'massive corruption' within the church.
"Binabago nila ang aral eh. Sa panahon po ng pamamahala ng kapatid na Felix Y. Manalo, hanggang sa panahon ng kapatid na Erano Manalo, wala tayong nakikitang anomalya," Angel told reporters outside his home in 2015.
"Pero sa panahon ngayon, mas napakarami nang anomalya. Mahal po namin ang aming kapatid. Kaya lang ang nagiging problema po natin, iyung nasa paligid niya."
"Nasira na po ang doktrina ng Iglesia Ni Cristo. Ngayon po, napakarami nang anomaly. Iyon po ang ayaw namin." Angel claimed.
He also alleged that the INC's Sanggunian threatened his party.
"Pinagbabantaan po kami. Iyun pong Sanggunian. Sinasabi lumalaban kami sa pamamahala.
"Hindi po kami lumalaban. Mahal po namin ang aming kapatid. Ang amin lang pakiusap, huwag siyang maniniwala sa Sanggunian." he said.
Angel added that funds were spent more on projects such as the Philippine Arena in Bulacan instead of building INC churches.
"Nauubos na ang abuloy ng Iglesia sa kung ano-anong hindi naman kailangan. Isa na ang Philippine Arena na ipinagtataka ko kung bakit nabuo. Sana lang po hindi nauubos ang pondo sa paggawa ng mga kapilya."
His mother Cristina "Tenny" Manalo was also expelled from the church.
It appears to many that Marcoleta is willing to make himself look like a fool to millions of Filipinos by bringing up old allegations against ABS-CBN that have been refuted by various government agencies as a way to get back at the network for reporting the rumors of corruption by EVC and the INC.
It could also be that EVC himself ordered Marcoleta to make sure that the network doesn't get a new franchise.
EVC has made a lot of friends in politics, including President Rodrigo Duterte who appointed him the Special Envoy for Overseas Filipino Concerns in 2018.
Defensor, on the other hand, headed two mining companies that were ordered shut down by the late philanthropist and ex-secretary of the Department of Environment and Natural Resources (DENR) Gina Lopez of the ABS-CBN Lopez family.
Defensor is also one of the INC's friends in politics as the church endorsed him previously.
Netizens are now more aware of the bigger picture.
be a Carlo Katigbak in a world full of Marcoleta, Remulla, Defensor and Barzaga. an epitome of grace under pressure, poise and eloquence. such a humble person! a true leader indeed! #IbalikAngABSCBN https://t.co/tvothPZnUp pic.twitter.com/KEjrBpLwa2

— cshainero (@ocampotiiin) June 29, 2020
Franz Alvarez and Jose Antonio Sy-Alvarado of the Legislative Franchise and Good Government and Public Accountability Committee as well as Alan Peter Cayetano are equally abhorrent as Marcoleta, Defensor, Bautista, Remulla, Salo and Garin.

We shall remember.

We'll never forget.

— Ryan (@rryyyaaaannnn) July 6, 2020
Couldn't agree more. Shame on you, mike defensor, Rodante marcoleta and Boying remulla. What puppets. Shame on you, digs. Shame on you… every time I'm asked now which part of phils I'm from- I awkwardly answer. Kaulaw. pic.twitter.com/BvjS3oVE45

— grack lee #JunkTerrorBill (@gracklee) July 2, 2020
Congress has made the very glaring reality:

IT WILL DO EVERYTHING IN ITS POWER TO SHUTDOWN ABS-CBN.

Wag na tayong maglokohan pa.

Stooge's Defensor, Marcoleta and Remulla are manipulating the whole proceedings to make their narrative prevail over facts, truth and legalities.

— Ryan (@rryyyaaaannnn) June 29, 2020
Be like Lito Atienza and Carlo L. Katigbak in a world full of Marcoleta, Barzaga, Remulla, Defensor, and Garin. #IbalikAngABSCBN

— Jiggy Sevilla (@JiggySevilla) July 6, 2020
Totoo naman na the viewers can live without ABS-CBN kasi may other alternatives naman. Pero how can the employees live without ABS-CBN at this time of pandemic?! 11k+ employees will be added to the roster of unemployment. For Marcoleta, Defensor & Remulla, you are just a number.

— Red One #LabanKapamilya (@pripri_gosakto) July 3, 2020
Remember these names:
1. Marcoleta, Rodante (SAGIP Party List)
2. Remulla, Jesus Crispin (Cavite Rep.)
3. Defensor, Michael (ANAKALUSUGAN Party List)

Say goodbye to them this 2022 😁#IbalikAngABSCBN pic.twitter.com/nNn8LVX2zE

— S A M ♡ #KapamilyaForever (@Sam_Morchans) June 29, 2020
The INC has two TV stations: INCTV and Net 25. It also owns the Philippine Arena. Perhaps it is the INC that wants to replace ABS-CBN–with the financing of that billionaire Chinaman from Davao. INC supported Remulla and Defensor in the past. Marcoleta is Manalos' asslicker.

— Miyako Izabel (@sejoalzir) June 30, 2020
Is this the proof that the Iglesia ni Cristo is interested in film and TV productions and wants to buy and replace ABS-CBN? Hence, the roles of the three INC stooges–Remulla, Defensor, and Marcoleta–in the ABS-CBN franchise hearing are suspect. pic.twitter.com/Svu56QhDVJ

— Miyako Izabel (@sejoalzir) June 30, 2020
Cong. Marcoleta is INC. Cong. Defensor is supported by INC. INC has an axe to grind with ABS CBN since they covered the arrest of Minister Menorca by QC Pros. Barcellano and INC SCAN. INC block votes are politically motivated. pic.twitter.com/kwCaUka97j

— In Legality (@InLegality) June 29, 2020
Is it true that INC wants to take over ABS? Thats why Defensor and Marcoleta are "gigil na gigil"?

— Carlos A. Chua (@IndraBrianna) July 2, 2020
Mike Defensor. There was a reason you did not win in any elections before 2019 that is why you had to turn to the party list to get to where you are now.

Tell us. How much did the INC or Duterte give you?

— The Prolife Dad (@prolifedad) June 3, 2020