People have recently been curious about the "Chinese help desks" established in various local police stations in the country.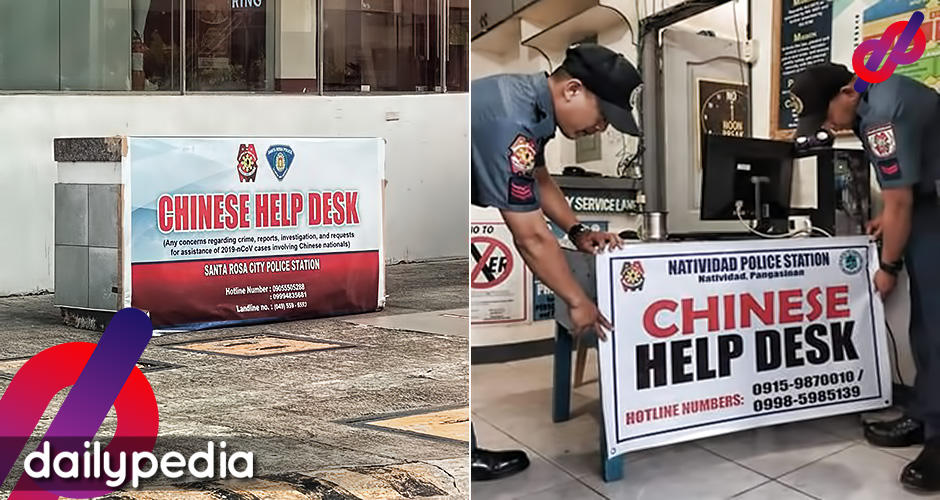 The PNP started putting up these help desks back in February so crimes committed by Chinese nationals, such as kidnapping can be reported. Chinese related complaints and crimes will be received by the help desks to possibly escalate to investigations.
But not every help desk caters to crime, the Natividad Police Station in Pangasinan for instance only focuses on COVID-19 cases.
The PNP has recorded 38 casino-related kidnap-for-ransom cases in 2019 with Chinese nationals being involved.
The Anti-Kidnapping Group (PNP-AKG) is already planning on sending their forces to China to learn Mandarin, according to PNP spokesman Brig. Gen. Bernard Banac.
"Isa lamang ang tututok, hahawak, mag momonitor, at tatanggap ng mga reklamo at mag follow-up ng mga insidente involving Chinese nationals,"  Banac said.
One of the kidnapping incidents happened last December 2019 where a video showed a Chinese woman forcefully taken away on Paseo de Roxas Avenue in Makati City who was later identified as a POGO employee.
Netizens jokingly said that China has taken over and that the Filipinos in this country are now the foreigners.
https://twitter.com/jerraldsolano/status/1271343750875279366?s=20
tayo ata ang Foreigner dito? HAHHAHA

— JAN✈️ (@juanseu_) June 12, 2020
hindi sila makapaglagay ng basta "Help Desk", dudumugin ng mga Pinoy eh. hanggang Chinese lang daw kaya nila tulungan, you know, the prioritized nationality in our country.

— oust satan's tumor (@stillhassoul) June 14, 2020
Ano? Tayo pa ang turista sa sariling bansa.. may basbas yan ng poon nila.

— #JunkTerrorBill (@aquoCie) June 14, 2020
May special lane talaga mga chinese eh noh. Hayy

— 조제교 (@jojhekyo) June 13, 2020
sarap maging chinese sa PH. special treatment much. first class citizen ang peg. baka next sa mga malls at resto may special priority lanes na din for Chinese!!! 🤣🤣🤣

— #OustDu𓆉 #JunkTerrorBill #NoToSara2022 (@darkdeliverer) June 15, 2020
Meron bang Filipino help desk sa China? Hindi yata tayo informed …

— bloody_berde (@BerdeBloody) June 15, 2020