Jay Sonza is once again giving out false information to the public. On his Facebook account, Sonza claimed that CNN Philippines will halt operations because some of their employees have tested positive for the coronavirus.
"CNN Philippines is shutting down momentarily. some staff are positive with Covid19."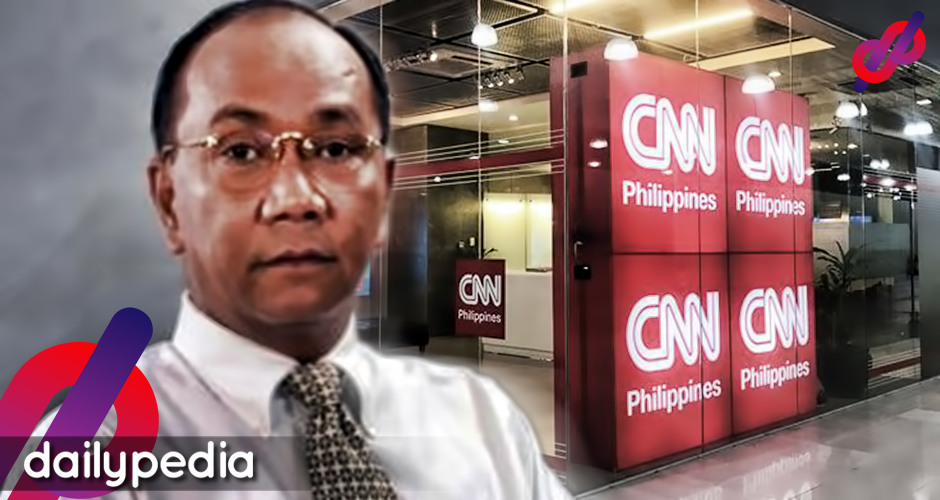 Sonza has nearly 170k followers on Facebook, and sadly, most of them believed his post based on their reactions.
"Seriously!? One bias station down!"
"Just as well..puro biased reporting nmn gawa nila..we wont feel their absence. We have SOCMED.."
"Karma is real..bias media have no space in this country"
"CNN will shut down for 24 hrs while they're disinfecting their building. A worker was found positive with covid19."
But people immediately found out that what Sonza posted was just one of his usual fake news reports.
Tristan Nodalo, a reporter from CNN Philippines cleared things up on Facebook, saying that "it is not one of our employees who has COVID-19 but someone in the building where CNN Philippines is located, which is the Worldwide Corporate Center on Shaw Blvd. in Mandaluyong."
CNN Philippines won't be operating for at least a day to make sure things are safe.
"We are going off the air for at least 24 hours so the building can be sanitized to eliminate contaminants."
The company claims that they have been preparing for something like this to happen. They will continue reporting news via social media.
Thank you everyone for reaching out. To be clear, it is not one of our employees who has COVID-19 but someone in the…

Posted by Tristan on Tuesday, March 17, 2020
Jay Sonza has had a history of spreading false information and fake news. While he has been reporting since 1981, he has not won any recognition or awards as a journalist.
In 2004, he decided to run for Senate under the Aksyon Demokratiko political party of Education secretary Raul Roco, but wasn't successful because of the same reason: his tendency of spreading lies.
In 2010, his attempt at running for office failed once more after losing to Makati City Mayor Jejomar Binay for the position of Vice President.
One of the most recent lies Sonza told was that Senate Minority Leader Franklin Drilon fell asleep during a TV interview with Pinky Webb on CNN Philippines' The Source.
Drilon had his head down for about five seconds when Webb was transitioning into asking another question but answered her question immediately.
On March 1, Sonza posted a 16-second clip taken from the interview showing Drilion with his head down. Sonza labeled Drilon as a disrespectful guest for allegedly napping.
The caption went, "bastos na bisita. diyoskoday pinky Webb tinulugan ang beauty mo ineng ng resource person mong senador."
But the truth is Drilon did not fall asleep. A photo without the character generator (chargen) — the graphics placed on the bottom portion of videos, showed Drilon was awake, and that he was looking down on the documents on the table.
Webb also went on Twitter to confirm she never saw Drilon doze off.
Here's what happened. As I was laying the premise for my question, I saw Sen Drilon look down at the documents he had on the table. I did not see him fall asleep. https://t.co/ga9kxyBFBY

— Pinky Webb (@iampinkywebb) March 2, 2020
Sonza is a big Duterte supporter, and on November 5, he wrongly credited the President for establishing the country's first land port, Parañaque Integrated Terminal Exchange (PITX).
In a Facebook post, Sonza said that Duterte only needed two years to accomplish this feat, and previous Presidents were not as great in this regard.
"[It] took more than 30 years and 5 Presidents (Cory Aquino, Fidel Ramos, Erap Estrada, Gloria Arroyo and Noynoy Aquino) before a decent integrated terminal for public utility vehicles is put in place."
"Just 2 years into office, the Duterte administration with the support of the private sector, the project is done."

"Daig pa ang mga airport terminal sa ganda, linis, kagamitan at facilities. Maari naman palang mangyari ang dapat kung gugustuhin (It's better than the airport terminals in terms of looks, cleanliness, equipment and facilities. It seems, things that should happen can happen, if there's a will to it)."
The land port did officially open during Duterte's administration, but the PITX project started on November15, 2012 under former President Benigno "Noynoy" Aquino III.
The Department of Transportation also made it clear that the PITX project did not start under Duterte's administration. According to the agency, Duterte's administration does not take credit for inaugurating the PITX.
"Una sa lahat, batid at hindi itinatanggi ng administrasyong Duterte na hindi sa liderato nito nagsimula ang proyektong Parañaque Integrated Terminal Exchange (PITX).
"Ang concession agreement para sa proyekto ay nilagdaan noong 24 April 2015, sa ilalim ng nakaraang administrasyon. Gayunman, malinaw ring inilabas lang ang 'Notice to Proceed' para sa proyekto noong 17 October 2016."
Why fake news purveyors like Jay Sonza are even more destructive at the moment
Areas outside of Luzon have been denied entry to the region while the island is on 'enhanced community quarantine'.
Bacoor has already closed its borders after three more people died from Covid-19. The Philippine health ministry confirmed that there now a total of 202 cases in the country. One of the three who recently died was from Lanao del Sur who traveled to Malaysia. He died seven days later due to acute respiratory distress syndrome (ARDS) secondary to COVID-19. Patient PH201 was suffering from diabetes.
PH57, a 65-year-old Filipino male from Pasig City who recently traveled to London also died while suffering from diabetes and hypertension.
The third latest death was an 86-year-old Filipino female from San Juan City. She died due to "septic shock second to pneumonia-high risk secondary to COVID-19."
According to Marikina Mayor Marcy Teodoro, Metro Manila mayors have agreed to make a quarantine facility out of a building that they have been examining.
Senate Majority Leader Migz Zubiri also recently tested positive for the virus, which prompted Senate President Tito Sotto, Ping Lacson, Imee Marcos, Grace Poe, Francis Tolentino, Bong Revilla, and Pia Cayetano to get tested.
Vice President Leni Robredo also claimed that her team has been able to raise over 17,000,000 pesos for health workers. A separate amount of 5 million pesos will be used for COVID-19 testing.
Metro Manila police chief Debold Sinas said that Oplan Tokhang is also suspended due to the virus. Sinas expects crime rates to decrease significantly, as only 7 crimes have been reported on the first day of the Metro Manila lockdown.
Chairman J. Prospero E. De Vera III also released a statement that he has received a lot of complaints, mainly from students saying that they find it hard to complete school requirements because of slow internet connection.
Statement from CHED Chairman J. Prospero E. De Vera III:
"I have received complaints from students who are unable to comply with requirements of universities/colleges (examinations, reports, assignments) using online/distance learning mode because of poor internet connection… pic.twitter.com/rAQEF1ev15

— Commission on Higher Education (CHED) (@PhCHED) March 17, 2020
There are a total of 17 confirmed deaths in the country due to the virus.
With the country in a state of calamity, fake news can only hamper or derail efforts to recover.