A video of a young guy who pranked his mom has now gone viral.
A certain Marco uploaded the funny video on Twitter last December 16.
Marco thought it would be funny to tell his mother that he got a girl pregnant.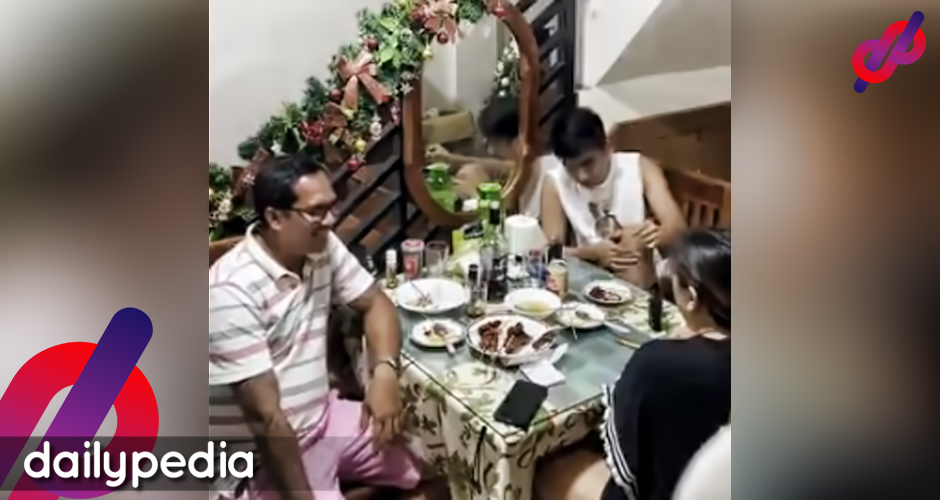 He hid a camera aimed at their dining table and he filmed himself while he talked to his mother.
The video begins with Marco having a meal with his mom and dad at the dining table.
While looking at him, Marco asked his mother, "Paano ba ginawa niyo nung naging anak niyo ko?"
His mom thought it was his way of telling her that he got a girl pregnant.
She looked more and more worried as she started to realize her son's life will be changed forever.
"Ay! Huwag mo sabihing naka-buntis ka," Marco's mom replied.
"Ay anak! Ayoko. Di ko kaya. Sino yon? Ha? Ano nangyari? Ha?" she added.
As he saw his mom teary-eyed, Marco then told his mom it was just a joke. Then he stood up and hugged her.
"Mommy, joke lang," he laughingly told his mom, while he embraced her.
But his mom wept.
Marco's dad was just smiling and laughing while looking at them because he knew that his son was just playing a practical joke on his wife.
"Naka-video ka kanina pa eh," Marco told his mom as he tried to comfort her.
But his mom continued to cry.
NAKABUNTIS AKO!

Me: pano ba ginawa niyo nung pinanganak niyo ko.

Momy: ay! Wag mo sabihing nakabuntis ka pic.twitter.com/YLGSRq3wFX

— Marco (@malgapo_m) December 16, 2019
"Mommy joke lang. Naka-video ka oh," Marco said as he pointed to the direction of the camera.
His mom looked at the camera but she continued to weep.
"Di nga mag-aanak 'di ba? Mommy, 'di nga ko mag-aanak. Joke nga lang," Marco told his mom to make her stop crying.
In reply, his mother just hugged him tightly.
Marco's video has already garnered more than 734,000 views since it was uploaded.
Over 54,100 netizens have liked it and it has been retweeted 7,839 times.
A lot of netizens also aired their reactions, mostly expressing their delight with the video.
Here's how they reacted:
"Gawa kana YouTube channel bro, galing mong mang prank ha ha ha ha."
gawa kana Youtube channel bro, galing mong mang prank hahahaha

— JAMES ❄ (@jaymsmash) December 16, 2019
"Ang cute ng mom mo. 🤣"
https://twitter.com/Aljane_Ayuson07/status/1206616143621836801?s=20
"Natulog lang ako sikat ka na. HA HA HA HA. Kilala pa kaya ako neto."
natulog lang ako sikat kana HAHAHAHA kilala pa kaya ako neto

— meggy (@Dmskimeg) December 17, 2019
"Everybody is talking about the mom, but look at the dad. Classic supportive at konsentidor tatay. Lol."
Everybody is talking about the mom, but look at the dad. Classic supportive at konsentidor tatay. Lol

— Earth (@emerJensie) December 17, 2019
"Hoooy!! Omyggg ang sweet!! I wanna have that kind of relationship with my mom too!!"
https://twitter.com/_Queenamery/status/1206708920741322752?s=20
"Loved the dad , chill na chill."
Loved the dad , chill na chill

— Pipo (@Pipoboii) December 17, 2019
"Epic yung reaksyon ni Mommy, halatang love na love ka nya. 😁"
https://twitter.com/Ysee017/status/1206760024439025666?s=20