Pastor Apollo Quiboloy has filed a cyber libel complaint against a GMA Network writer over the latter's alleged malicious comments on social media.
In his complaint filed before the City Prosecutor's Office of the Island Garden City of Samal (IGACOS), Quiboloy, through his lawyer Israelito Torreon, alleged that Zenaida "Suzette" Doctolero of GMA-7 had written insulting or demeaning labels about him on Facebook such as human trafficker, land grabber, murderer, and "satan" that started on June 12, 2019.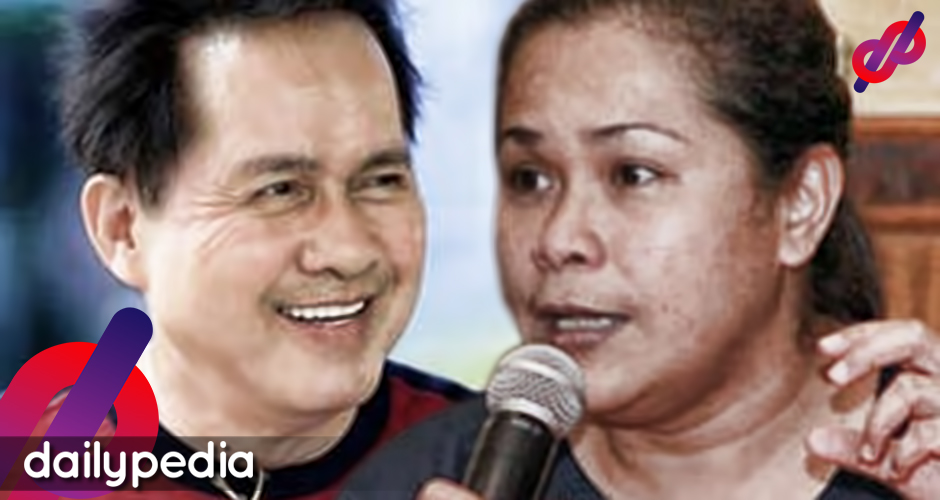 Quiboloy is the founder and leader of the religious group, the Kingdom of Jesus Christ, The Name Above Every Name, Inc.
According to the Pastor, it was his followers who told him about Doctolero's posts on Facebook, which "is viewable by the public in general" and can be commented on by anyone.
"It is to diminish the esteem, respect, goodwill or confidence in the complainant, or to excite derogatory feelings or opinions about me," Quiboloy said in his complaint.
"It contained imputations with bad intentions and unjustifiable motives, purposely to malign, dishonor, discredit and insult and assassinate my character and good reputation to the public as well as to the members of the Kingdom of Jesus Christ," he added.
Quiboloy noted that he has six million followers worldwide and that he had not committed any of the wrongdoing being brought up by the respondent.
Contrary to the accusations being hurled against him, he said his ministry "nurtures the spiritual condition of children, young people and the elderly."
The Pastor had tapped two witnesses against Doctolero, who submitted a joint affidavit before the office of the city prosecutor.
The camp of Quiboloy has also submitted screenshots of Doctolero's posts and comments on Facebook to be marked as evidence.
In her counter-affidavit, Doctolero has denied she had maligned Quiboloy.
She said her posts and comments had no malice as she made it clear that these were all allegations that the Pastor had to answer.
Doctolero said her posts had the words "daw" and "diumano" to indicate that the tags on Quiboloy had not been proven yet.
She also questioned the Pastor's act of suing her as a private person when he is a public figure.
The writer cited Quiboloy's claim of having six million followers to prove her point that he was not a private person.
However, the IGACOS prosecutors office sided with Quiboloy and had resolved that a case for libel under Article 353 of the Revised Penal Code, in relation to Republic Act 10175 or the Cybercrime Prevention Act of 2012, be filed in court against Doctolero.
In his resolution, associate city prosecutor Michael Robledo said the words "daw" and "diumano" in Doctolero's posts are "immaterial, as the fragment within the parentheses only serves as respondent's basis in making the statement."
He said the writer's statements, including her claims that the Pastor "is a human trafficker and is living in bounty by means of fraud" are "defamatory in nature."
He also junked Doctolero's claim that Quiboloy is a public figure.
In any event, Robledo noted that "the case of US v. Bustos does not apply under the premises.
"To emphasize, the principle laid down in the cited jurisprudence applies to public officers and not private individuals," he said.
"It is noteworthy that complainant is still a private individual though he is regularly appearing in public and other media sources," he added.
The camp of Doctolero has decried the ruling.
In a statement that Doctolero posted on her Facebook page, her lawyer Vanessa Joyce Monge said that what her client did was like what others are doing as well and simply "published an article in social media on current events that roused her interest."
"What Ms. Doctolero did was what most, if not all of us are guilty of… We copy the link almost instantaneously, we add thereon our fair comments, and click on share in the hopes of engaging our Facebook friends into an intelligent discourse. Well, according to them, this is libel," she said.
"While I understand that a fiscal's role in preliminary investigations is limited to the finding of a probable cause, and their discretion here is almost plenary, the point here is, that the alleged libelous material here consists of fair comments on matters of public interest. Hindi ito yung libel na sinabi ni Juan na kabit si ganito ganyan without proof nor basis whatsoever. Ms. Doctolero's speech is a protected speech under our Constitution as those are fair commentaries on matters of public interest involving a public figure," she added.
Monge further noted that it was disturbing calling Quiboloy a private person given the Pastor's constant exposure in the news.
"It's dumbfounding to the nth level. If libel cases filed by public figures are allowed to prosper such as this when there is a plethora of Supreme Court decisions illustrative of the public figure doctrine such as Ayer Productions v. Capulong, MVRS v. Islamic Da'wah Council, Guingguing v. Court of Appeals and their predecessors from the US jurisprudence such as New York Times v. Sullivan, Curtis Publishing v. Butts. (I can go on and on)," the lawyer said.
"If the prosecution allows public figures to hale any individual to court just because they cannot take the ramifications of their public actuations, and cannot even swallow fair commentaries, then sadly, this sets a very dangerous precedent," she added.
Monge went on saying that "this creates a chilling effect as our country's libel laws are misused as a prior restraint on the freedom of speech.
"Bawal na umopinyon sa mga nababalitaan sa social media etc. Otherwise, you risk being sued, and go through all the financial expenses, not to mention the anxiety of being dragged into a libel case," she said.
"Silver lining though is, since almost everyone is guilty of what Ms. Doctolero just did. In fact, di na mabilang ang memes about Mr. Quiboloy, then perhaps, maiibsan na nga ang traffic sa EDSA at sama sama na tayo lahat sa bilangguan… Probably this is him addressing EDSA traffic standstill as challenged by Vice Ganda a few weeks back," she added.
Monge stressed that a libel case like this does not only involve "the interpretation of criminal laws or a trial and error finding of probable cause."
"Rather, it involves the interpretation of the Constitution of the Philippines— the supreme law of the land, more particularly our right to free speech," she added.
For her part, Doctolero, who is a single mom, said she feared for her safety as well as her son's who has autism after seeing his pictures on the affidavit of complaint.
"Ang unang pumasok sa isip ko: tangina, tila nasa panganib ang buhay at kaligtasan ng anak ko. Kaya hindi ko muna pinapasok ng ilang araw ang bata," she wrote on her Facebook page.
"Nagkulong kami sa bahay. Ang bawat magdaraan na sasakyan ay sinisilip ko sa bintana, wondering kung may sumusubaybay na ba sa akin at kami ay minamarkahan na," she added.
Doctolero said no parent and no man should feel and live this way: fearing for one's safety and fearing the future—only because he chose to participate in a discussion.
"Kaya ako ay kumawala na sa takot at lumabas na ngayon sa publiko para humingi ng saklolo," she said.
"Kayo ang witness ko. Kayo ang proteksyon ko. Maraming-maraming salamat!" she concluded.