Don't have a date to take to Christmas family gatherings or parties because you are single?
Rent one instead!
Serene La Madrid is advertising her services on Facebook as a fake girlfriend for desperate guys looking for a date to bring home on Christmas.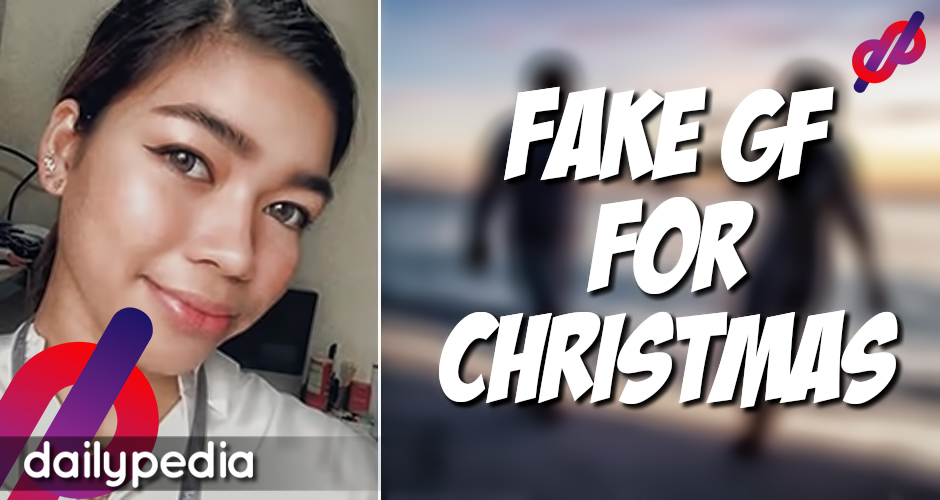 In her photo ad which she posted on Facebook on November 25, the 21-year-old lady said she can be your holiday date for 3 hours, 5 hours or 7 hours, depending on the package you choose.
She offers her services as follows:
Package 1 (P2,000): Wearing casual attire with light make-up, she will stay at your side and laugh at your family's jokes for 3 hours.
Package 2 (P3,000): Clad in a semi-formal attire with light make-up, she'll engage with your family for 5 hours.
Package 3 (4,500): Appearing overly formal with full make-up, she will bring food for your family and stay with you for seven hours.
She will also say "I love you" in front of your family and she will allow you to hug, hold her hand, and kiss her on the cheek.
For more cash (P500), she'll extend an hour with you and you can even kiss her on the lips.
"Holidays are fast approaching guys. I need cash and you need jowa. Reserve now!" she captioned to her photo ad.
In an interview with DailyPedia, Serene said she posted the photo ad only "for fun."
"I saw the original photo sa Twitter and I told the one who posted it na I'll make my own version since it was a funny post," she revealed.
In "real life," Serene said she is a student currently studying law.
When asked about her parents' reactions to her photo ad, she said, "My mom thought it was funny but they told me to take extra precautions."
Serene admitted that a lot of people still mistaken the ad for real despite the "joke only" she wrote on her post.
Because of this, she said some people are asking her "on how will they transfer the money."
"And some of them are even saying na magmo-money down na daw sila. Ha ha ha!" she added.
According to Serene, the worst part is when people send her sexual remarks.
"I did receive bad comments. It was inevitable naman ata talaga sa lahat ng posts sa social media," she narrated.
"Well, the sexual comments. I think the sexual comments are the worst so far," she added.
Serene's post has since gone viral with over 20,000 likes.
It has also been shared more than 19,000 times.
Over 6,200 people had already commented, mostly having fun at Serene's photo ad.
Here are the comments of some netizens:
"Wala po bang student discount?"
"Pwede ba Home Credit?"
"Ang mahal pota ahahahah."
"Girl taasan mo yung rates mo."
"Di ba pwede 3 gives. 😂😂"
"Ha ha ha. Fake boyfriend baka meron."