Netizen expresses frustration over a McDonalds branch forbidding people to study inside its premises.
Others agreed that it's unfair for the fast food chain to ban studying as most of their customers are students.
Some disagreed and said that McDo is not the right place to study. 
Establishments like McDonalds and Starbucks have become the go-to places for students when it comes to studying. Because not only do they have coffee, some branches are also open 24 hours – and if you're hungry, you can purchase something to munch on.
But unfortunately, students won't be allowed to do that any longer at a specific McDonalds branch.
A Netizen from Dumaguete uploaded a photo of a McDonalds note posted on the window of the branch bearing the words, "We are pleased to request you not to study in our premises. This establishment is intended for everyone who likes to dine in and enjoy our services and the delicious foods that McDonald's can offer. Thank you!"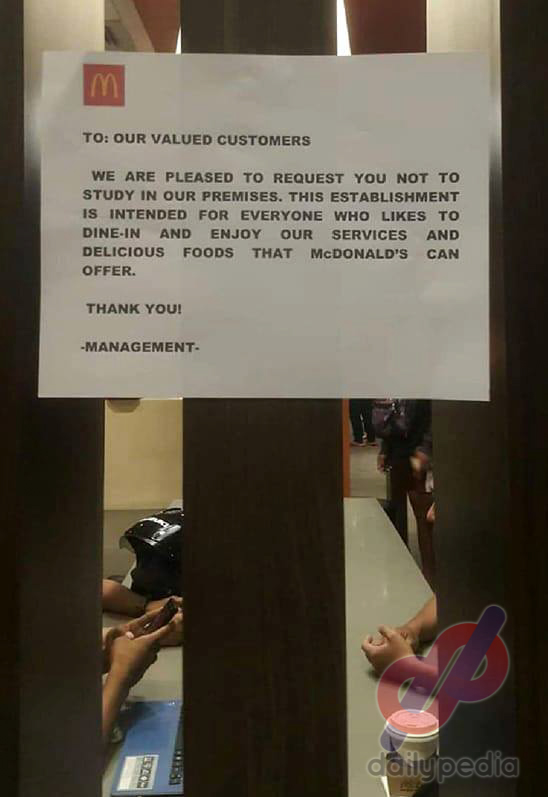 This simple reminder sparked a debate among netizens who were split between those who agree and who disagree with the message.
Twitter user Ian Rosales Casocot expressed his disappointment in a now-viral tweet.
"In a university town? During the run-up to Finals Week? For an establishment that's open 24 hours? Where the only signs of life in the wee hours are students themselves? McDonald's is like that whiny girl who goes to the beach and complains about the sand," he wrote.
There are netizens who agreed with him, saying that the establishment should have a bit of empathy towards the students.
https://twitter.com/AmoAudire/status/1175907734845190144
Others requested for people to go as far as to boycott McDonalds.
Naku! Iboycott ang branch na ituu. At night, I believe most of their customers din maman eh mga students.
Provide nlang sila ng study area. There was a time in my medschool life na kailangan m talaga mg aral sa labas bec u have 2-3 major exams 2 pass at the same time kinabukasan.

— J. Kevin Lived (@jiserumaku) September 21, 2019
The student population should boycott mcdo then lets see kung di sila abugon

— Val Amiel (@valvestil) September 21, 2019
One netizen couldn't help but compare it to McDo branches in Hong Kong, wherein they even let homeless people in and sleep during the night.
In Mcdonalds hongkong they even allow some homeless to sleep in during the night when there's no customers

— mainman (@mainmanparin) September 23, 2019
But not everyone is mad about the note. Some people are confused as to why students would study in such a place like the fastfood restaurant and coffee shops when all the do is buy a single item and sit there for more than a few hours.
Bat ba kasi sa mcdo mag aral??? Oorder ng isang beses tapos tatambay ng ilang oras. Ganun rin sa coffee shops. Isang kape oorderin, nanjan pa rin kahit tuyong tuyo na yung baso. I understand na kailangang mag aral pero be considerate naman sa iba. Di yung lahat mag aadjust.

— Justin Gonzales (@AkoTinTin12) September 23, 2019
FAST FOOD YAN, WAG KANG CRYBABY. P

— Gewel Bautista (@geebautista) September 22, 2019
Another Twitter user answered, saying that Starbucks actually has no issue with students.
https://twitter.com/kadiholic/status/1176095556214484993
While people argued about which side is right, there are some who saw both ways. This one netizen said that people should just be sensitive. It's should okay for students to stay when there are not many customers, but diners will always be the priority.
sensitivity lang siguro. if the restaurant is packed, i would go elsewhere. if it is in the wee hours of the morning, and there are many tables to spare, then ok magaral ako. but bottomline, make priority for those who are eating. fast food pa rin yan.

— Ms. A (@annemolina) September 23, 2019
Another said that this is just a wake-up call that the country needs more libraries and free study areas that will be open for 24 hours.
https://twitter.com/koronelmagnet/status/1175995450320543745