Students gave their beloved professor a pair of shoes as a remembrance
Made netizens proud of what they did
Facebook page Hugot Pa Teacher posted a video of a teacher receiving a gift from his students that melted netizens' hearts.
The video shows an old professor making his way to his classroom, about to start class. He walks to the front of the class when one of his students hands him a box tied with a little rope.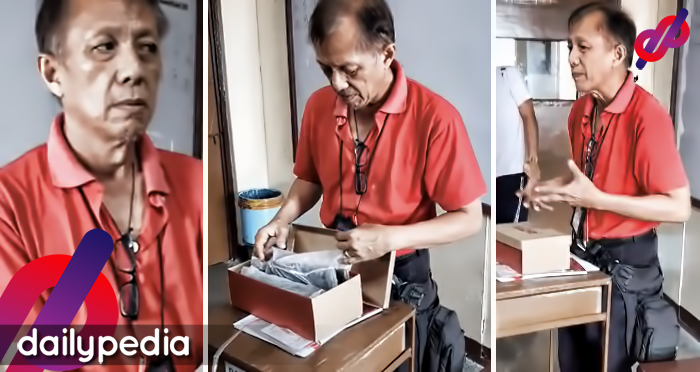 One of the students said that it was a gift from them to him. "Gift lang namin."
The professor then started untangling the rope with difficulty.
Some of the students started joking around.
"Ipis yan!"
The room was noisy as the students were excited to get the box opened.
"Buksan niyo na sir!"
"Hulaan niyo kung ano yan. Hulaan niyo muna sir."
The professor jokingly said that maybe it was a snake inside, with a smile on his face.
"Ahas."
He still couldn't untangle the rope so a student handed him a pair of scissors and he cut the rope.
The classroom got even louder when he opened the box.
Inside the box was a pair of shoes.
One student said they all contributed so they can buy him new shoes.
"Pinag ambag yan namin."
With a smile on his face, the professor said, "Ay gumastos pa."
One student said that they did this because they love him. "Dahil love ka namin sir."
One of the students also said that he has been the best ever since the 9th grade. So they decided he deserved a little something from them.
"Since grade 9 kame, sir, malaki na yung natulong mo. Konting bagay lang yan naibigay namin."
The professor then said that as a teacher, he does not expect to receive anything since teaching is just the nature of his job.
"Alam niyo, sa posisyon ko sa pagtuturo, hindi ko inaasa na may kapalit."
It appears that the students were ready to move on to the next level of education, and wanted to give their beloved professor something to remember them by.
"Bago kameng umalis, gusto namin mabigyan kayo ng something."
Before the video ended, the professor is seen rubbing his eyes.
The post has 444k likes and nearly 100k shares.