A transgender woman was arrested at a mall in Quezon City after she was prohibited from using the women's bathroom
Gretchen Diez was handcuffed and brought to Quezon City Police District Station 7 Tuesday night for an unjust vexation complaint
"Why not just Homo sapiens? We're all the same," remarked Senate President Vicente Sotto III in reaction to the incident.
Senator Risa Hontiveros on Wednesday (August 14) delivered a privilege speech renewing her call for Congress to pass the SOGIE (Sexual Orientation and Gender Identity and Expression) equality bill, a day after transgender woman Gretchen Custodio Diez was detained by police when she tried to document the harassment she experienced after she was barred from using the ladies' restroom by a female janitor inside Farmers Plaza in Quezon City.
This unfortunate incident resulted in public outrage especially on social media. Celebrities, politicians, netizens rallied behind Diez and called out the mall and their staff for their actions.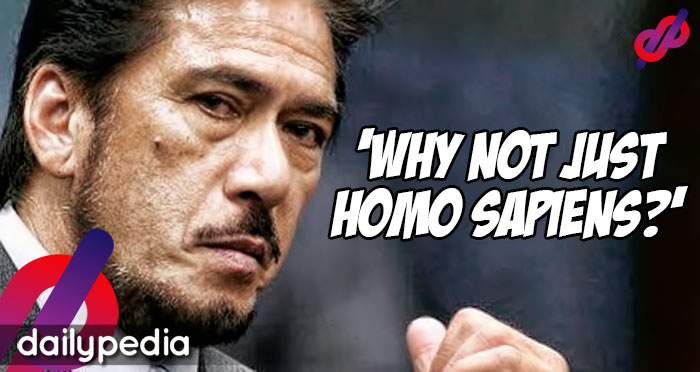 Some senators were seemingly uninformed about SOGIE (sexual orientation and gender identity and expression) and LGBTQ+ (lesbian, gay, bisexual, trans, queer) as Senator Koko Pimentel questioned the difference between a transwoman and a transgender. Senator Panfilo Lacson voiced out the possibility of men with voyeuristic intentions using the SOGIE to freely enter women's bathrooms.
While some Senators found themselves lost with questions with the reignited discussion on SOGIE, Senate President Vicente Sotto III suggested, "Why that lengthy letters? Why not just Homo sapiens? We're all the same. Why do we have to segregate the gays from the lesbians from the straight guys?"
Hontiveros answered Sotto's query that the term would have been unnecessary should there have been no discrimination against the LGBTIQA+ community.
"Hindi po sana kailangan mag-segregate kung 'yung human civilization natin at mga societies natin ay nag-evolve to the point na walang discrimination, may equality among all, regardless of identity, regardless of expression," she noted. "Kaya lang hindi ganun ang nangyayari… that is why the community felt it's necessary."
Senator Sotto's manner of questioning didn't sit well with netizens. Many believe that the Senate President should know better given his history of working with LGBTQIA+ in showbiz especially working with a show like Eat Bulaga with segments for LGBTQIA+ like the 'Super Sireyna' pageant.
Just showed that Tito Sotto is only an entertainer and never will be a problem solver..

— Corix (@RicoinAsia) August 13, 2019
Sen. Hontiveros and Tito Sotto represent two sides of Philippine society. The former explains SOGIE well and is willing to educate others. The latter, on the other hand, needs to be informed, educated, and enlightened. https://t.co/vahA1UOWhE

— CJ Dominguiano (@christianfreo) August 14, 2019
"Let's stop assigning and classifying diff gender roles and identities. Nakakalito lang ang mga 'yan."

Ok. First of all, you're dumb af I can't even. Idol mo ba si Tito Sotto?

— Ken Arao ▶ (@kenaraogabi) August 14, 2019
https://twitter.com/YvesAmodia/status/1161559921269207041
Itong si Tito Sotto kung mag-isip parang hindi homo sapiens sapiens tumatandang paurong papuntang homo sapiens

— Karl ☭ #EndStateFascism (@Krlgvrra) August 14, 2019
Itong si Tito Sotto kung mag-isip parang hindi homo sapiens sapiens tumatandang paurong papuntang homo sapiens

— Karl ☭ #EndStateFascism (@Krlgvrra) August 14, 2019
https://twitter.com/chacharrachacha/status/1161626337242562560
Ang issue ko dito is this: part of me, agrees with you that we are not obligated to give the oppressor a venue to defend itself. The other part recognizes that the patriarchy is insidious and that we must engage the perpetrators because they are as unaware as Tito Sotto.

— 'Nyetaphor (@chimeracupkeyk) August 14, 2019
https://twitter.com/jjcdizon/status/1161613922161418240