Guy travels 2,400 km. to surprise his girlfriend
Sees her with another man
It is common for long-distance relationships to fall apart.
One man in China found out the hard way.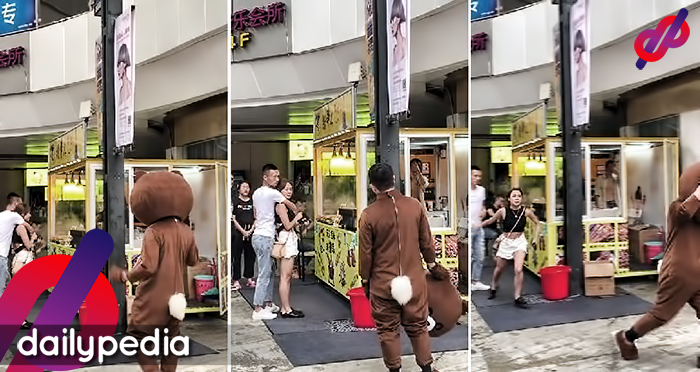 In a post shared on Twitter and on Weibo, photos show a man in a teddy bear suit catching his girlfriend with another man.
The guy traveled 2,400 km just to surprise his girlfriend on her birthday. He wanted to make the surprise special by wearing a teddy bear suit.
The photos show the woman wrapped in another man's arms, while her boyfriend is staring at them. The girlfriend then felt somebody looking at her and saw that it was boyfriend number one, who took off the head of the teddy bear costume.
The guy ran off after seeing his girlfriend with another man. His girlfriend then chased him and hugged him while apologizing, but it seems he has completely given up on their relationship.
2400kmの遠距離カップル。
彼氏がクマの着ぐるみ着てサプライズに現れたら浮気真っ最中でした。 pic.twitter.com/460wQ3hq2u

— 東京ラジオゾンデ (@T_Radiosonde) July 19, 2019
He put on the teddy bear head again to hide the fact that he was crying.
Chinese netizens bashed the girl and advised the guy to just find a new girlfriend.