OkCupid asks users multiple choice questions and matches them with potential partners
Jam and Jason found their forever with this app
OkCupid is an US-based, internationally operating online dating, friendship, and social networking website that features multiple-choice questions in order to match members.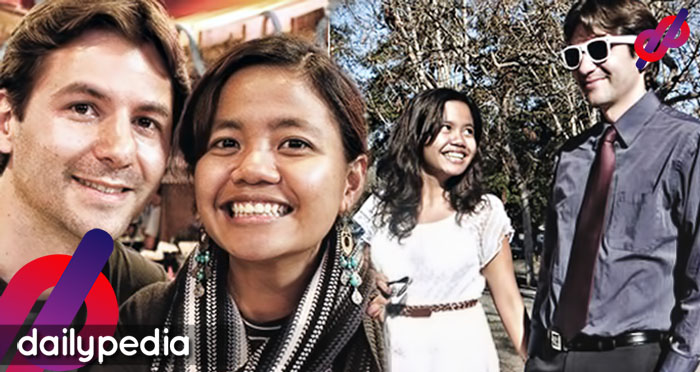 It was launched in 2004 and has seen success in recent years.
The app has helped thousands with dating, but one couple stood out.
Jam and Jason Kotenko shared their story on how the app led them to where they are now.
Jam, who is from the Philippines, said that she doesn't really like dating in real life because one has to waste their time pretending to be somebody they're not and that is exhausting.
"The thing that I dislike about in real-life dating is that you come into it nervous because you're afraid the other person won't like the real you, so you end up putting up a front, only to realize months into the relationship that you're exhausted from pretending to be someone you're not."
She also added that with online dating, you can immediately show the real you and won't have to waste time trying to figure out if they like you or not.
"Online dating gives you the opportunity to show the real you right off the bat without the pressure, and if the other person isn't really feeling your flow, you can easily move on to the next connection."
https://www.instagram.com/p/BzTAZ0IHM8x/?utm_source=ig_web_copy_link
OkCupid is different from other dating apps as it asks the user multiple choice questions then matches them with a user with the same answers.
"Well, we were both heavily addicted to answering the questionnaires that OkCupid made users answer in order to provide you with better matches. It sort of became a game, for me personally."
Jam also revealed that she was the one who hit him up.
"I was very friendly—I told him that he sounded like a great guy to have a decent conversation with. Then I gave him my email address and told him that if he was interested in continuing our back and forth, he could shoot me a message outside of the platform."
Jason said that going to another platform like emailing would give you the opportunity to know the person on a deeper level.
"Getting into email meant that we would be able to get to know each other more deeply, rather than just exchanging pleasantries over and over."
Jason was just happy that he had somebody to talk to and did not expect anything special to happen.
https://www.instagram.com/p/BxMmaO7FKR2/?utm_source=ig_web_copy_link
"I didn't really come into it with any plan beyond feeling a little less lonely. At that point I was happy to have someone to talk to and write messages back and forth with."
Jam was surprised on how exciting their chemistry with each other was.
"I felt very kilig, of course. It made me excited to see where our thing was going. It didn't really change much in our communication—things felt very natural."
Jason also said that his past relationships did not develop as fast as this one with Jam.
"In my relationship with Jam, we moved pretty quickly, because when you are on opposite sides of the world, you only get a few chances to figure it out. It felt so natural that it really just didn't make sense to delay."
They were talking constantly for several months and knew that they were meant for each other.
"I knew we were getting serious because after he got back to the States, it felt stupid that we were apart. He felt the same way, because he quit his job, sold his possessions, and moved to the Philippines five months after and stayed for a full year. That escalation, that undeniable desire to not be apart anymore was when we knew… this was it."
They got together one time and got intoxicated, and this was the point where everything escalated to marriage.
"After a few months in the States, I knew it was time to take the next step. We ended up at the home of some friends of ours out in the country in Pennsylvania for New Year's, where we got very drunk."
Jason knew that it was time to make it official and propose. It was something out of a fairytale.
https://www.instagram.com/p/BvwPDpKF50e/?utm_source=ig_web_copy_link
" While he had me in his arms, he asked me if I wanted to get married. I thought he misspoke, so I asked him to repeat what he said and when he did, I stupidly asked, 'Are you sure?' I'm glad I did though, because his answer was one of the best things he ever said to me in all our years together, and I will never forget it: 'I am. I've been sure for a long time.'"
They did not care for a big wedding, because to them what was important was that they had each other during the celebration.
"That said, you can have a nice wedding without going overboard. For us, it was just a matter of timing and our geographical isolation from both of our families and closest friends at the time we got married."
"I loved that we did everything so simple and so regular: I had a $20 white dress on. We didn't have guests at our wedding, only two of my relatives so they can be witnesses on paper. We had our 'reception' at one of our favorite restaurants. And for our honeymoon? Disneyland. What made it great was the fact that it would have been any other day in the lives of Jam and Jason, except for the fact that we now were man and wife," Jam added.
Now that they are together, Jam decided that a normal job is not what she wanted.
"Of course, now that we have kids and they are still young, I personally made the decision to hold off on going beyond once in a while freelance work so that I can be a more hands-on mom."
Jason's career is very important to him since it is the main factor that can support his family.
"We both like to explore new places and we both often dream of where we're going to live next."
They described their love for one another as 'stable'.
It's a relief to have a love that is reliable and strong that no longer requires proof because we just know. Any grand gesture that happens these days is just icing on top of an already delicious cake."
There are people out there who are still waiting for the 'right one' and Jason had something to say about it.
 "On one hand, don't give up. On the other, don't try too hard. Focus on building a great life for yourself."
"If you chance upon someone you feel is worth the effort, go for it! Relationships don't happen magically, so take the chance and put yourself out there. Don't be afraid to get hurt because that is part of the process. It will help you know yourself better and know what you want from a partner better," Jam added.