People have misconceptions of who Persons With Disabilities (PWD) are
Non-apparent disability refers to those who do not have visual cues of being a PWD
A PWD doesn't necessarily look sickly or have an orthopedic impairment to be identified as one
Actor, host, and bar owner JM Rodriguez has come under fire for claiming that some kids jumped the line at Shake Shack using fake PWD IDs.
"Shame you kids using fake disabled IDs to use priority lane at Shake Shack. I'm jealous of you LOL…PS: If they're not in wheelchair… don't allow them!" he wrote in a Facebook post that has since been deleted.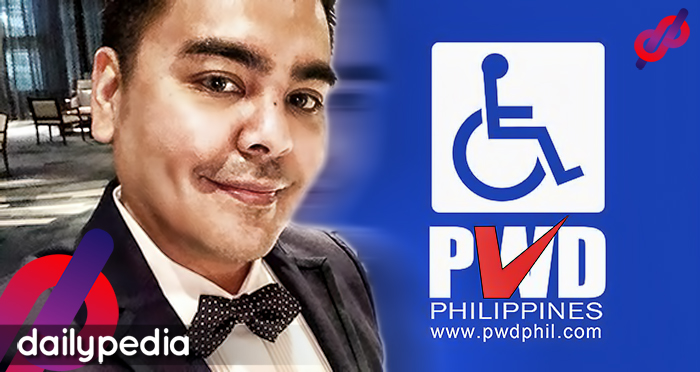 A netizen named Celine Palafox reacted to his post and said: "With all due respect Mr. Rodriguez, how sure are you that they are 'faking' their disability? I'm a mom of a PWD and although my son's disability isn't as visible as that being on a wheelchair, being able to have access to priority lane is part of his right/privilege as a PWD. Let's not be too quick to judge, please. You can bring your Lola/Lolo too or even a friend who's pregnant so you'll have access to priority lane as well and we won't have any problem with it."
On the PWD Philippines Facebook page, they shared a screenshot of Palafox's post reacting to JM Rodriguez. They clarified that being PWD doesn't just mean needing a wheelchair. They explained that there are two types of PWD, apparent disability which includes those using a wheelchair and non-apparent disability who might seem like any other individual but have epilepsy, stroke, cancer survivors, lupus and many more.
"Sa mga hindi nakaka-intindi, ang pagiging PWD ay hindi kailangang naka wheelchair lang. May dalawang uri po ng PWD, yung may apparent disability, tulad ng naka wheelchair, at yung non-apparent tulad ng may epilepsy, stroke and cancer survivors, lupus, etc."
They added that it is not easy to fake PWD IDs because the DOH has its own database where they monitor PWDs who have an ID.
"Nawa'y mas maintindihan ito ni Mr JM Rodriguez. hindi po napepeke nang madali ang PWD ID dahil may database po ang DOH na nakamonitor lahat ng may ID."
JM Rodriguez apologizes to PWD Philippines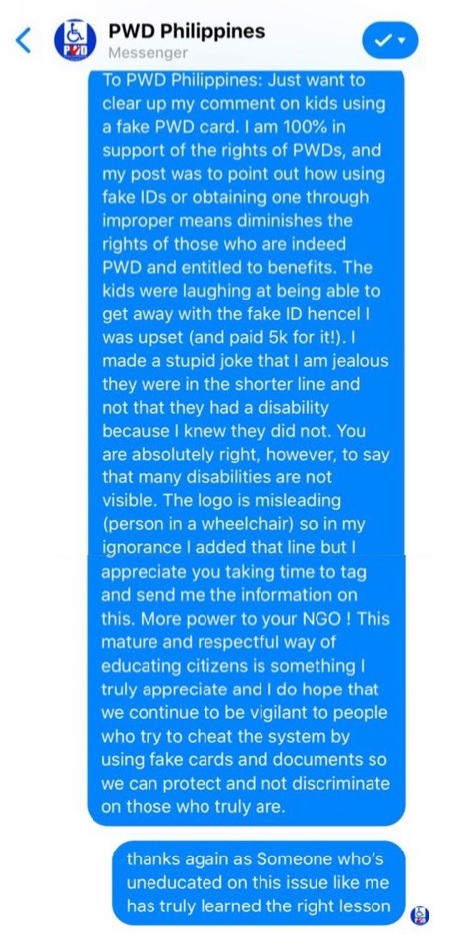 The Department of Health that Person with Disability (PWDs) are individuals with long-term physical, mental, intellectual or sensory impairments which in interactions with various barriers may hinder their full and effective participation in society on an equal basis with others.
To have a PWD ID, one should be a "bonafide PWD with permanent disabilities due to any one or more of the following conditions: psychosocial, chronic illness, learning, mental, visual, orthopedic, speech and hearing conditions. This includes persons suffering from disabling diseases resulting to the person's limitations to do day to day activities as normally as possible such as but not limited to those undergoing dialysis, heart disorders, severe cancer cases and such other similar cases resulting to temporary or permanent disability. —National Council on Disability Affairs
Persons with Disability were given protection by Republic Act No. 7277, "An Act Providing for the Rehabilitation and Self-Reliance of Disabled Persons and Their Integration into the Mainstream of Society and for Other Purposes" or otherwise known as "The Magna Carta for Disabled Persons" and the Implementing Rules and Regulations (IRR) of RA 7277.
It is stated in the general provision that the state should "Facilitate integration of disabled persons into the mainstream of society, the State shall advocate for and encourage respect for disabled persons. The State shall exert all efforts to remove all social, cultural, economic, environmental and attitudinal barriers that are prejudicial to disabled persons."