A Grab driver is rushed to the hospital after suffering a heart attack
Declared dead on arrival, but breathed afterwards
God is real
You'll never know when bad things will happen.
It was on May 10, when Nina Nuguid realized that life is important, and that anything bad can happen anytime.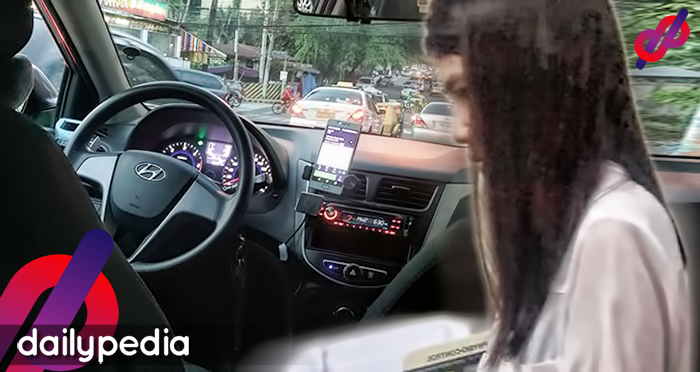 Nina, just got out of a meeting and decided to call a Grab driver. She usually does not do this unless there is a meeting.
Her driver came at around 6pm in Tomas Morato. The driver reminded her of her father when he used to pick her up from school because he was all smiles when he greeted her.
She found out that it was his first time being a Grab driver, and it became evident since he asked for her assistance in using the GPS. After nearly 20 minutes of driving, the driver decided to park to the side to take a leak.
Nina got out of the car and took a picture of it in case something bad happens to her. She then went inside after that.
She said that the driver had no signs of any health problems, and only drank water before taking a leak. After the driver got done, Nina realized that he was at the back with both hands on the car, and had difficulty breathing.
She asked him if he was alright and he said he couldn't breathe. She immediately called 911 and fortunately for them, an ambulance came by with no patients on board and got in contact with the grab driver right away.
"Pag(ka)tapos niya umihi, pag lingon ko, nakita ko siya, dalawang kamay niya nakahawak sa likuran ng kotse at huminga siya ng malalim. Binaba ko yung bintana para tanungin kung hinihika ba siya, ang sabi niya hindi siya makahinga."
He was then carried off to the ambulance, with the help of two other bystanders. They immediately hurried to the nearest hospital for treatment.
The grab driver was pronounced dead on arrival, with no pulse, but that is when she realized that a Man up there is watching over them.
All of a sudden, the driver was breathing as they were reviving him. Nina asked his father and sister to call Grab and tell them what happened. Grab called the driver's family, while the owner of car kept on asking Nina for updates.
"Dineklarang dead on arrival si manong driver, wala ng pulso pero sinubukan siyang i-revive. Walang imposible sa Diyos, himala huminga po si manong ulit."
After several minutes, a patient came in suffering from cardiac arrest and since the hospital lacked staff, they asked Nina to help out with the revival of the patient.
As of now, the driver is in an unstable condition and is in a coma, confined at the East Ave Medical Center. Nina is asking for prayers.
She realized that anyone's life can be taken from them at any moment. So we should appreciate people around because we'll never know when will be the last time we will see them.
"Minsan pa, wala ng susunod pang pagkakataon. Mahalin natin wag lang ang sarili natin, kundi mahalin natin ang kapwa natin kung paano tayo minamahal ng Diyos. Salamat po sa Diyos nating buhay."