Netizen posts viral-video on Twitter of women protecting another from sexual harassment inside PUJ which earned commendation from other social media users
Netizens were angry at the audacity of the alleged harasser who even moved seats just so he could sit beside the female passenger
Other netizens reminded women passengers to keep themselves safe when riding in PUJs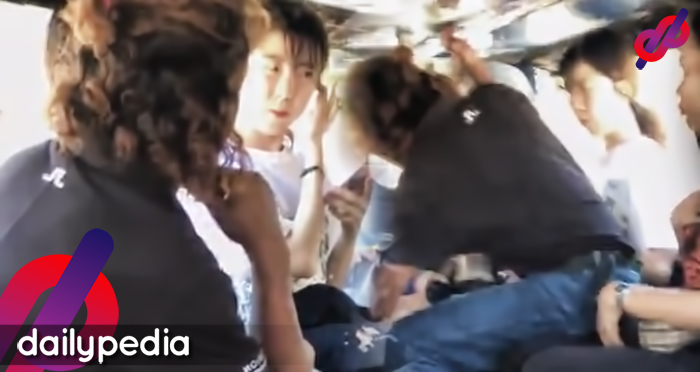 A Twitter user posted a video of a jeepney ride where she exposes a man for allegedly harassing a female passenger to the vexation of social media users; good thing the other women banded together to help the young woman from a sticky situation.
A netizen named "Malia" wrote on her post, "Shout out nga po pala dito sa manyak na to!!!!!!!" In the video, the man can be seen staring doggedly at one woman which brought discomfort to her and the other women riding the said public utility jeepney (PUJ). One of the female passengers sitting next to the man's subject of attention, gestured for the woman to move closer to her and away from the "maniac."
However, this action left a little opening and space inside the jeep, for which the man took to sit himself beside the woman he was eyeing unnervingly. This prompted the other women to move inside the vehicle so they could switch places and have the woman sit far away from the man again.
This level of aid and support from the women passengers was commended online with netizens pointing out how they love when women protect other women. The original poster added, "Ngayon (niyo) sabihin (sa'kin) na dahil sa pananamit ng babae kaya kami nababastos!!!!!! Kitang-kita (niyo) naman sa video (di'ba)!!!!!" referring to the harassed woman's modest clothing, and others' perpetuating belief that women are mostly harassed due to the kind of clothes they wear.
The video has now received 753 thousand views and 27 thousand likes on Twitter as of this writing. Many netizens also reminded other women to always take care of themselves inside PUJs.
"Kapal mukha lumipat pa talaga wtf? Si ate girl halatang super uncomfortable taenes dapat diyan binibitin patiwarik," commented one netizen.
KAPAL MUKHA LUMIPAT PA TALAGA WTF? SI ATE GIRL HALATANG SUPER UNCOMFORTABLE TAENES DAPAT DIYAN BINIBITIN PATIWARIK

— Dentux (@Deniznutz) April 13, 2019
"Walangya yan. Effort na effort pang lumipat si kuya. Jusko! Sana ganyan lagi, pag may nang mamanyak sa kapwa natin babae tulungan natin. Protektahan natin. Ingat kayo lahat!!!!" remarked another.
https://twitter.com/NotSoGreatGEE/status/1117994446044291073?s=19
https://twitter.com/69caIum/status/1117033587243491328?s=19