A netizen posted on Facebook a video showing a traffic personnel pulling over an ambulance for counterflowing
The driver of the ambulance and the traffic aid can be seen arguing
LTO said that ambulances should not be pulled over as they are emergency vehicles, meanwhile the Roads and Traffic Administration (RTA) is currently conducting an investigation over the incident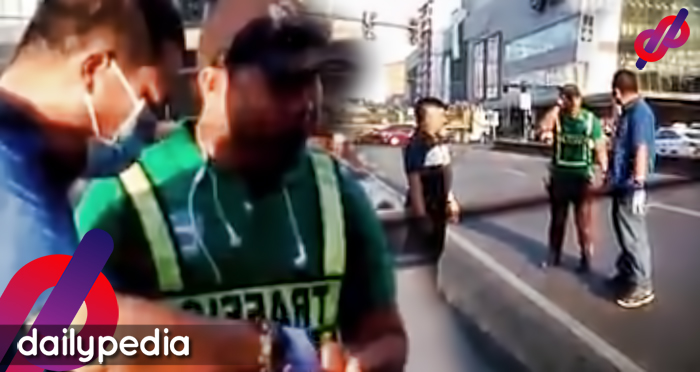 A netizen shared on Facebook a video of an ambulance driver having an argument with a traffic aid after he was accosted for counter-flowing along CM Recto Avenue in Cagayan de Oro City on April 13.
The now-viral video taken by Ardy Lira Cabuena and uploaded on The Philippine News' Facebook page, was captioned with "Nakasakay kami sa ambulansya na may dalang pasyente para dalhin sa provincial hospital ng Misamis Oriental sa pagsingit ng ambulansya namin biglang sinapak ng enforcer na ito (Roads and Traffic Administration – CDO) ang ambulansyang sinasakyan namin nakipagtalo pa ang enforcer na ito sa driver namin at kinuhanan pa ng ID, kahit kita (niyang) hinihingal na ang pasyenteng kailangan namin mahatid. Given naman na sana na dapat mag-give way sa emergency vehicles, but what (happened) here is mismong law enforcement personnel pa ang cause of delay."
In the video, the driver of the ambulance and the traffic enforcer can be seen arguing with each other on the road until the two moved behind the vehicle to continue their spat. Their dispute cannot be heard clearly as the video was taken from inside the ambulance.
The ambulance driver was later identified as Alvin Carlos, while the traffic personnel was Lee Bersano.
According to the patient's relative, they came from Balingasag, Misamis Oriental and the first ambulance they were riding got broken so they were transferred to another ambulance. When it counter-flowed, Bersano allegedly "tapped forcibly" the ambulance while passing along CM Recto Avenue and Osmeña Street junctions.
GMA Network's late-night newscast Saksi reported that the spat lasted for a while until the ambulance was allowed to leave to transport the patient who was having a hard time breathing. Sadly, the patient passed away but it was not made clear whether he died due to the delay caused by the RTA personnel's tiff with the ambulance driver, or due to his existing health condition, prior to the incident.
The Land Transportation Office said that the ambulance should not be pulled over as it is an emergency vehicle. It was also not an issue for an ambulance to counterflow, so the traffic enforcer may be held liable.
The Roads and Traffic Administration (RTA) launched an investigation to determine what actually transpired that day.
Dennis Naïve, administration officer of RTA, said that before a person enters their institution, they must undergo a training for one month and that knowing which vehicles they need to prioritize is already being taught at day one of the training.
The family of the deceased will not be filing any suit against the traffic enforcer, as they already accepted the loss of their father, but they do hope that this incident does not happen to other patients.
"Magpapatawaran na lang kami, sir, kasi tao lang naman kami at hindi perpekto. Sa amin lang na sana'y isailalim nila sa pagsasanay ang kanilang mga tauhan," said Delin Consolacion, sister of the video uploader (translation was provided by Saksi).
The video has now gone viral with 750 thousand views, nine thousand reactions and 16 thousand shares online with social media users as of this writing criticizing both the driver and the traffic personnel's actions: the former for stopping at all and the latter for pulling over the ambulance.