Teachers bought new footwear and apparel for two boys who only wore slippers to their graduation rites
The boys were accompanied by their 13-year-old sister, who was not able to attend school herself due to their lowly background
Rayhana Muhamad shared on Facebook this heart-warming story which had netizens' sympathizing over the kids and praising the teachers for their good deed
A Facebook post has recently made the rounds on social media for featuring a touching story of teachers buying new shoes for two students who only wore slippers to their commencement exercises.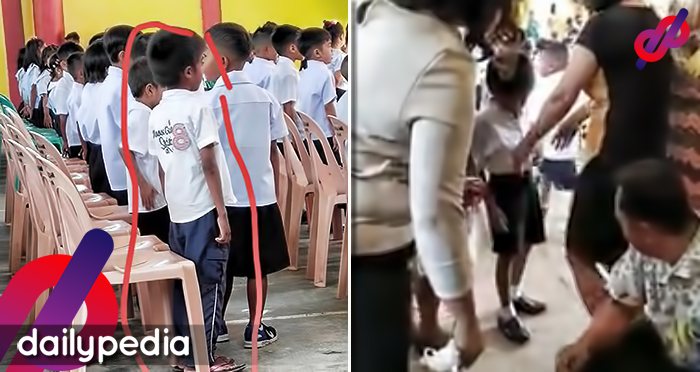 Netizen Rayhana Muhamad shared on Facebook the now-viral story and divulged that the two boys were brothers. They were accompanied to the ceremony by their 13-year-old sister. When the teachers saw the plight of the brothers and the state of their footwear, they immediately took the matter in their hands, as the students were already marching and being called on the stage to receive their diplomas.
In the video posted by Muhamad, that was published alongside her story, it can be seen that several teachers were frantically helping the boys to dress themselves into new clothes and shoes.
The Facebook user also disclosed that the sister of the two boys was not able to go to school herself, due to their financial status – the very reason which prompted the teachers to sponsor the kids' new apparel and footwear for their graduation rites.
Muhamad also said that when she witnessed the scene, she became teary-eyed for remembering a similar event in her life: finishing Grade 1 with a 2nd honor bestowed on her, but was only dressed in old clothes and slippers and her parents were not able to come see her up on the stage.
"Maraming salamat sa mga guro(ng) bumili sa kanila ng damit at sapatos nila at sa pag bihis nila maa sha allah (God has willed), sana marami pang guro katulad nila amen," Muhamad concluded her post.
Less than a day of posting and the heart-warming story has reached 63 thousand likes, with netizens expressing their sadness over the boys' circumstances and gave praises to the kind and supportive teachers.