Twitter user posts on his account a picture of his ginataang langka complete with an unwrapped Knorr cube
Netizens commented on how the original poster's "unfortunate meal" had them laughing out loud
Other netizens poked fun at the poorly-skilled cook while some pointed out that they might do the same if they tried cooking on their own
A Twitter user posted pictures on his account of his ginataang langka bought from a local eatery with a Knorr cube still intact and unwrapped, solving the mystery why his meal tasted bland in the first place.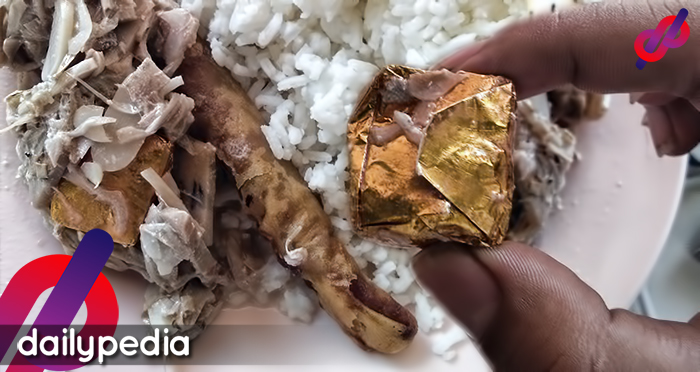 "So ayun guys, bumili ako ng ulam na langkang gulay sa karinderya at paglagay ko sa plato, nilasahan ko at walang lasa, yun pala, di nabuksan yung Knorr cubes at nalagay ng buo!!! P******** hahahahahaha," wrote the netizen.
SO AYUN GUYS, BUMILI AKO NG ULAM NA LANGKANG GULAY SA KARINDERYA AT PAGLAGAY KO SA PLATO, NILASAHAN KO AT WALANG LASA, YUN PALA, DI NABUKSAN YUNG KNORR CUBES AT NALAGAY NG BUO!!! PUTANG INA HAHAHAHAHAHA pic.twitter.com/VLjvTODwNh

— MAGANDA PERO TANGA (@jorielagrande) April 1, 2019
His post had others laughing at his unfortunate but very funny experience. One netizen commented, that his ginataang langka was a "DIY" meal while other netizens jested that the cook cannot marry yet, due to the poor cooking skills.
One Twitter user replied that they want to try eating at that place and the original poster responded that they might get a Magic Sarap pack in their next meal.
Kain tayo dyan next time. HAHAHHAHA

— #JoinUPLBSandayaw (@kennedybuya_) April 1, 2019
SO TRUE! MALAY MO MAGIC SARAP NAMAN YUNG MAKUHA NATIN HAHAHAHA

— MAGANDA PERO TANGA (@jorielagrande) April 1, 2019
Tangina, lumpiang shanghai saved your lifeeeee HAHAHAHA

— primo (@renzoprino) April 2, 2019
TRUEEEE!!!! PARANG PINAPAMUKHA SAKIN NA WALA AKONG TASTE HAHAHAHAHA KAILANGAN KO DAW NG KNORR CUBES HAHABA

— MAGANDA PERO TANGA (@jorielagrande) April 2, 2019
The netizen's humorous post has now received 14 thousand likes online.
DI KO ALAM KUNG MATUTUWA BA AKO NA MADAMI ANG LUMALIKE NG TWEET KO OR MABABANAS KASI NAGLALAG NA PHONE KO GRRRR BAKIT BA KASI MAY KNORR CUBES SA LANGKA KO? HAHAHAHA

— MAGANDA PERO TANGA (@jorielagrande) April 2, 2019