Orphaned boy living in the streets due to typhoon Yolanda presents diploma and medals to deceased family
Netizen Renz Peque shared John Mark Pirante's plight cleaning front yards and collecting garbage in exchange for food or money
Social media users were touched by the boy's inspiring story and sent him messages of congratulations over his achievement
A netizen shared on Facebook an inspiring story of an orphan boy, who lost his family due to typhoon Yolanda, yet graduated from school, despite living in the streets since the tragic event.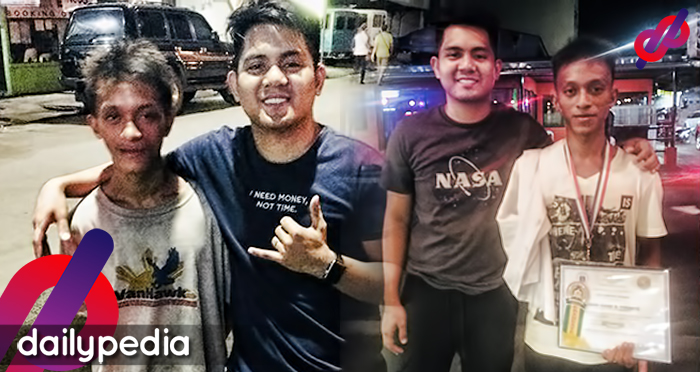 "I know some of you will recognize this kid. If you see him around, please help him in any way you can, wrote Facebook user Renz Peque, who identified the tenacious kid as John Mark Pirante.
"He often comes to my store to help clean the front or collect the garbage in exchange for food or money. Earlier today, when he came over to collect the garbage, he shared his big news to me that he would be graduating today. I congratulated him as he totally deserved it and told him to come back later that afternoon because I would be giving him a graduation gift."
The boy went back to meet Peque that evening wearing his medal and holding his diploma. After the netizen gave Pirante his gift, the boy told him that he dropped by the cemetery before heading to his store. Pirante apparently had other medals he first presented to his family's tombstones and left them there.
"No excuses, pure grind. Happy graduation, John Mark R. Pirante! 💯 ❤️" admired Peque. Netizens joined in on the original poster's praise, sending messages of congratulations to the determined boy.
The post has now become viral with 35 thousand reactions and 12 thousand shares online, with other social media users commenting how proud they were of Pirante's triumph.
Typhoon Haiyan, known as Super Typhoon Yolanda in the country, had gusts exceeding 305 kilometers (190 miles) per hour and was said to be one of the most powerful tropical cyclones ever recorded on earth. Back in 2013, Haiyan devastated portions of Southeast Asia, particularly the Philippines upon landfall.
It also pushed devastating 5 m high storm surge into Tacloban City and several families were wiped out by it.
In a report by ABS-CBN News explaining why the super typhoon became deadly to the nation, it said that though the national government flagged areas that were prone to the impact of natural disasters through a geohazard mapping program that begun in 2006, "local governments failed to evacuate many of the vulnerable populations away from the danger zones, partly because they did not fully appreciate the threat and partly because they had not built enough shelters."
According to Rappler, "Survivors and aid groups say rehabilitation has been slow, especially for the million families who lost their homes. Of the target 205,128 permanent houses for those living in so-called danger zones, only 100,709 have been built."